Creating Experiences for Kids When Resources Are Limited
This blog emphasizes the challenges faced by small church ministry leaders or those with limited budgets when it comes to creating engaging experiences for children. It acknowledges the anxiety and frustration that can arise when thinking about costly elements like lights, screens, and decorations. However, it offers a positive perspective, sharing an example of how creativity, collaboration, and a willingness to try something new can transform even a modest space into an engaging environment for kids. The overarching message is that the goal should be to maximize creativity with the available resources to create meaningful experiences that help children grow in their faith.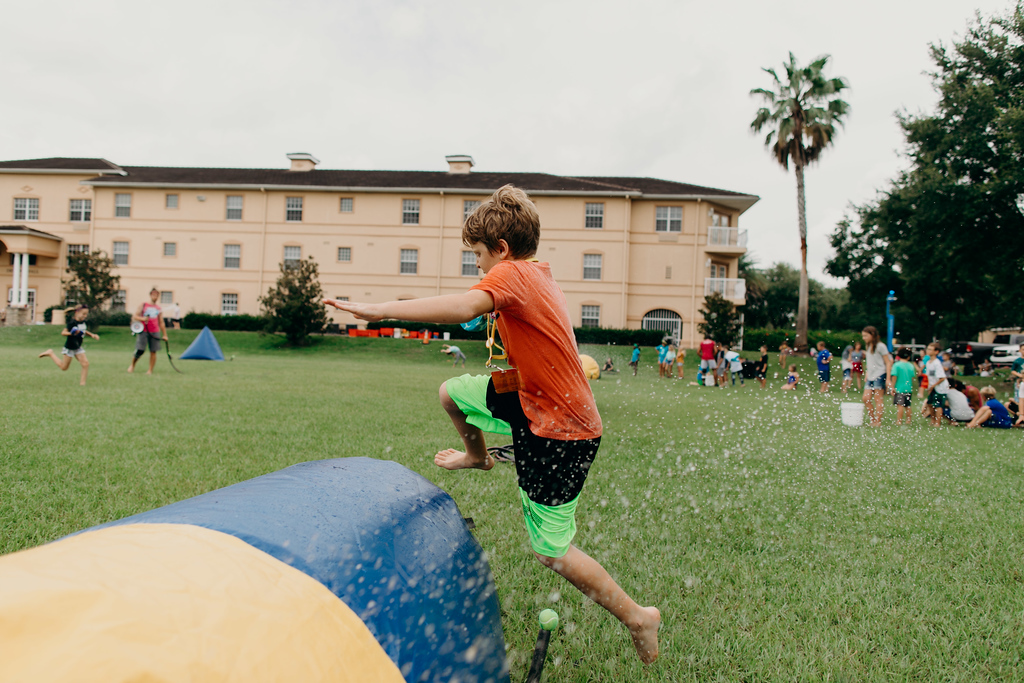 When it comes to creating experiences for kids, if you are a small church ministry leader or even just a leader whose budget has been cut in the last year, when you read things like . . . 
Lights
Screens
Decorations
Transitions
You might get a little anxious. 
Maybe your palms start to sweat as your brain is flooded with money signs and all of the things your ministry can't afford. 
Or maybe you get annoyed. Maybe you feel like the ideas you are reading about aren't for you and won't work in your context. 
That's a really frustrating feeling, and I get it. 
While most of my experience has been creating environments in bigger churches and organizations with bigger budgets–even those, of course, had limits and constraints. I have also served in a kid's camp, in church plants, and created environments for kids in places you wouldn't expect. 
So, I know what it's like to feel overwhelmed by not thinking you have enough resources to create an environment that engages kids. But I also know how creativity, collaboration, and a willingness to try something new can create incredible environments even when your resources are limited. 
One of my favorite examples of this is when the Camp KidJam team went to Wrightsville, Georgia, to create a week-long VBS for the children in the community. To give you context, Wrightsville is a small town in Middle Georgia with a population of around 3,632. The VBS took place in the elementary school cafeteria. It was your typical school lunchroom, with tile floors, fluorescent lighting, and a lot of windows. There was no permanent stage, no screens, and projectors, no cool backdrop, or even good seating. It was truly a blank canvas. 
Some people would say you can't create a great kid's environment in a room like that. But somehow, we did, and it worked. A small portable stage was brought in, along with two large TVs to show song lyrics and videos on. We brought in rugs for the kids to sit on, as well as green indoor/outdoor carpet that we taped down and then pulled back up. Our camp staff and interns created an inexpensive set backdrop. A few years ago, the theme was Power Up, so they made the backdrop look like a Super Mario and Pac-Man game by using painted cardboard boxes, flower pots, balloons, and gold paper plates. 
Around 100 kids got dropped off each night to hear about Jesus. Was it the coolest environment ever? No. Was it the best technical equipment, with amazing lights? No. Our transitions for videos were manually flipping the light switch in the back of the room so the kids could see the TV screens. This was the room where they ate their lunch 9 months out of the year that got transformed, on a budget, into a room that is an engaging space that kids were excited about coming to.
As you were reading that, it's possible that even that felt out of reach. Carpet, TVs, and a portable stage cost money, too. But here's the thing:
The goal of creating engaging environments is not to live up to whatever other ministries can create. Just like we can't outproduce culture, as ministry leaders, we also shouldn't try to outproduce each other or live up to some standard that is unattainable. 
The goal is to be as creative as we can with the resources we do have. When we do that, instead of focusing on what we lack, we may be surprised by the kind of incredible experiences we can create. 
And, no matter what resources we do or don't have, we need to remember that we produce engaging experiences in order to move kids to . . . 
discover,
hope,
care,
connect,
and feel seen
so they can grow in their everyday faith.
To learn more about how to create these types of experiences, no matter your budget, check out our new book Creating Experiences for Kids. Grab your copy today!  
Follow Us
Stay connected to us and be the first to know about exclusive deals and upcoming events.