The Difference Between the Orange Conference and Orange Tour 
There's Orange Conference and Orange Tour...but what's the difference? Check out the amazing benefits of both events and grab tickets on June 8th!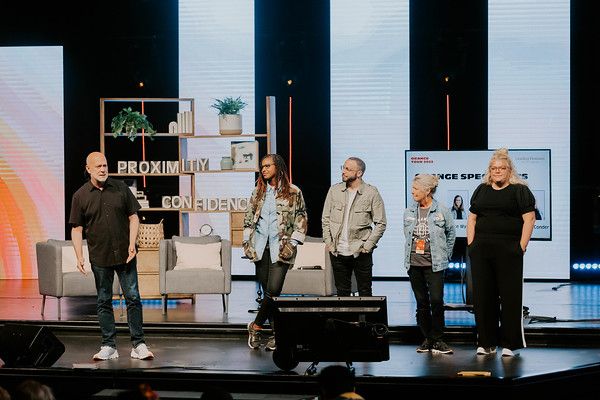 How do I train my team and help them understand the vision and strategy of our ministry?
That's one the questions, we are all constantly asking as ministry leaders.
Going to ministry training events can be part of the answer to that question. And over the years, two of the biggest family ministry events over the course of the year have been the Orange Tour and the Orange Conference. While they may appear to be similar, they are both unique and are designed to serve ministry leaders and volunteers in powerful ways.
Here is a breakdown of how they are unique:
What makes the Orange Conference unique?
The Orange Conference is the biggest family ministry conference in the world. Held in Atlanta, Georgia in the Spring, it provides a great getaway for your team and volunteers to learn together. 
So, what exactly makes the Orange Conference unique and a must-attend event?
Your whole family ministry team can go.
There are lots of ministry conferences out there. Some are geared toward children's ministry and some toward youth ministry. However, the Orange Conference allows both of those teams to come and learn. In addition, you can also debrief and collaborate together as you are experiencing the conference together.
Your whole team can learn together.
Every year Orange brings in the best and most experienced children, youth, and family leaders and speakers to the conference. There are always a great number of pastors and speakers that inspire and challenge the attendees to innovate their ministries. You will leave inspired with practical insights and ideas that you can process with your team each day so that you can do ministry better.
Your whole team can have fun together.
At conferences, there are always plenty of opportunities to network and learn.  But what Orange does so well is mixing the fun with the learning! They know how to have fun because they were (or still are) children, family, and student ministers.  And everyone knows that family ministry volunteers and staffers know how to have fun. Whether it is at a main session, meal times, or breakouts, Orange makes sure that they bring the fun!
You can train your team on a variety of topics.
The Orange Conference offers over 80 workshops your team can attend together or for you to split up and get as much information as possible. You can get answers to all of your ministry questions as workshops tackle everything from how to create a special needs ministry, to how to help kids develop a lasting faith, to how to recruit and train volunteers. You get practical information and innovative ideas.
Interested in learning more about the Orange Conference this year? Simply go to OrangeConference.com to learn more.
What makes the Orange Tour unique?
The Orange Tour happens in the Fall, right after the Orange Conference. There are tour stops in different cities throughout America, bringing a lot of what you experienced at the Orange Conference to your local area. However, there are some major differences that make it special. Here are some of the things that make the Orange Tour unique and a must-attend event.
The Orange experience comes to you.
The Orange Conference is held in Atlanta, Georgia. While it is awesome to experience the conference, it can be quite costly to travel. The Orange Tour stops in key areas around the country, making it easier for you and your team to attend. You may still need to stay in a hotel overnight, but the cost of travel is way lower than attending the Orange Conference.
It's easier for volunteers to attend.
While the Orange Conference is an amazing experience that all family ministry teams should go and experience together (including volunteers), the reality is that not everyone can take 3-5 days off from work or leave home that long. This means often volunteers don't get to go. However, the Orange Tour location will provide a greater opportunity for your whole team to go and learn about how to do ministry more effectively.
You can connect with people in your area.
Ministry is difficult and can feel lonely sometimes, even within your own church. That is what makes the Orange Tour great. There are hundreds of other family ministry leaders from around your area that attend the Tour. This provides you with a great opportunity to connect with other ministry leaders just like you. Ministry leaders who are dealing with the exact same things you are.
You can connect with speakers.
At the Orange Conference, there are thousands of people. While the speakers do make themselves available, the line to talk to them is often enormous. At the Orange Tour, the attendance is lower and you can talk with the speakers if you have a follow-up question or two.
Interested in learning more about the Orange Tour for this Fall? Go to OrangeTour.org to learn more. 
Join us!
The Orange Conference and Orange Tour are two amazing opportunities that your family ministry team can attend. They may seem very similar as the theme is the same and some of the same speakers will share, but they are both unique and different. They provide different opportunities for your team to connect, learn and grow so that your ministry can reach more people for Christ. That is what makes these two must-attend events this year. Don't miss out!
Follow Us
Stay connected to us and be the first to know about exclusive deals and upcoming events.