Four Ways Digital Signage Can Support Church Community
Learn how Playlister can help your ministry use digital signage to bring your congregation together under one common goal.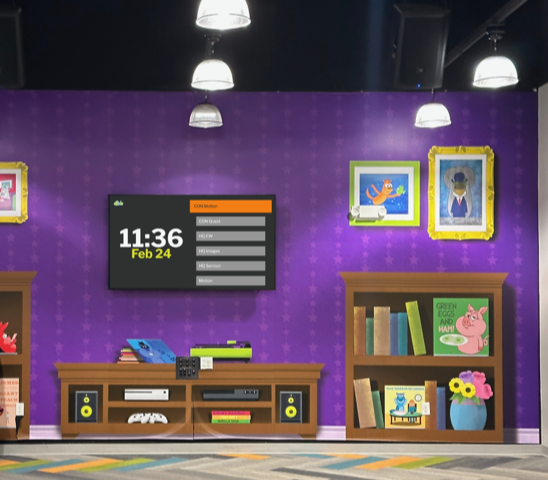 The church is a community of individual believers. In a very real, spiritual sense, "… in Christ we, though many, form one body, and each member belongs to all the others" (Rom. 12:5). 
Even though this is the case, at times, our local churches can feel fragmented. With a variety of ministries, groups, and programs, it can be easy for individual members to feel or become disconnected. 
In striving to ensure their local churches stay connected, one newer method many churches are leveraging is church digital signage to keep their congregation up-to-date and informed about the life of their church.
Before you balk at this idea and think it may be out of your reach, that's not the case at all. The technology is readily available, easy-to-use, and budget friendly. 
Now that we have that out of the way, and if you're interested in learning more about leveraging digital signs in creating connections within your church, here are four ideas to consider.
1. Digital signage improves your ability to communicate and connect
Digital signage for churches has revolutionized the old-school billboard. With digital signs, information can be up-to-date, adjusted daily, and completely uniform throughout your church building, rooms, or across all of your campuses. At the touch of a button, church leaders can send a church-wide message out, edit details of upcoming events, and more. This means no one gets left behind, and all members are in the loop.
Instead of only sharing messages during your Sunday service or in a monthly newsletter, digital signage allows you to connect with your members and visitors through different channels. As people enter your church foyer, enjoy a cup of coffee, or walk your halls, digital signage makes it easy to share announcements and keep people in the know.  
2. Enhances fellowship 
Sharing good news and announcements from your members on your digital signage can encourage conversations within your church and among your visitors. 
Prioritize community-focused content like photos, testimonials, and events to inspire your people to become active participants in your church. Include your social media pages and showcase some of your favorite content to incline people to share more often and get involved. Offer your members recognition for their input and see interaction rates soar.
3. Encourages volunteerism in your members
Make volunteerism attractive for your members by promoting a healthy volunteer culture and sharing the work of your volunteers. Set up a special time to give thanks, and take the time to showcase your volunteers, the programs they are involved in, and the good they are doing. 
Sharing stories of your volunteers will encourage more people to get involved. Show your members that by joining the team of volunteers at your church, they can help people in need, strengthen their relationship with God, and be a part of something bigger. Highlighting the impact of community involvement encourages people to sign up while expressing gratitude for current volunteers. 
4. B21uilds a sense of identity and belonging
How do you build a church community? One way is by cultivating a sense of belonging. Help your members see their place within your church as a part of something bigger and more significant. Your church should be like a safe space for its members where worship and community come together. Make your church a hub to learn about the Bible, worship God, and build connections with each other.
Enhance this feeling of belonging by showcasing the history, values, and mission of your church on your digital signage wherever possible. Doing this will inspire deeper connections in the hearts of your members, showing them the roots of their church, its purpose in this world, and where they fit into the overarching vision.  
Cultivate a connected church with digital signage
Digital signage is most commonly seen as a practical tool that streamlines communication channels while allowing for frequent, remote updates. But, when used in the right way, digital signage can help to foster community and enhance the connection among your church and with your guests. 
Use your displays to highlight the church as a community. It gets people talking by sparking conversations about individuals' successes and achievements, volunteering highlights, and more. Plus, it demonstrates its unique positioning in the overarching church network by highlighting the history of your church, its values, and its mission. 
Use digital signage to bring your congregation together under one common goal, connected by their desire to do God's work, help people in need, and feel safe in their church network. 
If you want to learn more about how digital signage can work in your church or ministry go to playlister.app/church-digital-signage to try it free today.
Follow Us
Stay connected to us and be the first to know about exclusive deals and upcoming events.