What Parents Aren't Telling You, But You Need To Know
What are parents NOT telling you, but you need to know now? We've done the research, and parent needs have changed tremendously since COVID. Check it out!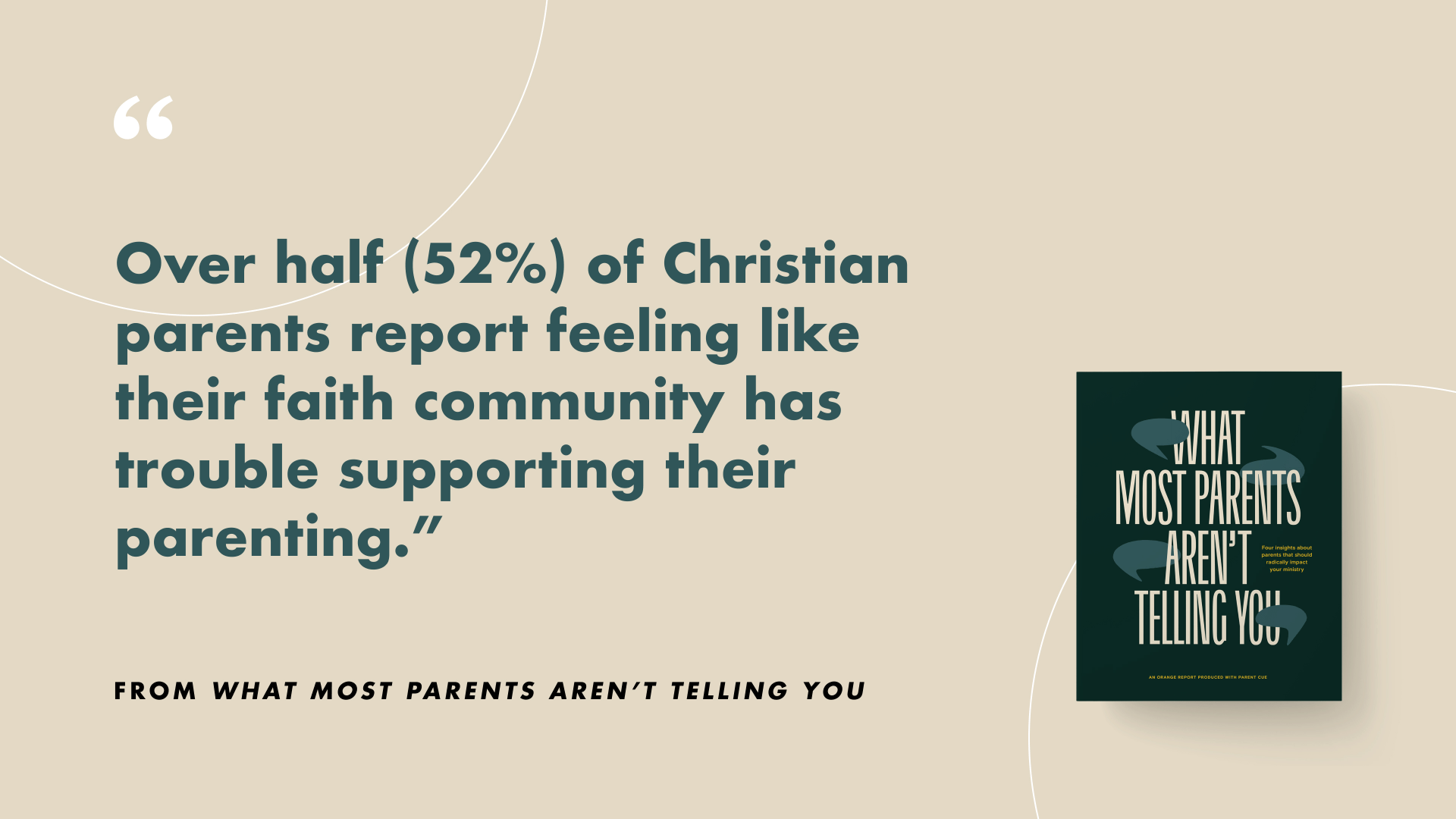 As ministry leaders, we get the privilege to not only serve the kids and teens in our ministries, but we get to serve their parents, too. And let's face it. Parents will have way more influence in their child's life than we ever will. We leaders get around forty hours a year with their kids, and parents get over three thousand hours! 
You see, parents and caregivers matter. 
We must understand them and learn from them. 
And while you might not agree or get along perfectly with some parents, you don't have to. All you have to do is focus on helping them be the best parents they can be. 
It's no secret that in the last few years with the pandemic, parents' needs and priorities have changed. And as ministry leaders, we all want to help parents be the best they can be. That starts with knowing what it is they need.
What are parents really thinking, feeling, and wanting when it comes to raising kids? 
At the height of the pandemic, we initiated a research project with Arbor Research Group to seek out the answer to that question. 
We surveyed parents in June 2021 and again in March 2022 to get a good look at their thoughts. For this blog post, we are going to highlight four key questions that we asked a diverse group of parents around the United States. Their answer to these questions will help us as ministry leaders better support the families in our ministries. 
Where do you go for help as parents?
What do parents want for their kids?
What do you worry about most for your kids?
How do you feel about yourself as a parent?
In this study, a parent is defined as an adult who is consistently tasked to raise a young person from the age of 0-26. A kid is defined as a child from birth-25. 
The reason we're asking these questions is to see parents better. Because when we see them, we can serve them. Think about what we could change in our ministries to better meet the needs of parents. We aren't setting out to fix the family but listen to the family to better serve. 
With that in mind, let's dive into the answers parents all over the country gave us. 
4 Insights to Help Serve Parents Better
1) What do parents want for their kids?
Every parent wants to give their kids the world. But Christian parents really do care about all things! Because when it comes to the faith of their kids, there is an elevated concern of the parent. This is great news for the church! It reminds us that what we do everyday matters. 
In both Christians and non-Christians alike, being a good parent is crucial in the lives of millennials. In fact, 52% of millennials say it's one of the most important things in life. Dads spend three times as much time with their kids than they did in generations past. 
Top 3 Priorities in Parenting Values
Both Christian parents and non-Christian parents prioritize the same parenting values.
Mental Health
Access to Opportunities
Character Development
Are we as leaders meeting these basic needs when it comes to serving parents?
Parenting Values Amongst Different Phases of a Kid
These values remain consistent in ALL phases of a kid's life, except for the 6-7-year-old phase. In this phase, parents prioritize balanced nutrition above all other values. More than ever, parents are very educated on the importance of eating and sleeping well. How does that impact how we feed our kids at church? Perhaps this impacts what we serve at camps or VBS. 
While the highest and lowest values stay consistently high or low across every phase, each value does shift in importance from age group to age group. Below we highlight the phase where each specific value reached its peak level of importance. 
Phase
Parental Value Peaks

Preschool

Ages 4-5

Access to Resources

Friendship with Their Child

Lower Elementary

Upper Elementary

Educational Achievement, Balanced Nutrition, Community Involvement

Character Development

Middle School

Faith & Character Development

*52% of parents value faith the most in ages 12-15

High School

Educational Achievement, College Prep, Technology Responsibility, Sexual Integrity, Strong Friendships, Faith Development

Young Adults (ages 19-23)

Healthy mentors, Career Readiness, Mental Health, Extended Family Connections, Physical Exercise 
With this information, how can we as ministry leaders help parents support these priorities?
2. What do you worry about most for your kids?
Overall, parents worry most about things that have the potential to impact their kid's futures. 
The general population's top 5 worries are . . . 
Good Eating/Nutrition
Getting Enough Sleep
Anxiety
Responsible Use of Technology
Being Bullied By other Kids
The Christian parent population is the similar same except their #3 worry is Influence of Peers and #5 worry is Religious Faith. 
My question for ministry leaders is are we supporting parents in their efforts to prioritize their kid's physical and spiritual needs?
While the highest concern and the lowest three concerns stay consistently high or low across every phase, parents' level of worry for each source does shift from age group to age group. Below, we highlight the phase where each source of concern reaches its peak level of reported worry.
Phase
Worry Peaks

Preschool

Ages 4-5

Sleep and Nutrition

Anxiety 

Elementary

Nutrition and Bullies*

*Fear of bullying stays constant from the time they enter school all the way into high school

Middle School

Late Preteen

Sleep*, Anxiety, Depression, Suicide, Exhaustion, Body Image

Anxiety

*Parents worry about sleep in MS more than in any other phase

High School

Anxiety, Depression*, Racism, Use of Drugs, Alcohol, Suicide, Bullying

Young Adults (ages 19-23)

Violence, Body Image, Busyness, Exhaustion

*Worry about faith increases in the general population in the young adult years.
As ministry leaders, how can we support parents in these areas?
3. How do you feel about yourself as a parent?
Considering all the worries we just unpacked, you'd think parents wouldn't feel so great about their parenting. However, that's not the case. 
We had parents fill in the blank to this prompt: As a parent, I feel ____. 
For the general population, the top 5 responses to that question were . . . 
Capable
Nurturing
Present/Responsive
Engaged
Connected
For Christian parents, their top 5 responses were
Connected
Capable
Nurturing
Supported
Engaged
Can you spot a difference? Parents who attend church regularly feel more supported than those who attend less frequently. That is a testament to the support of the church – another win for us!
Overall, parents are highly confident in their abilities to parent. However, a support network is essential in being a parent. Parents who have stable, high-quality support have increased responsiveness from their kids. They also have lower levels of anger, anxiety, and depression. 
How are we as the church providing help and support to parents in the areas they need? Here's a further breakdown of the areas that parents feel the lowest level of  support or the biggest gap between value and support. 
Phase
Areas in Need of Support

Preschool

Career Readiness

*Now more than ever, parents are feeling pressure to deal with their kid's futures.

Elementary School

Nutrition

Middle School

Mental Health

High School

Support with Healthy Mentors

Young Adults (ages 19-23)

Support with Healthy Mentors and Support in Technology & Career Readiness
4. Where do you go for help as parents?
Someday, these parents' kids will be going to their own parents for advice. So if we want to help the next generation win, we have to help their parents win. 
The top 5 places the general population of parents goes for help are . . . 
Spouse/Partner
Extended Family
Friends/Neighbors
Internet Searches
Books
The most notable difference between the general population and Christian parents is #3, which is the Church. 
Ministry leader, our role is eternally important. We have the opportunity to help parents of all phases connect with their children. 
Wrap Up 
As we reflect on this data to help us better serve parents, I will leave you with a question. 
What is something someone could have done to better support YOUR parents growing up to have them become better parents?
Think about what could have been possible if someone from the church would have leaned in?
Maybe – just maybe – loving someone's parents may do more in the long term than loving their kid in the short term. And while you might be leaving here with more questions than when you started reading, that's okay. May this internal conversation lead to an external one with your team to prioritize family strategy. 
To help with this conversation, check out the conversation guide for you and your teams. And be sure to grab a copy of the book here!
Follow Us
Stay connected to us and be the first to know about exclusive deals and upcoming events.