How the Parent Cue App can Change How You Partner with Parents
If you're a ministry leader today, chances are you are navigating the very real tension that exists between empathizing with overwhelmed parents and keeping them engaged in your programming. Everything has changed and you're likely running out of ideas (and patience…and budget dollars) on how to best support families and not feel like a failure. […]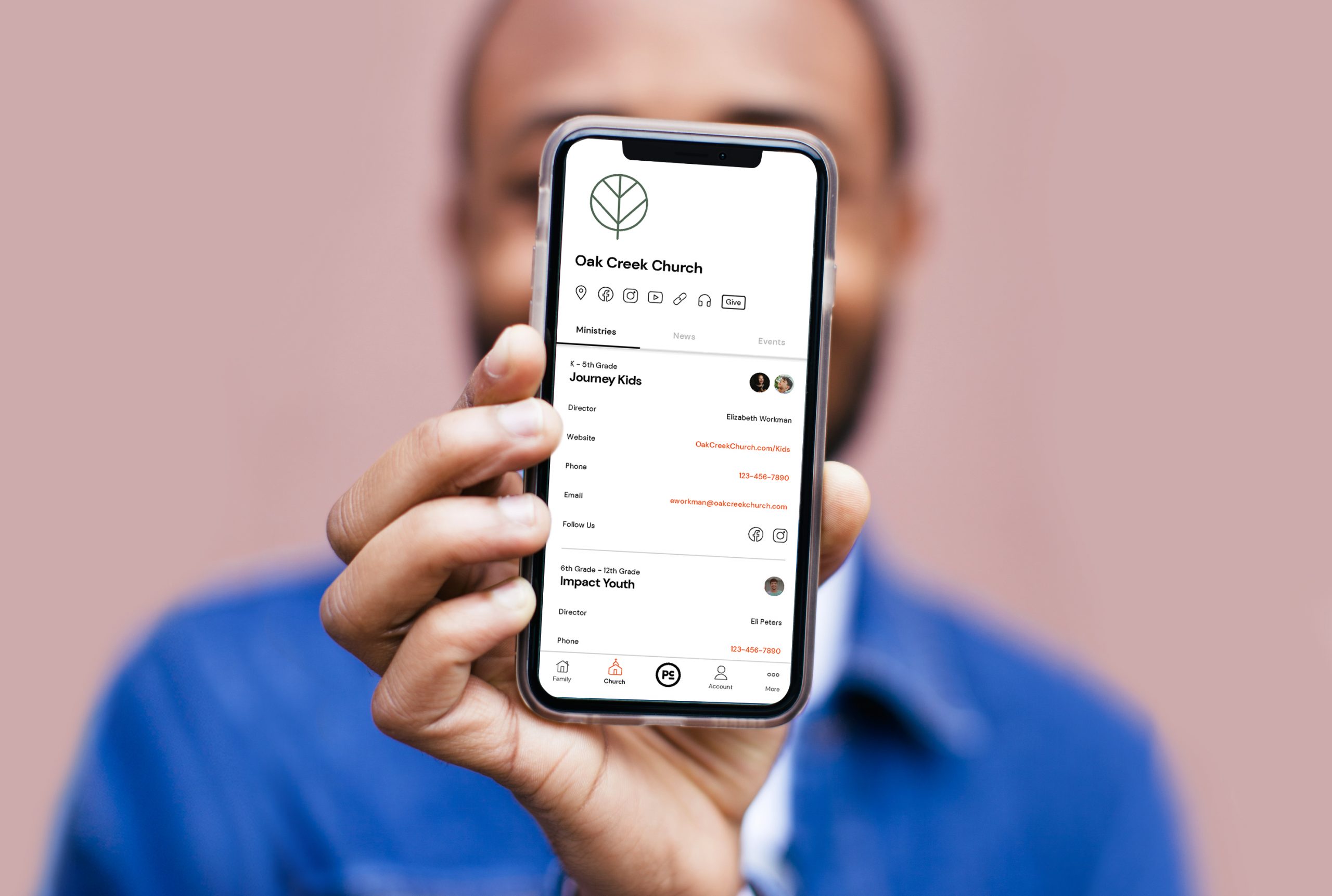 If you're a ministry leader today, chances are you are navigating the very real tension that exists between empathizing with overwhelmed parents and keeping them engaged in your programming. Everything has changed and you're likely running out of ideas (and patience…and budget dollars) on how to best support families and not feel like a failure. Though parent partnership seems full of obstacles right now, we still believe this pandemic has produced some rare opportunities. Maybe like, giving every church it's own mobile family ministry app just for their parents?
By now, you've probably heard of the Parent Cue App, a free resource for any parent in the world to find high-quality, timely Orange content to engage their child's faith from Monday through Saturday. You may have even heard of Parent Cue App Customization, which allows your parents to connect to your church and see your church's unique curriculum content and teaching videos within the app (or use the loaded-for-you Orange curriculum!).
While this subscription has been a game-changer for many family ministry leaders to engage their parents, we quickly realized that, in 2021, we needed to step up our game. With the steady rise of more parents choosing a Sundays-at-Home context, ministry leaders have asked for better analytics, more flexibility, and greater visibility. We've heard you and we're happy to announce that Parent Cue App Customization is getting a BIG facelift this Fall! Here's what you can expect:
A Fully Customizable Church Landing Page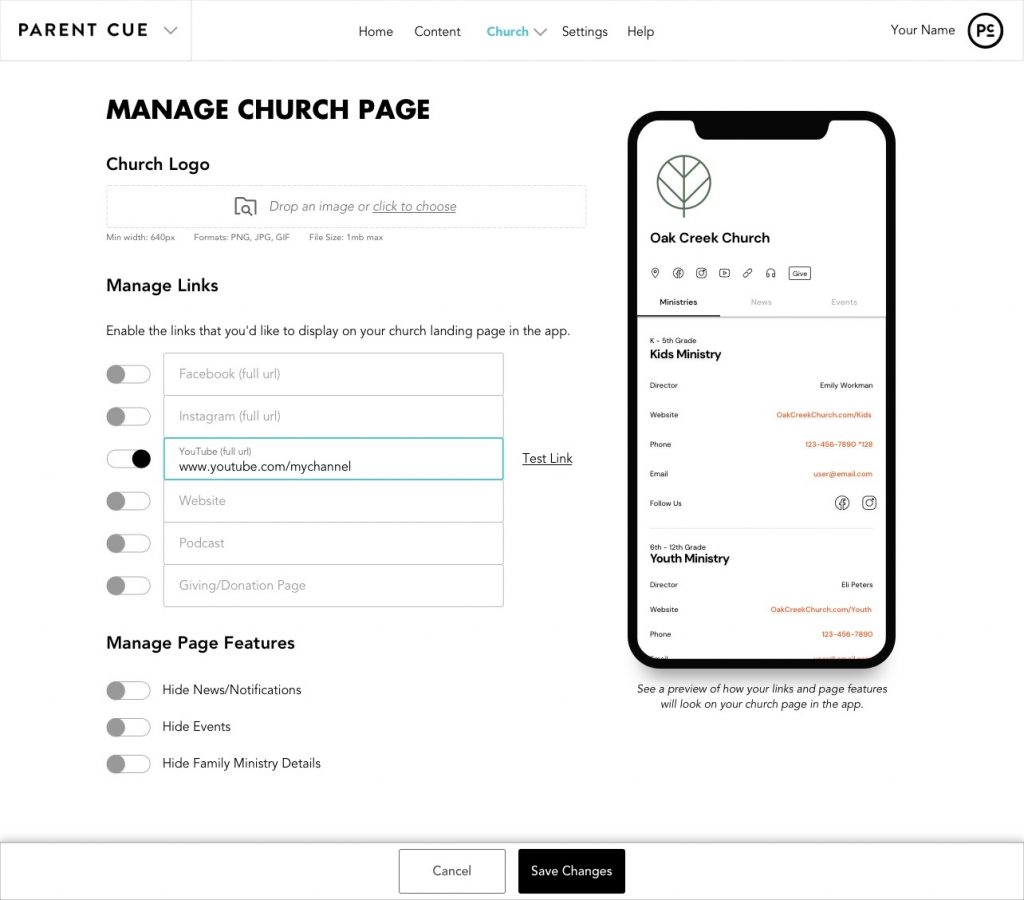 Yep! We're now essentially giving your church a "micro-site" within the Parent Cue App Customization.
On your church page, you will be able to easily: 
•   Add your church logo and links to your church's key platforms (ex: website, podcast, social media, etc…)
•   Add a link to your church's online giving page
•   Send church and ministry news directly to a parent's phone through notifications
•   Add upcoming events with clickable registration or information links
•   Add specific ministry information (ex: director, contact info, website, social links etc…)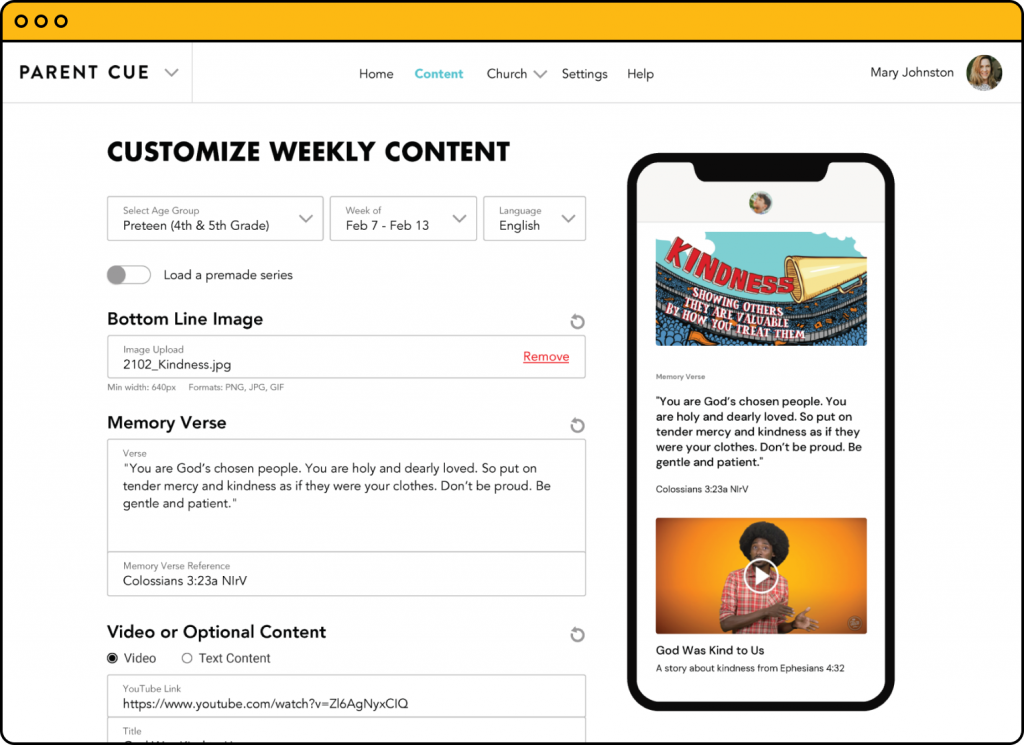 Real-time App Preview Screen
We heard you. You want to see what your customized content will look like in the Parent Cue App Customization. And why not? Now you can preview what your content will look like on a parent's device before it goes live!
Better Analytics Through An All-New Dashboard
In 2021, we need more ways to measure engagement beyond Sunday morning attendance. Now it's easier than ever to see the number of families currently connected to your church through the Parent Cue App Customization and the date of their connection! This will be incredibly helpful during your efforts to promote the app to your parents, giving you better analytics to monitor engagement. (Sidenote: If you're launching a campaign, did you know we've put together an entire promotional kit for you already? Find the latest Parent Cue App Promo Kit here!)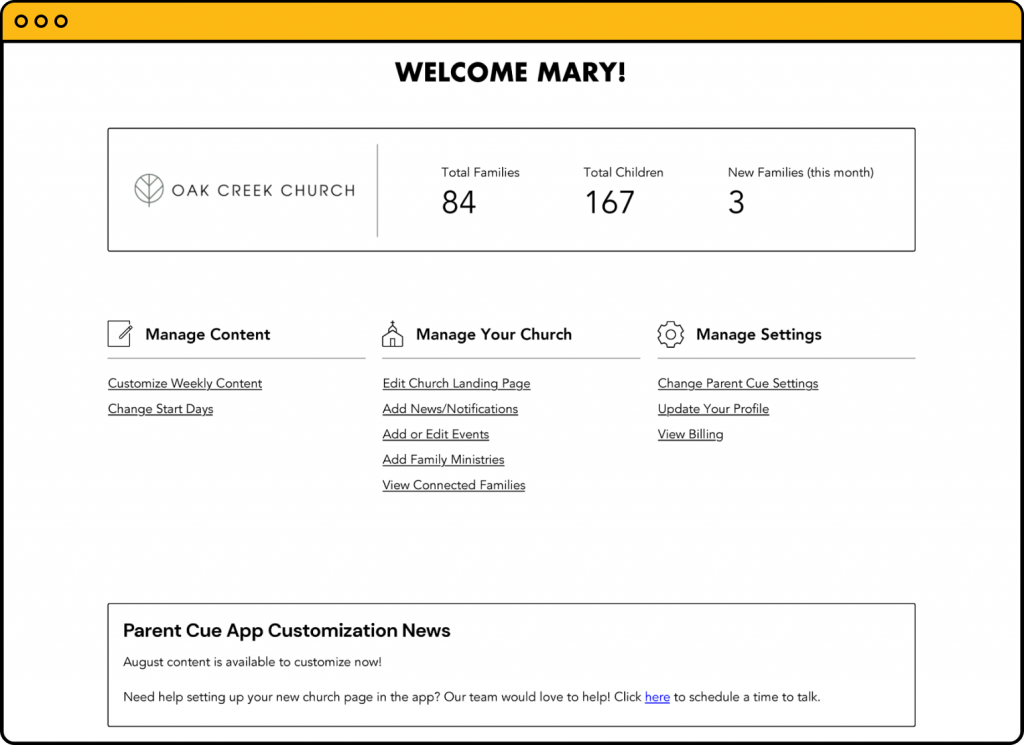 More Flexibility To Define Your Age Groups
Do you keep your kindergartners in your preschool ministry? Maybe your elementary ministry goes through 6th grade? Well, friends, your prayers have been answered! We are now giving you the ability to define the age group range for each ministry you add to the Parent Cue App Customization! This gives you even more flexibility over which age groups receive what content and allows for the app to match your ministries overall age structure. 
Never before has there been a more crucial time for church leaders to give parents the tools they need to feel more confident in their parenting and more connected to their faith community. And the Parent Cue team is committed to partnering with you on this journey. 
Try customizing the Parent Cue App Customization for your church FREE at ParentCueApp.Church.
Follow Us
Stay connected to us and be the first to know about exclusive deals and upcoming events.