10 Ways Orange Conference Has Changed Over the Past 10 Years
I've been attending The Orange Conference since 2010—which means, I have 10 years of OC experience. With that in mind, here are 10 ways the Orange Conference has changed over the past decade.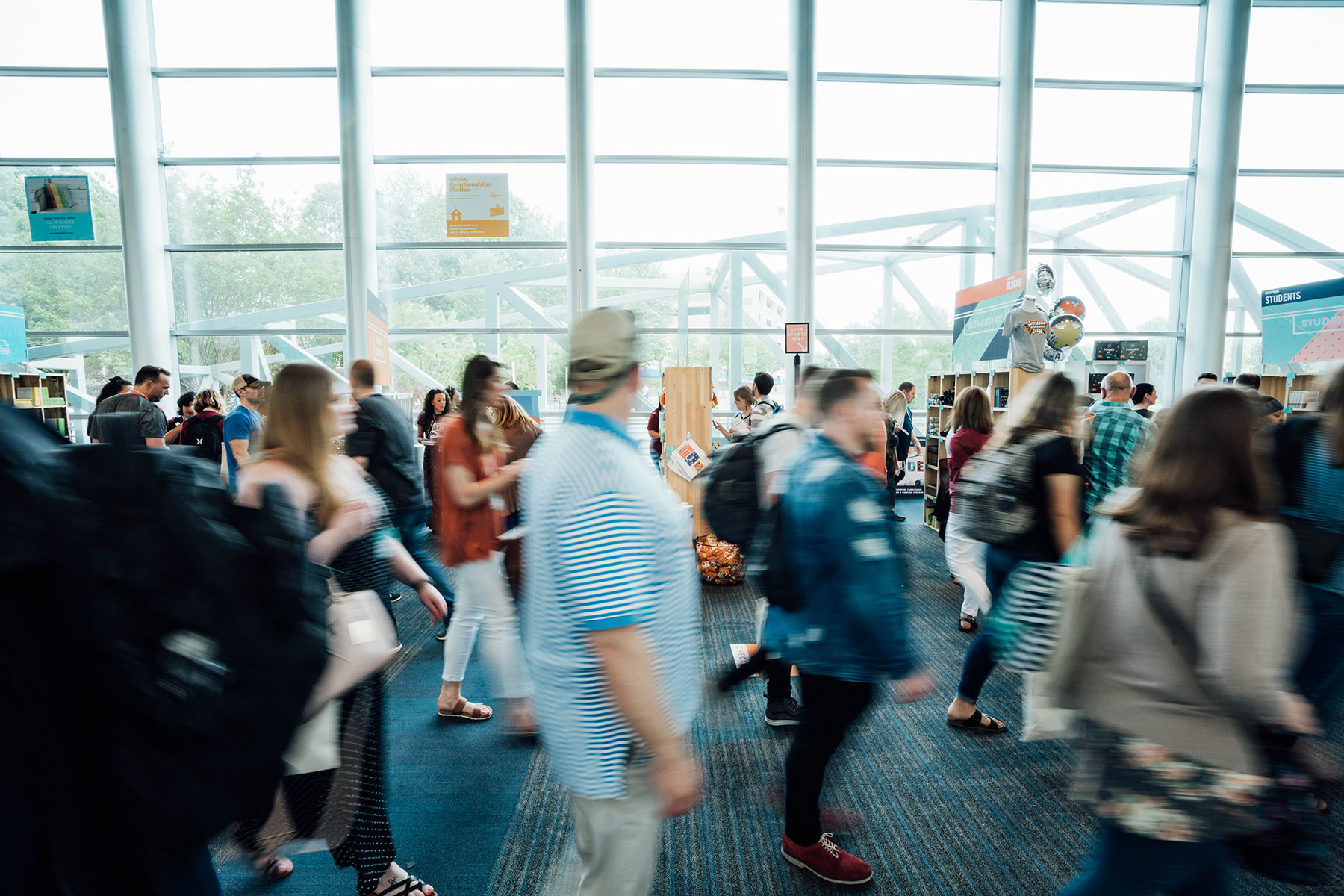 "Why do you keep going back?"
This is a question I have heard many times when I tell people I'm attending The Orange Conference. While the basic concepts of the Orange philosophy has not changed over the years, the Conference continues to evolve. Some of those changes are not that important, but others have made the event even better.
I've been attending The Orange Conference since 2010—which means, I have 10 years of OC experience. With that in mind, here are 10 ways the Orange Conference has changed over the past decade, listed in no particular order.
1. The speakers keep getting better
Don't get me wrong. The speakers have always been phenomenal. But just when I think they have the perfect lineup, they bring in someone like Ryan Leak and Danielle Strickland that continue to challenge and excite me. 
This includes those speakers who do workshops, too. One of my favorites from last year was John Birkmire, who led a YouLead pre-conference workshop on how to build a leadership team for the future.
2. The venue has changed
When I first started attending, I pointed my GPS to the Gwinnett Center. That all changed in 2015, when the arena was purchased by Infinite Energy and renamed the Infinite Energy Center. 
Not only has the name change, they've begun adding additional buildings, parking garages, and halls. Each year I go back, I wonder what else they have added to the already gigantic complex.
3. The theme continues to improve
The first year I attended, the theme was Collide. That year, they spoke about how we need to collide with God both within and outside the church. While this was good, the themes over the last few years have been even better.
A few years ago, I feel like Orange really started hitting their stride with themes. I'm a huge fan of this year's theme, It's Personal, where they spoke on how Jesus' ministry was incredibly personal, and we need to do the same.
4. Better food truck options
While the conference center is getting bigger and better, which allows for more people, there was one glaring issue around food. Sure, there are several restaurants within driving distance of the arena, there were also a ton of people trying to rush to them all at the same time. 
The first few years, I barely remember any food trucks being there. Last year, there were a plethora of trucks in various locations. Yes, you still have to wait in line, but at least you don't have to drive in traffic and then wait in line, wondering if you will be back in time.
5. Reggie is making it personal
While Reggie Joiner, the founder and CEO of Orange, has always been active in the local church, a few years ago, he began to be incredibly active the small town of Wrightsville in south Georgia. 
He has helped them with their family ministry, served in their community, and empowered many young leaders. It's obvious this has given him a newly revitalized vision for the church. He's also able to relate even more with the majority of leaders attending the conference, who are also from small towns and smaller churches.
6. Asking more hard questions
One of the best things Orange has done over the last few years is to bring Tom Shefchunas on board. He's incredibly passionate about making the church better, and he asks great questions. 
Last year, he challenged us about small groups by asking if we truly believe in small groups. If we did, he believes it should fundamentally change everything we do. But is that what is happening? 
Similarly, he has been asking hard questions around the LGBTQ+ reality, where he continues to do more and more research that is benefiting us all.
7. More emphasis on social injustice
Similar to the hard questions, Orange is looking into what the church can and should do to change many social injustices. The biggest one they have began to tackle over the last three to four years has been racism. 
They've brought some amazing leaders from all sorts of cultural and racial backgrounds together and asked the right questions to begin to solve the problems. There is still quite a bit of work to do, but Orange is beginning to move to the front lines of the solutions.
8. Added ReThink Leadership
While they have always encouraged churches to bring their entire staff, they really stepped it up in 2016 when they added ReThink Leadership for senior leaders. This multi-day conference is designed to be a smaller and more intimate setting, but it essentially a companion conference to Orange. 
While you are connecting with others in your ministry area and learning how to lead your teams well, your senior leaders will have the opportunity to connect with others in their roles, learn some amazing leadership skills, and hear from some of the top senior leaders around the world in TED-style talks and interviews. 
9. Less focus on promoting Orange products
The first couple times I attended the conference, I had a great time and I learned so much. I do recall, though, that there was a big emphasis on the Orange curriculum and how to utilize it in your context. 
While this was great for people who had questions, it wasn't even close to their emphasis today. Yes, they still have workshop tracks that walk you through their products, but they have widened their focus so much that you could possibly even attend without knowing they have their own curriculum. 
They focus on the important topics and issues that apply to many church contexts, which means even more people can feel comfortable and learn.
10. Added live streaming component
Attending the Orange Conference is a highlight of my year. But I know not everyone can make that happen. Orange recognized that, too. A few years ago, they added a live-streaming component that continues to evolve and get better every year. 
Not only do they stream some of the main sessions for free, they also have exclusive interviews with conference speakers, authors, and others from Orange. If you cannot make it to the event, this is definitely the next best thing. I only wish there was some way I could both attend and watch the stream.
What Never Changes
While the Orange Conference continues to change over the years, there are a few things that never change. The focus is always on helping God's people do a better job of leading others within the context of the church and family. 
Another year will bring another theme, some different speakers, more construction, bigger questions, and great content—all with the goal of helping us do a better job as a church to partner with parents and families.
Change is inevitable. It's not if it will happen, it's when it will happen. And Orange has always been about rethinking ministry and the church. So it's no surprise that they continue to rethink and change their conference. 
I'm so excited to see what changes they make in 2020 to challenge us in new ways and empower us like never before. I hope you will join me this year as we discuss how Every Generation Needs a New Revolution!
Steve Cullum is the student pastor at LifeBridge Christian Church in Longmont, CO, where he oversees their ministry to sixth through twelfth grade students and their families. He also hosts The Student Ministry Podcast. You can follow him on Twitter @stevecullum.
Follow Us
Stay connected to us and be the first to know about exclusive deals and upcoming events.