Summer Is The New January 1!
If you're a woman in ministry, particularly a mom, you probably look forward to summer for the same reason your children count down the final days of school: VACATION. The heat brings road trips to the beach, poolside parties, and lazy lemonade stand days. For many of us, summer feels like a three-month hiatus from reality. But what if this summer could actually be a catalyst to change?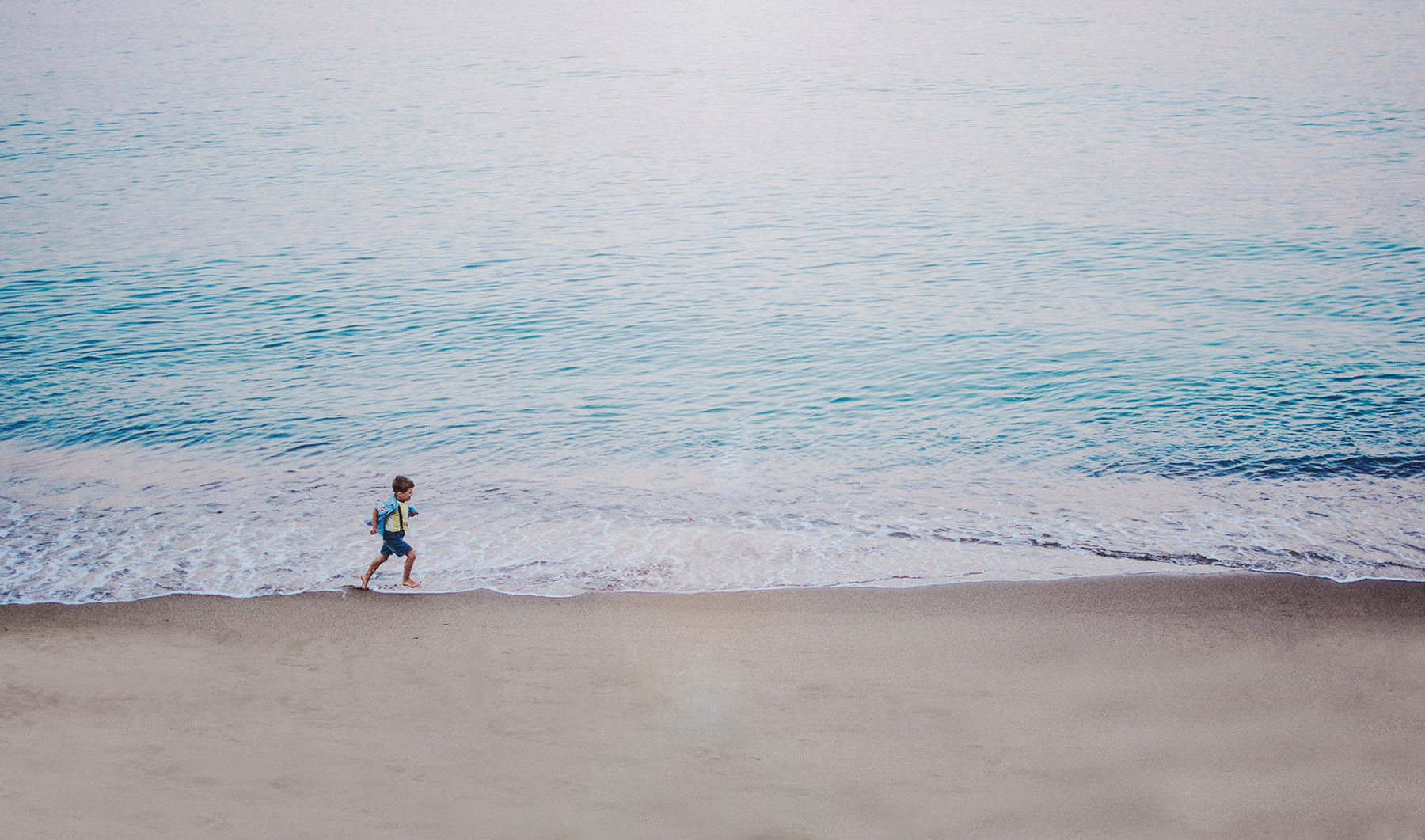 If you're a woman in ministry, particularly a mom, you probably look forward to summer for the same reason your children count down the final days of school: VACATION. The heat brings road trips to the beach, poolside parties, and lazy lemonade stand days. For many of us, summer feels like a three-month hiatus from reality. But what if this summer could actually be a catalyst to change? Suppose you could utilize this time to find a rhythm that helped you communicate expectations, set boundaries, even prioritize in such a way that you could lead better.
I'm not suggesting you should sacrifice your summer break on the altar of your ministry, but what if you could capitalize on this time so that EVERY day was both effective and efficient. Let's make a SUMMER RESOLUTION! Here are four steps to help you find a rhythm that will work for you all year long:
Say "Goodbye" to GUILT!
At Orange Conference this year, I was talking to a leading lady in ministry. I asked her for the best piece of advice she had ever received. This is what she said, "Never feel guilty for prioritizing the call God has placed on your life." My immediate thought was, "I don't." Then she explained.
As women in ministry, we experience constant tension. We need to manage our household, care for our children, be attentive to our husband, honor and respect our senior leadership, and serve the families within our ministry. Whew . . . even listing it out sends my head swirling and my heart palpitating. There is a reason why women are masters of multitasking. However, we're also masters of comparison as well. We look at the moms around us who volunteer for PTO, the wives that bake cakes from scratch, or the power-suited women who command the attention of a boardroom and allow these accomplishments to diminish our own. These women are incredible in their own way, in their own making. However, as a woman in ministry, your creator expects something different from you. He expects you to be available for His use at a moment's notice.
In my house that means my husband rarely eats a home cooked meal, my kids never win the fundraiser prizes, and occasionally important meetings are rescheduled because someone has the stomach flu. For years I've fought guilt over my shortcomings. Why can't I figure out how to do it all? Here's what I've learned. No one expects me to, including my Savior. The impossible expectations I often feel are self-imposed. I am called to be an attentive mom, a supportive wife, and an effective children's pastor. The rest is details.
If we take my friend's advice, then we refuse to feel guilty for the small details that are of no consequence. We rid our hearts and minds of guilt. When thoughts of inadequacy and comparison start to creep in, we find our peace and sufficiency in the Word of God and in the purpose God has created us for. Let's spend this summer repeating this scripture to ourselves: "For we are God's handiwork, created in Christ Jesus to do good works, which God prepared in advance for us to do," Ephesians 2:10 NIV. This summer, let's choose to stay focused on what God has prepared us to do. Focus brings efficiency, and efficiency increases effectiveness.
Say "Hello" to LEARNING!
I'm a creature of habit. I select the same items at the same restaurants on the same days every week. I enjoy my nightly bedtime routine. I have a certain process I follow to clean out my car and a preferred way to fold laundry. My husband often makes fun of me because I have tendencies that don't typically show up until much later in life. Everyone who knows me, knows my quirkiness and it wasn't really a problem until I started to see a pattern in my personal growth.
My preferences and inclinations began to limit my maturity in Christ and my development as a leader. The routine of my life was scheduled in such a way as to remove all opportunity to learn something new.
Of course, we should all be growing in our faith and becoming more familiar with scripture, but I'm not just talking about our spirituality. Recently I was meeting up with a friend for a fitness class. As we were making plans she said, "I'll just swing by and pick up my groceries and meet you there in 30 minutes." I thought she was crazy. Unless she planned to feed her children cereal all week, there was no way she was going to grocery shop for her family of six and meet me at the gym—that is more than 15 minutes from her house—in a half hour.
When I asked her how she did it she said, "Girl, I don't go into the grocery store. What are you thinking? I order from my app, pick up my groceries the next morning, and if I'm going to be out for a while I take my cooler for the cold items." Mind blown. I was spending two hours a week grocery shopping. Why? Because I had always done it that way. I don't anymore. Hello grocery app!
The world we live in is drastically different than the one we grew up in. If you still pull out the encyclopedia on your bookshelf when trying to help your son or daughter on a school project, I have one word for you: Google. The only way to thrive in the fast-paced world that is the 21st Century is to absorb as much as you can as quickly as possible.
You should always be reading. However, it's also important to stay up to date with what's popular on television. Check out new apps. Talk to your kids about the latest trends. Befriend technology. Skim iTunes for what's hot in music. Google Apple to see what product is hitting shelves next. Staying relevant means staying relatable. In ministry, the moment we become antiquated is the moment we diminish our ability to connect and minister. Prioritize learning. Make it a point to try something different, talk to someone new, ask difficult questions, and push the boundaries you've set for your self. The more knowledge you obtain, the more insight you'll have to offer. Increase your wealth of knowledge to the point to which your contribution becomes invaluable.
Say "Yes" to OPPORTUNITY!
As a staff member at Elevation Church, we have a saying, I'm sure you've heard before. We replace the words "have to" with "get to" in our vocabulary. Instead of, "I have to finish this volunteer schedule." We say, "I get to invest into my team." A change of perspective takes a mundane and dreaded task and turns it into an opportunity. It doesn't mean that working on the volunteer schedule is going to somehow become more fun or exciting than it was before. However, when you stay focused on the vision God gave you, each endeavor brings fulfillment. Finding a rhythm that works for you is as much about perspective as it is about scheduling or prioritizing.
My husband and I recently celebrated our 15-year anniversary. I was married when I was 19 years old. He was 21. For the majority of our marriage, Frank has traveled extensively, whether in the business world, or more recently, for the ministry. Despite my familiarity with this routine, it never got easier. I dreaded the packing, the time away, the isolation I felt, the laundry I had to contend with when it was over.
A few years ago, while attending a ladies event lead by Holly Furtick, first lady of Elevation Church, I gained a new perspective concerning my frustration. Holly said, "I used to hate when my husband traveled. It wasn't until I realized these were opportunities to grow myself, tackle problems I had procrastinated on, even relax and enjoy some quiet time that I began to look forward to the trips as much as he did."
This simple thought illuminated an ineffectual rhythm I had fallen into. My irritation at the situation was preventing a healthy perspective. Do I still have moments when I miss my husband as he travels? Of course! However, when I change the lens through which I see my dissatisfaction, I position myself to accomplish more and to avoid the pitfalls of frustration. I find a rhythm that works for my family and me. Now I can identify the opportunity and make the most of it. It's the same in ministry. Frame your situation in such a way that exchanges disappointment for possibility. Change your perspective and say "Yes!" to opportunity.
Say "No" to CHAOS!
If we're going to spend the summer resolving to become a better version of ourselves, we have to start with a plan. When January 1st rolls around and we begin to make New Year's Resolutions, we all envision days spent checking off to-do lists, creating initiatives and executing them with excellence, and discovering hidden potential within ourselves that opens a door to the next level of success. Sadly, only eight percent of those that make resolutions actually see them come to fruition. Why? There are many reasons, but the common denominator for all of them is chaos. Every sports analyst will tell you to win in any competition it takes preparation and determination. He or she must limit distractions and fully focus on the end goal. In other words, it starts with eradicating chaos from your life. Here are three easy ways to start.
Prepare
To win in ministry and in life, you must make a plan to achieve your objective. Preparation is key. Set realistic goals and clarify your strategy. This is easier said then done. However, when you attempt to tackle an initiative blind you welcome disorder and ensure breakdown. Create milestones, organize your calendar, and utilize technology in a way that will keep you moving forward.
Determine
Are you committed? Whatever your goal, you have to predetermine to face the obstacles that arise with perseverance. Prepare yourself for setbacks and come to terms with the fact that momentary failure may occur before you ultimately prevail. Tolerating setbacks isn't the same as accepting defeat. Determine to experience success, then allow your missteps to be the vehicle for self-awareness and self-evaluation.
Limit Distractions
Temptation. It's been the downfall of man since creation. In ministry, temptation most often comes in the form of mediocrity. We see a fellow staffer make a presentation that is less than stellar and in response we lower our own expectations. We design a large group set that surprises our leadership then realize the extra effort expended wasn't necessary to impress them. We plan an initiative but our budget gets cut because someone else overspent and now we're willing to accept the status quo. We allow the chaos others experience in their day-to-day lives to bleed into ours and begin to influence our decision-making process. Limiting distractions means we put on figurative blinders. We remove the temptation to settle, define our standard of excellence, and consistently refocus on the plan.
When we prepare our strategy on the front end, determine to push through adversity and proactively limit distractions we effectively reduce the destructive force chaos can have on our lives and our ministry.
As we prepare to have the most impactful summer yet, let's open our minds to learning something new and open our arms to welcome opportunity. Let's commit to repeating Ephesians 2:10 every day and choose to stand tall in the calling God has placed on our lives, ignoring the enemy's schemes of comparison and doubt. Let's find rhythms that work for us, and then let's choose to work the rhythm by eliminating chaos. Summer 2016 can be one for the record books. Care to join me?
Follow Us
Stay connected to us and be the first to know about exclusive deals and upcoming events.