Maintaining Marriage Sanity During the Busy Holiday Season
Although Summer is my favorite season, I've always loved the events that happen this time of year. I love bundling up in a blanket on cold metal stands watching a football game. I love the smell that permeates the neighborhood that comes from roaring fireplaces. I love the hot beverages that usually accompany this time […]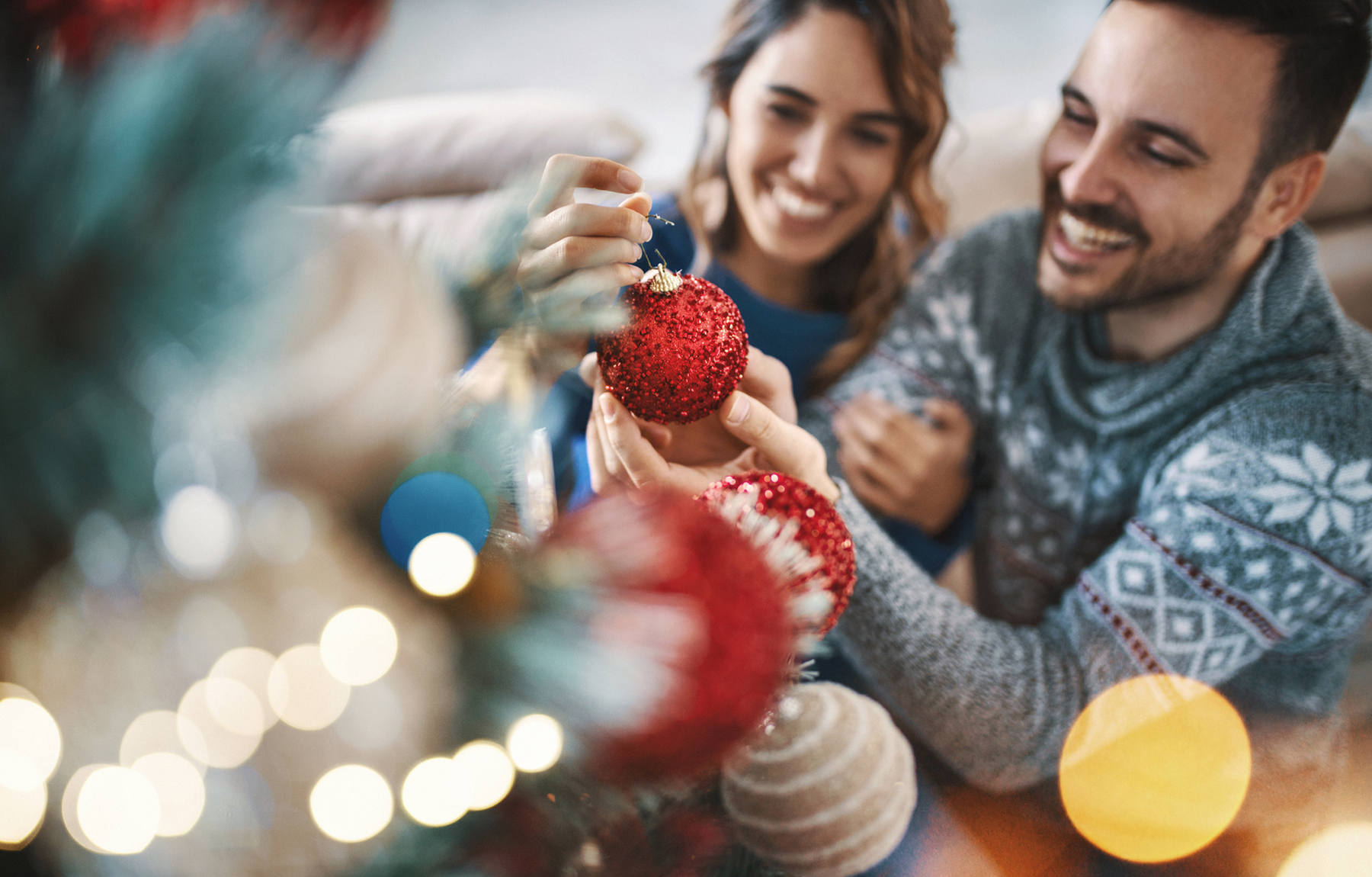 Although Summer is my favorite season, I've always loved the events that happen this time of year. I love bundling up in a blanket on cold metal stands watching a football game. I love the smell that permeates the neighborhood that comes from roaring fireplaces. I love the hot beverages that usually accompany this time of year. Most of all, I love the holidays!
Holidays have always been a very special time of year for me. As a kid, they meant being able to play with the cousins that I hadn't seen for most of the rest of the year. It meant all the special activities we would do in school. It meant the anticipation of presents that would be under the tree with my name on them. It was all good, all fun, all the time.
Once I got married, that changed a bit. All the fun and joy was still there, however it came with some added pressures. In a blink of an eye all the things that had solely been about my family now included someone else's family. Many of those things were expressed in greatly different ways with wholly different expectations. On top of all of this came the added time pressures from work and parties and all the other things that made holiday joy possible. Once I had my own kids, this all intensified exponentially. It turns out that all the things I enjoyed as a kid didn't "just" happen. As any married couple can tell you, this extra pressure in addition to all the extra things that go along with the holidays can sometimes erode the connection that's being celebrated in the first place.
All the plans and the parties and the perfect family photos at the end of the day are about the family. To lose connection with the family in order to get the perfect pictures and plans and parties is ridiculous. No one wants this to happen, but all too often it happens nonetheless. In order to navigate this time more smoothly, to retain more of the happy and less of the hectic, here are some helpful tips.
Talk through your individual expectations and desires when it comes to financial spending and gift giving.
It doesn't take long for a married couple to identify that they came into the marriage with different expectations. One of the biggest areas that can cause tension is individual spending habits. This is never more acute than during the holiday season. Things cost money. How much money we spend and what things we feel compelled to buy can be a major source of tension. This is intensified with the added emotional link with the holiday season. Gift giving can be more than just buying an object and giving it to another. It can have the added emotional weight of the meaning behind that gift and even symbolize the relationship itself. For this reason, it will be important for the two of you as a couple to sit down and talk through your personal feelings surrounding the holidays. Talk about what gift giving means to you. Talk about expectations of who to buy gifts for. Talk about the spending that comes from travel and attending parties, as well as other related things like Christmas decorations. Everyone values these things a little differently.
The first example I ever experienced this clash of differences during a Christmas was when my wife and I were dating. I spent a lot of time, energy, and money pulling together many seasons of her favorite TV show on DVD. She got me a pillow. To her, the meal we had together as well as the time we spent was much more important than what we bought for each other. On top of that, my wife is a practical gift giver, where I give gifts that have some thoughtful connection to the person or our relationship. Luckily, we navigated this successfully enough that we ended up getting married. However, this could have been a disastrous omen of misery to come.
Resources like the book, The Five Love Languages and talking through special memories of holidays past can give insight into how each of you approach the holidays in terms of giving and expenditure expectations.
Understand that your families of origin probably differ vastly in the way they conceptualize the holidays.
It will be very important for you to talk openly about the differences of your families. For most of us that will mean vastly different family dynamics and personalities. At the very least, there will be idiosyncrasies that you take for granted in your own family, but your spouse experiences very differently from them as in-laws. Make sure you talk through your family identity, expectations with the way the holidays unfold, and the differences that may become clear in contrast. Also, take some time talking through the things you might notice about your in-laws that may be difficult for you, but indifferent to your spouse. Be sure to approach the conversation with a nonjudgmental, open mind. This can be a very sensitive discussion. For this very reason, this discussion will be easy to avoid. Unfortunately, avoidance can often leave room for resentment, misunderstanding, and disconnect to take root.
Talk through your family/couple Identity.
This involves being aware of the values, constraints, idiosyncrasies, needs and expectations that go into you as a couple and family. During the holiday season, your family will butt up against other families, whether that be your in-laws and extended family or families/friends from work and church. Hopefully by now, you've already undergone tips #1 and #2. So as a couple, you understand better how to blend the expectations of the two of you. It'll be important that you don't lose sight of what's good and meaningful for your family as you interact with others. When coming in contact with other systems, it's easy to feel other's expectations pushing in on you and your family. Many times, families who have difficulty setting these boundaries will choose to isolate rather than spend time with others. Although there's nothing wrong with wanting to spend an intimate holiday with just your immediate family, that isn't necessary to navigate the pressure of other's expectations. It'll be important for you to sit down with your spouse and talk through time, money and resource constraints. It'll be important to set boundaries that celebrate your personal values and identity as a family before you fall into the trap of trying to keep up with the Joneses or unintentionally lose yourself in the expectations of others.
Create a concrete game plan for navigating the holidays.
This will help you keep first things first. As we've already discussed, every family leans into the holidays a little differently. Take the values, desires and personality of your particular family and make sure they are protected as you navigate the pressures that go along with this time. Things included in a game plan might include:
Set time limits for time with family both with the time you stay with them as well as the time you spend with family while you are there.
Have a way for you as a couple to stay connected when around other family members. This might be a code word to indicate disconnection or special time you set aside while staying with family to connect with just each other.
Set a budget for spending. This would include who to buy a present for and how much to spend on each. Sometimes it's easier to create group categories like coworkers, family, and kids in order to have a general budget that can be spread out differently in that particular category. This still allows you to have a bottom line for each category.
Think through setting aside weekends and weekdays that you have available for parties and activities. This way you can be intentional with your schedule rather than feeling like you need to attend everything and feeling so overwhelmed you enjoy nothing.
Set aside a few evenings or days on the weekend for preparing for the holidays. This would include gift wrapping, shopping, baking, packing and/or doing all the things you might need to do for a party or event. Many times, we expect this time to magically appear out of nowhere. Most of the time "nowhere" ends up being time we would normally sleep.
Talk through and set boundaries around specific things you want to do or experience while with family or just during this busy time. When there are too many things to do and not enough time to do them, this will allow you to make sure first things come first. It's much easier to say no to something if you know you're saying yes to something that matters more to you.
Hopefully this provided some areas to help you navigate this very busy time and keep the connection with your spouse and family you value most. The most important aspect out of everything is to be intentional. When we experience an event or time of year that is emotionally charged, there is a danger of justifying bad or unhealthy behavior. This behavior often takes the form of over-spending, not taking into account others' feelings, or losing ourselves in the event. Intentionality helps you use your resources like time, energy, and finances in a way that fits your identity and values as a family. When we experience something, whether horrible or the best thing we've ever done, it's more meaningful when we're connected.
Again, all the plans and the parties and the perfect family photos, at the end of the day, are about the family. Being aware of where each of you comes from, valuing your differences as you set your joint expectations, and planning how to use your resources will help you keep family and connection at the forefront during this holiday season.
Read more on this topic:
https://orangeblogs.org/orangeleaders/2016/11/28/a-leaders-top-priority-this-busy-holiday-season/
Follow Us
Stay connected to us and be the first to know about exclusive deals and upcoming events.