Growing up with three other siblings, we learned that if you wanted something, you called dibs. Has anyone else actually licked a slice of pizza before eating it to mark their territory or called shotgun for the front seat a week in advance from the family trip? Tickets for Orange Conference 2019 are available TODAY, and we want to make sure you are among the first to receive all the great things to come.
Want your volunteers to kick it up a notch? Your parents to partner with you better? Your church to influence the community you are a part of more?
It happens when you make their time, energy, passion and impact, personal. That is exactly what is happening at Orange Conference 2019. This years theme, "It's Personal," will help you, your team and your ministry make an impact on the communities that you love. Registration is now open, and you better be coming in hot.
Do NOT wait to register. We all know the saying "early bird gets the worm?" Well in this case, we'll leave the worms out of it, but you'll get a lot more.
Not only will you be able to save money for you and your group, you'll get first dibs on breakouts. This is clutch.
First dibs means the first chance to hear amazing speakers in the breakouts that matter to you most. Breakouts fill up fast, and by registering TODAY you get to prioritize your ministry as you make this year personal.
First dibs on breakouts puts you in the drivers seat of your Orange Conference experience. You'll be able to see where you hope to take your ministry and team in the next year and create the experience that equips you for success.
We can't wait to see you and your team this year! Let's make it personal!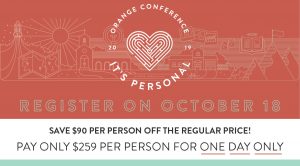 Register TODAY! Save $90/person off the regular price!
Pay only $259 per person for one day only.
Or, pay only $229 per person for groups of 15 or more.
Don't forget to add YouLead Day for only $99 on October 18.
Save $30 per person off the regular price!
To register or get more information, visit: TheOrangeConference.com