What was it like for you a decade ago?
I remember the economy crashing. I think about how history was made with the election of our first African-American President. The Dark Knight movie was dominating the box office. Our church plant was just a baby at two years old. I weighed a lot less.
Anyhow, I digress.
Something else stands out from that year, though. It was the first season of the Orange Tour and I took our team to the closest stop to us. In fact, I was over-the-top excited about the fact that we were taking 20 people from our team. It was an amazing experience that I can remember like it was yesterday.
The reasons I brought our team to the Orange Tour that first year are the same reasons we attend every year. Here are just a few of them:
Vision
As I mentioned, our church was a new plant in 2006 and, as such, we've been an Orange church from the very beginning. I had experienced the first two Orange Conferences, and I believed in the core essentials and philosophy. I had shared those with our volunteers, but they had only heard it from me.
I took our team to the Orange Tour knowing how much vision would be injected into them by hearing about it from someone else. I distinctly remember the multiple conversations I had with one of our volunteers about the importance of parents attending the same service each week so their kids had the same small group leader. She wasn't sold.
We went to the Orange Tour, she heard it from Reggie Joiner, and then it was like it was brand new information. She loved it.
(Face-palm.)
Actually, I wasn't upset. I was thrilled. It's exactly why I wanted her to go. Over the last decade, she has been one of the best small group leaders we've ever had for kids and students, and she has worked on our staff team for the last five years. The Orange Tour gave her a vision of what could be if we approached family ministry a certain way.
Community
Another reason I bring my team to the Orange Tour is community. The community that is created among the team is hard to match. Our children and student ministry staff love connecting with their volunteers who come to the tour with us. The conversations on the way up and back. The shared meals together during the day. The laughs throughout the sessions and breakouts. All of it builds a sense of community that would take a year to build on Sundays.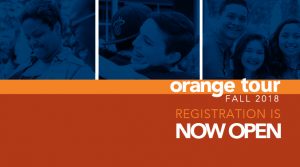 In addition, the community my team experiences with the Orange team and leaders from around the region is extremely helpful. We're launching a new environment for kids this year and our Elementary Director has talked to Orange staff as well as three or four ministry leaders we have community with, in order to learn everything we can from our friends. The community is like no other. It encourages us, challenges us, supports us, and reminds us that we're part of something much bigger than just ourselves and our church.
Ideas
After the people (the community), my favorite thing about Orange is the innovation. It's the new ideas I get whenever I experience Orange through events, books, conversations, blogs, podcasts, etc. I love new ideas, and I have plenty of my own, but I'll never have the time to innovate and create what our church needs by myself. Every year, I look forward to the ideas I'll pick up from Orange and from other churches that attend Orange Tour.
I'll be extremely conservative in saying that we have implemented dozens of ideas and practices in our ministries that we learned about at the Orange Tour. One of my favorite things is seeing our staff and volunteers hear about something and then bring the idea up in conversation at lunch or dinner after the tour. We get to talk about it together and their excitement is contagious.
Are you coming to tour this year?
Those are a few of the reasons I brought our team to the first Orange Tour and why we have been to every tour since. In short, the Orange Tour makes us better.
We're better leaders.
We're better thinkers.
We're better parents.
We're better friends.
And we have the chance to lead better ministries and better churches all for the purpose of helping kids, students, and families follow Jesus.
I can't wait for the Orange Tour again this year.
Is your team coming?
Orange Tour is coming to a city near you this fall and is offering ticket discounts to churches bringing 10 or more people to any tour stop. Reggie Joiner and other seasoned leaders will help align your team and equip you with an all new strategy this year. Take advantage of this discount today by reaching out to Amy Fenton at afenton@thinkorange.com.