Spring Cleaning Your Calendar
December and January were really fun months. Not only was there lots to celebrate with Christmas and New Years, but it was also a great opportunity to dream big and write down some goals on your calendar. As fun as those months are, it is now March. Although warmer weather and spring is almost here, […]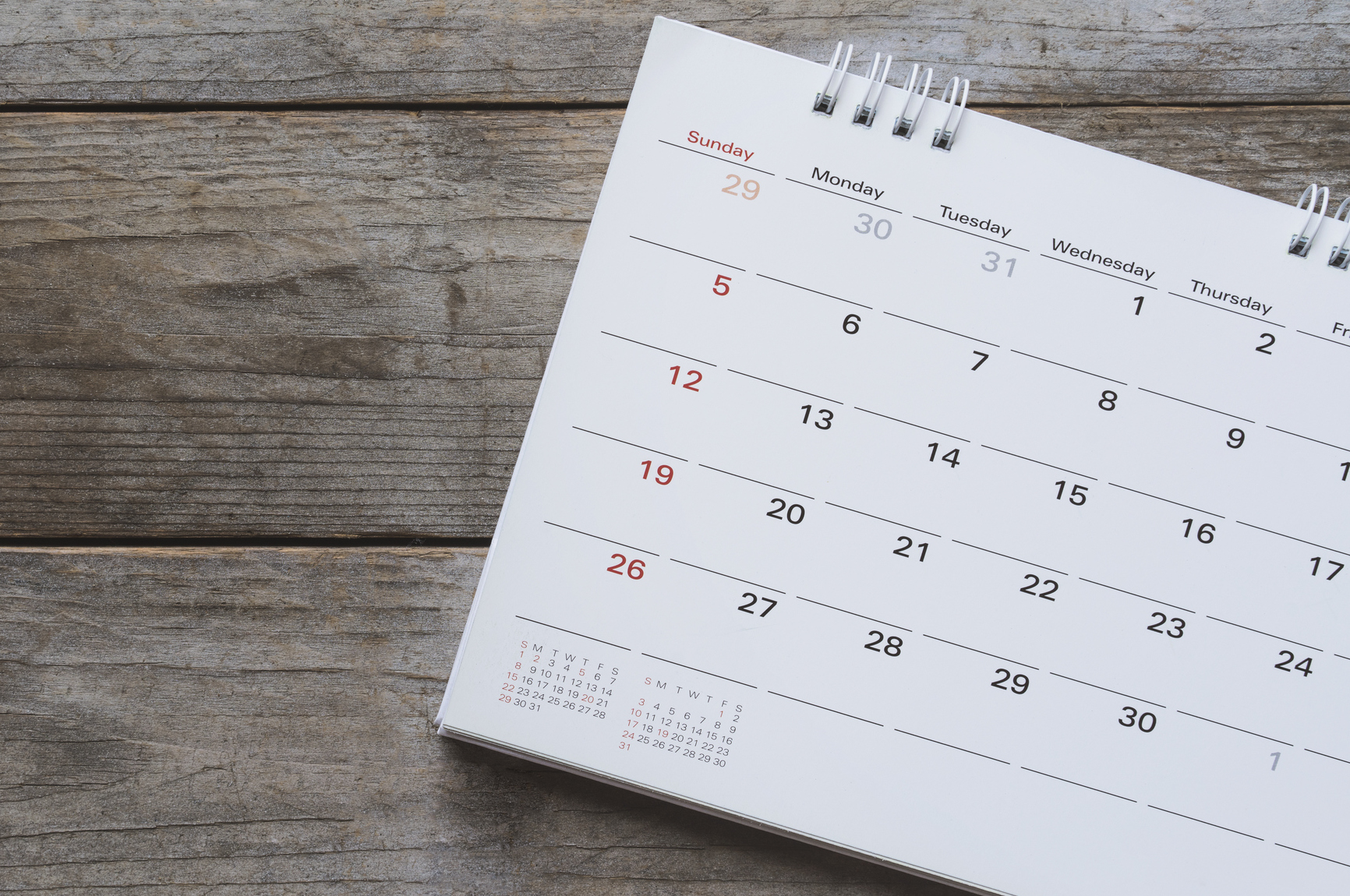 December and January were really fun months. Not only was there lots to celebrate with Christmas and New Years, but it was also a great opportunity to dream big and write down some goals on your calendar. As fun as those months are, it is now March. Although warmer weather and spring is almost here, the reality is that we might find ourselves either clinging on to our fading resolutions or back into some old ruts that keep us tied down. It's not necessarily a great place to be in. 
So how do you take a step back right now, reflect on where you are and get your calendar back on track? There a few things you can do. 
Review and adjust your goals. 
Where did you want to be right now? How are you doing with those goals? If you are doing great and you are right on track, congrats! You are one of the less than 20 percent who have made it this far with their resolutions and goals for the new year. However, if you are like the majority of people in the world, don't give up on your goals. Although it may be easy to do so, keep at it. What may help you is if you simply reassess and adjust your goals. Break your goals up into more manageable chunks so you keep striving toward your goal.
[bctt tweet="Break your goals up into more manageable chunks so you keep striving toward your goal. " username="orangeleaders"]
Start saying, "Nah to the ah to the no, no, no." 
Meghan Trainor had a popular song a few years ago brushing off someone's advances to her as she simply wasn't interested in anything they were doing. All throughout the song she said "no" to every single question this person was asking her. Well, in the same way, as you reflect on where you are, saying, "no" might be a really good word for you to start putting into your vocabulary. After all, if you want to get to that place where you were dreaming of by the end of the year, you have to say "no" to something, because every time you say "yes" to something not in your goals, you are saying "no" to steps in your goals.  
Start saying "yes" to you. 
Sometimes you have to be selfish. Honestly, if you are going to last long in ministry, you have to be selfish with your time. Sometimes we can get so preoccupied with doing God's work (which is great) that we lose sight of the work we need to do in our own lives. That means our mental health and fitness. If you are so busy with your ministry and don't make any time for you to stay mentally, physically and spiritually fit, you will burn out. Maybe not tomorrow, or next year but you will burn out. As you say "no" to some other things in your life, learn to say "yes" to you so you can improve who you are so you can be a better you, thus being a better person and leader for everyone else as well. 
Resolutions are great to make as they get us to take next steps in our life both professionally and personally. However, as great as it is to strive toward goals, very rarely will they ever get to achieve them. That is why it is so important to review your calendar and adjust your goals as needed from time to time. In addition to making those changes, learning how to say "no' to things that distract you from your goals and "yes" to things that will make you a better person will help you achieve them. 
READ MORE LIKE THIS:
https://orangeblogs.org/orangeleaders/2018/01/02/how-to-establish-a-vision-for-yourself-this-year/
Follow Us
Stay connected to us and be the first to know about exclusive deals and upcoming events.