February Editor's Notes
Love is a reflection of the character of God. God is love. As we read through God's One Big Story in the Bible, we see an epic love story unfold that started in a garden with a perfect relationship between God and His creation. When Adam and Eve sinned and broke that relationship, God didn't […]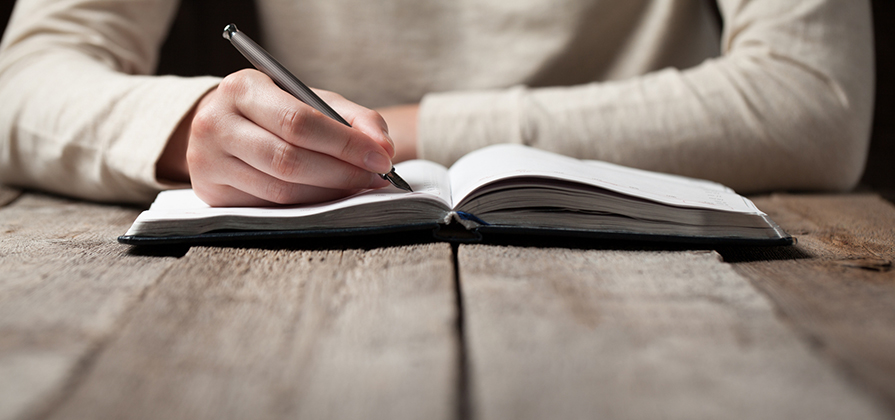 Love is a reflection of the character of God.
God is love. As we read through God's One Big Story in the Bible, we see an epic love story unfold that started in a garden with a perfect relationship between God and His creation. When Adam and Eve sinned and broke that relationship, God didn't give up on creation. His love for us drove Him to make the ultimate sacrifice: sending His one and only Son, Jesus to pay the ultimate price to make it possible for us to be with God forever.
Because we are created in God's image, we have the capacity to love. Every time we choose to treat others the way we want to be treated, we show others a glimpse into the perfect love God has for each and every one of us.
Jesus is the ultimate example of love.
When God sent Jesus to earth, Jesus showed us exactly what it means to love. Jesus prioritized love above everything else. When the Pharisees asked Jesus about the greatest commandment, He reached into the 600+ laws of the Old Testament and took a law that existed about your neighbor and He linked it to loving God. Jesus said, 'Love the Lord your God with all your heart and all your soul. Love him with all your mind . . . and Love your neighbor as yourself,' (Mark 12:30-31 NIrV). Our relationship with Jesus changes how we love God, love others, and even love ourselves. Love, above all else, was what Jesus stressed most.
That's why we think it's important for us to help our kids and families discover more about Love—choosing to treat others the way you want to be treated.
Our memory verse for February comes from 1 John 4:10.
In 1 John 4:10, we read, Here is what love is. It is not that we loved God. It is that he loved us and sent his Son to give his life to pay for our sins. (NIrV)
We want our families to learn a verse that gives them the essence of why love is important. Love isn't just something we demonstrate because it's a good thing to do. Love doesn't even start with us. We love because God loves us. Love is an essential part of who God is and how God interacts with the world. We love others because of the capacity He put within us to love. His love drove Him to sacrifice His only Son on our behalf to make the relationship between us right again.
We will spend the month of February taking a closer look at the way love shows up throughout the Gospels in how Jesus interacts with others.
WEEK 1
We start off the month learning about God's perfect love. In John 15:12-13, we discover that Jesus showed us love in the most sacrificial way possible, by laying down His life for us. Jesus asks us to love one another, just as He loved us in the way we sacrifice for our friends.
Bottom Line: Love others because Jesus loves you. As kids learn about Jesus' sacrificial love for us, we pray they will start to understand how they can show love sacrificially to the people in their lives. Showing love to others will not always be convenient. When we begin to see our potential to love in light of Jesus' love for us, we will understand that showing love, even when it's difficult, is worth all the effort.
WEEK 2
We continue our look at love in Mark 4:35-41 as we look at a familiar story from a different point of view. Jesus and His disciples were out on the sea when a flash storm struck fear into the disciples. Jesus showed love for His disciples. He calmed the storm and showed that He can be trusted no matter what.
Bottom Line: Comfort others who are hurting. We meet people everyday who need comfort. We pray that as kids discover how Jesus showed love in comforting His disciples during the storm, they will start to become aware of ways they can show love and comfort people in their lives. We can all learn to encourage people in our lives and show them how much God cares about their needs.
WEEK 3
In Mark 6:30-44, we see how Jesus' care for others turned into one of His most amazing miracles. Jesus reached a point in His ministry when He was extremely popular. Everyone wanted to hear what He had to say about the kingdom of God. On one occasion, thousands of people showed up to hear Him speak. As it became later in the day, Jesus could have sent them all home to grab some dinner, instead He made the unthinkable happen. He turned five loaves of bread and two fish into a meal for more than 5,000 people.
Bottom Line: Give to others who are in need. As we start to see others the way God sees them, we will become more aware of their needs. We have opportunities everyday to help others and meet their needs. This can be as simple as lending a pencil to a friend or offering to share part of your lunch. It's amazing how kids will start to show love to others when they become aware of the needs around them.
WEEK 4
We finish the month in Luke 10:25-37. When Jesus told the Pharisee's "Love your neighbor as you love yourself," they shot back with another question. "Who is my neighbor?" Jesus went on to tell the story of the Good Samaritan. When faced with the decision to ignore an enemy or have compassion, the Samaritan chose to set aside His differences and show love.
Bottom Line: Love others because they matter to God. We won't always get along with everyone we meet, but that doesn't mean they aren't deserving of God's love. Through this story, we pray that kids will see that all people matter to God, and we should show His love to everyone we meet.
Follow Us
Stay connected to us and be the first to know about exclusive deals and upcoming events.