Orange Tour: The Gamechanger Everyone Needs
I REALLY LIKE ministry training events, especially when these events give away free stuff and create extra long Chick-fil-A catered lunch breaks. (Yes, please. Don't judge my priorities.) The other day I tried to count the lanyards I have from past events. I had to stop at 100, because maybe knowing that I have more […]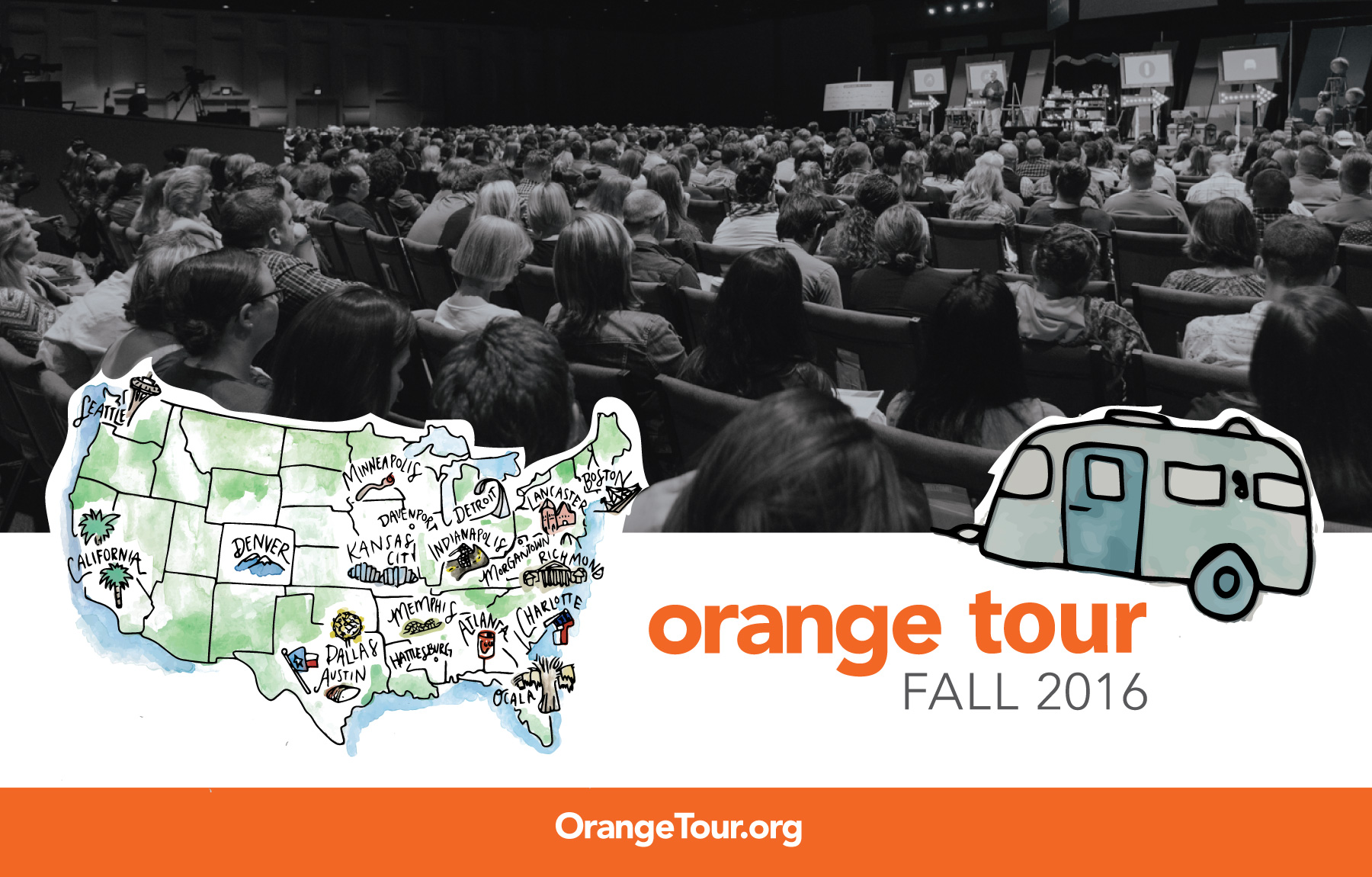 I REALLY LIKE ministry training events, especially when these events give away free stuff and create extra long Chick-fil-A catered lunch breaks. (Yes, please. Don't judge my priorities.)
The other day I tried to count the lanyards I have from past events. I had to stop at 100, because maybe knowing that I have more would seem excessive. One of my friends encouraged me to trash some of them to declutter my office. Of course, I didn't want throw them away because I'm a memory hoarder.
I don't' want to forget the good-for-my-soul, good-for-my-mind, good-for-our-ministry times I've had. They're some of my favorite times, ever.
Then a few years ago, I landed at Orange Tour, the gamechanger I didn't know I needed.
It was a place that gave our church specific words for a revolutionary idea that had the potential to shift the culture of our ministry as I knew it. That's what gamechangers do, they are markers for the catalysts that can change the future.
The idea was this, "What you do is incredible, but combining the influences you have around you will change the impact of what you do." Spending time focusing on that combination changed the impact of our ministries. It was the next level that we needed, delivered via an event that loves to breathe life back into weary ministry lungs.
I hope you'll consider going or taking your team this year because it has the game-changing potential to make what you do multiply and become even more effective.
Now, the tour has even more stops making it easier for everyone on your team to get there. Who doesn't want to win on Monday? It's worth having an extra yard sale to make it happen.
So, maybe you need a few game-changing moments to accelerate the wins in your ministry?
Here are a few that you might find if you decide to attend Orange Tour this year . . . I love getting to be a part of it and I'm pretty sure you will too.
VOICES that affirm the work we are doing and inspire us to stay creative
RESOURCES to support the influence we hope to have in the lives of kids and families
IDEAS for challenges we face and GRACE for the ones we aren't sure how to face yet
CONFIDENCE that the work we do on Sunday can have a profound impact on the kids we serve on Monday.
FUN because we need it like oxygen
TOOLS and LANGUAGE for families and small groups to work together
CONNECTIVITY with the very best collaborative and creative minds in ministry
PEOPLE that will love you, support you, and even wear Orange badly with you
I've literally traveled the world over the past two years visiting youth ministry events and conferences. So, I can say with comparative confidence that Orange Tour is world class, a game-changing event that could ignite the impact of your ministry. I hope to see you there!
You can save $50 off regular price tickets when Orange Tour registration opens June 9 . Visit OrangeTour.org to see if the Orange Tour is coming to a city near you.
Join us this fall in one of 19 cities across the US for Orange Tour. Lead Small training will take place the night before each Orange Tour stop, except Irvine, which will be a two-day event. Anyone with a tour ticket can attend the training for free. Those without a tour ticket may attend for $19. For complete event details, please visit www.OrangeTour.org.
Follow Us
Stay connected to us and be the first to know about exclusive deals and upcoming events.