6 Tips for Organizing and Storing Supplies
"We have stuff EVERYWHERE!" "I know I bought a multi-pack of masking tape rolls last week … now where ARE they?" After opening a door and everything falls out: "Maybe we should organize this closet …" If any of that sounds familiar, then this post is for you! We know you have 14,683 things to […]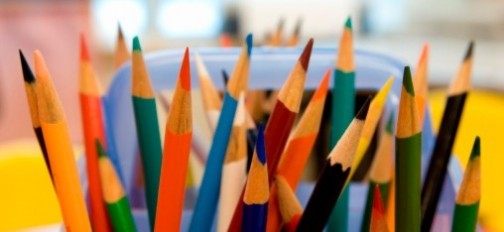 "We have stuff EVERYWHERE!"
"I know I bought a multi-pack of masking tape rolls last week … now where ARE they?"
After opening a door and everything falls out: "Maybe we should organize this closet …"
If any of that sounds familiar, then this post is for you! We know you have 14,683 things to do each week and organizing the supply closet is on the list, but keeps getting bumped for more immediate tasks. But we did some thinking, visited with one of our awesome partner churches, and came up with 6 ideas to help you get organized and do supplies better. we hope to help you store, organize, purchase, and deliver supplies in a way that saves you time (and even money) every week.
1. Know what you have. Store your supplies in clear tubs so you can see what's in them. Just a glance will tell you when it's time to purchase more.
2. Make the space work for you and use the space you have. Build shelves where there weren't shelves previously or purchase pre-made shelving units you can put together yourself. Enlist the help of a volunteer who's good at carpentry and handy work. You could even utilize some rolling shelving units during the week and wheel them out of the way on Sundays or during other ministry hours.
Peachtree Presbyterian has around 300 kids in their environments on Sundays, so they use a lot of supplies. But they've had to get creative with their storage because they don't really get to claim any one giant closet as "theirs." Here are some pictures of a few of their closets.
3. Use small bins/baskets/tubs/buckets to deliver each small group's supplies to the rooms each week. Fill them with the week's Small Group Leader guide, Activity Pages, and non-weekly supplies. Then keep standard supplies (such as markers/crayons, paper, masking tape, glue, scissors, and clipboards) in the containers and ask Small Group Leaders to let you know when supplies are running low or getting old. (For more great ideas about distributing supplies, check out this Facebook post from the 252 Basics partner page: https://www.facebook.com/groups/816681955095653/permalink/829028153861033/ )
4. Enlist the help of a weekday volunteer, if you can find one. If this person can give you a few hours a week to shop, prep, or organize, that's a few hours freed up to work on your list of 14,683 things! Make sure you buy this person lunch or bribe thank him or her with an occasional Starbucks gift card.
5. To reduce the amount of time you spend prepping supplies each week, let the SGLs do the cutting a few minutes before kids arrive or ask kids to cut stuff out right before the group does the activity.
6. Don't give everyone access! Once you've got a good system going, don't let it go to waste by allowing everyone and their brother go hunting for something they "need." Lock your closets and make copies of the key for one or two trusted volunteers or other staff people. That way, if you're not available during your ministry hours, others can help volunteers get something they need. BUT: if your supplies delivery system is working properly, they won't need anything! (See what we did there?)
Remember: every church has somebody who likes to shop! And most every church has somebody who's good at organization. Figure out who those people are and ask for their help. Tell them the future of the next generation depends on them. (Well…maybe don't guilt-trip them that much. But still—make sure they know their help is valuable and important.)
Follow Us
Stay connected to us and be the first to know about exclusive deals and upcoming events.