How We Un-did VBS…and Hit a Home Run
By Tim Green Each year, Prairie Lakes Church hosts a special winter event for our 4th and 5th grade students. This event draws "tweens" from our six Iowa sites to a centrally-located, church camp where we deliver a high-energy weekend of snowy fun and inspiring, Biblical content. This year, we tried a different plan for […]

By Tim Green
Each year, Prairie Lakes Church hosts a special winter event for our 4th and 5th grade students. This event draws "tweens" from our six Iowa sites to a centrally-located, church camp where we deliver a high-energy weekend of snowy fun and inspiring, Biblical content. This year, we tried a different plan for the content we would be teaching during the weekend, and our team learned a valuable lesson from a summer VBS product in the middle of the midwestern winter.
PLANNING SPECIAL EVENTS DIVIDED THE ENERGY WE NEEDED FOR OUR WEEKENDS
In the past, we developed our own curriculum. Months in advance, we identified a theme, selected the best Bible stories and hammered out a set of [what we hoped were] engaging lessons. Our approach usually worked, but it came with a cost. In order to create compelling and original content for this yearly event, our small team siphoned off energy normally devoted to delivering weekend content. Then we learned about the new Walk This Way VBS curriculum, and we had three thoughts:
What a terrific theme!
Bet it would save us many hours of planning
Could we possibly modify the material to fit our 24-hour retreat schedule?
Turns out, the Walk This Way VBS was a HUGE WIN. As soon as we opened the kit, our hopes were confirmed. The curriculum contained all the familiar 252 Basics components our leaders are used to. The activities complimented the teaching scripts perfectly, and the takeaways seemed crystal clear for the students.
From all the great content contained in the five-day package, we harvested three lessons and borrowed a number of small group activities. We also used one of the craft activities. The hardest part was deciding which of the many fun ideas to leave in the box!
Apparently, we chose well. Ashley, a small group leader, offered this enthusiastic feedback:

"Maybe my best experience as a leader–for any age group! The small group activities fully engaged my girls. They kept talking on about how they see God's love through people around them and how they can be the person to show God's love to others. We will all remember writing a prayer request on the footprint page, then allowing another to stand on it and pray over it. Imagine girls who had never prayed praying for one another!"
One of the trademarks of this event is the closing session for the entire family. We were thrilled that we wouldn't have to compromise this characteristic of our retreat when we decided to adapt a VBS product. Let me tell you more about this special evening…
We always invite parents to join us for the closing session. Rather than bussing kids home, we encourage parents to drive to the camp—many of them over an hour—to retrieve their child and share in our last worship and teaching time.
Why?
Because we know the power of shared experience and the potential value of an hour-long parent/child windshield conversation, if we set it up properly.
Not only did Walk This Way VBS help us stage a memorable finale on Saturday night, but the curriculum practically gave us a set of ready-made talking points we could gift to parents for their drive home. After teaching the parents and students together, we sent them home with an experience we knew they'd still be talking about on Monday.
IN CONCLUSION, YOU CAN AND SHOULD MAKE ANY VBS PRODUCT WORK FOR YOUR PURPOSE!
Hacking apart a VBS curriculum and tailoring it for a group of 10 year-olds seemed a little risky. We wondered, for example, if using only a few parts would work. Would students walk away with the big idea? Would they have enough exposure in just three sessions to remember how to listen to God and talk to God? But it turned out the materials were tremendously elastic. We easily adapted the components. The quality of teaching scripts and small group activities made this a perfect fit for our winter camp. I enthusiastically recommend the Walk This Way VBS curriculum for a summer VBS. But I also know this material can easily be adapted and used in other creative ways as well.
How have you or are you planning to use your VBS materials this year?
Check out the BRAND NEW VBS offering from Orange for 2016 – WALK THIS WAY! Your kids will take a journey with Paul and ask the same questions he asked – making some incredible discoveries along the way!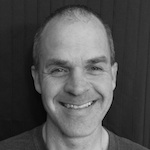 Tim Green has been leading in children's ministry for 15 years. He provides central leadership and coordinates curriculum for Prairie Lakes Church and its six sites across Iowa. Tim and his wife, Betsy, have four, school-age children. In his free time, Tim enjoys cheering for the Iowa Hawkeyes.
---

Sign up for the FREE monthly VBS Newsletter from Orange: The reSource! You'll get content like this from leaders like you every month to ensure that you're ready to host the best VBS ever!
Follow Us
Stay connected to us and be the first to know about exclusive deals and upcoming events.