The New Frontier of Family Ministry
In Choluteca, Honduras, there is a bridge that has become famous for leading nowhere. (See picture at right.) The bridge wasn't designed that way, at one time it was highly functional. Today, the roads that once led to it are gone and the river is no longer below it. In late October 1998, Hurricane Mitch […]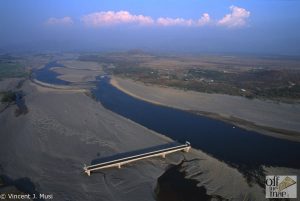 In Choluteca, Honduras, there is a bridge that has become famous for leading nowhere. (See picture at right.) The bridge wasn't designed that way, at one time it was highly functional. Today, the roads that once led to it are gone and the river is no longer below it. In late October 1998, Hurricane Mitch made landfall in Honduras with winds exceeding 120 mph and high amounts of rain. The heaviest rain was in Choluteca where the excess water overflowed rivers and caused mudslides that swept away bridges, roadways and landscapes. Once everything settled, the Choluteca River Bridge survived, however, it has become useless because the landscape of the river changed.
Today, the landscape of the family is changing, and the church is facing a new frontier of family ministry. If the church and those in the church leading the charge to reach families don't recognize it, we will become like the Choluteca Bridge . . . still there, but somewhat irrelevant. The gospel is more relevant than ever, but our methods for reaching the family are on the verge of becoming irrelevant. In most of our churches (mine included) we have built programs, systems, and ministries around the idea of a two-parent traditional family while the traditional family in our culture is becoming more and more the exception.
According to a 2014 Pew Research study, 46 percent of kids are being raised in a "traditional home," or two heterosexual parents in their first marriage, while 34 percent of kids are living in a single parent home. This is a significant change from 1960 when 73 percent of kids were living with both biological married parents and 9 percent in a single parent home. In the new frontier of family ministry there are less traditional families today and more single parent families. Because of that reality, we have to adapt to reach all families. Where I serve at Woodside we have been waking up to this reality and seeking to learn how we can serve our single parents. Here are a few things we've learned from talking to single parents.
Single Parents are cautious and fearful. Their situations are complex and have left them in a place where they are cautious about who and what they can trust. They are driven and determined to make it and want support, but need you to work on developing a level of trust.
Single Parents want to be acknowledged but not noticed. They want to be recognized as part of the community and not forgotten, but not at the cost of being pointed out and reminded they are single. A couple of years ago, we were holding a two-night family conference and I opened each session with some fun games and gave out some nice prizes. On the second night, I wanted to do something special to acknowledge the single parents in the room and let them know we loved and supported them. I stood in front of 1,000 people and struggled to get three single parents to come forward to participate. What I didn't take into account was they didn't want to be paraded up in front of the entire audience to be pointed out as a single parent.
Single Parents deserve an invitation. An invitation to be part of your community, to let them know they are welcome and included. The church's focus on married couples and parents unintentionally communicates to a single parent they are not really part of the community until they get married. We can honor them by providing space and opportunities for them to grow in their current season alongside all families. In the last year, we've worked to change our language in child dedication classes to make sure we are talking the same to a single mom as we are to a married couple.
Single Parents need financial assistance, but they won't necessarily ask for it. Their complex situations also mean their financial need is complex too. They are determined and strong people, and they will do what it takes to "make it." One way the church can serve them is upfront is to offer a scholarship for camp or events without them having to ask and without drawing attention to it. Let them know you value them and their children and money will not stand in the way for them coming to camp.
Single Parents are willing to serve, but not every week and not away from their kids. We have a huge value on community and wanting kids to connect with the same peers and adult leaders each week in their small groups. This is a challenge for a small group leader that is a single parent. They might have their kids every other week, or they have been away from them all week and they don't want to leave them even for an hour on Sunday. We have adapted our systems to value community for the single parent and the child of a single parent.
There is a lot to still be discovered by the church when it comes to reaching families and caring for parents that might not fit the traditional family role. The bottom line: Be flexible and listen to the unique needs, then do whatever you can to meet that need. It might mean making exceptions so you can communicate value to a single parent. Personally, I have a soft spot for all single parents and blended families because I'm a child of a blended family. They are worth doing whatever it takes to reach them!
Follow Us
Stay connected to us and be the first to know about exclusive deals and upcoming events.