Develop A Habit Of Curiosity: Keep Learning
by Brad Lomenick The Hillsong bands have achieved success many others only dream of. They've had many songs hit the Billboard charts. In 2014, they were nominated for ten GMA Dove Awards, including Artist of the Year and Song of the Year, and were the subject of a new documentary. Their powerful worship songs, such […]

by Brad Lomenick
The Hillsong bands have achieved success many others only dream of. They've had many songs hit the Billboard charts. In 2014, they were nominated for ten GMA Dove Awards, including Artist of the Year and Song of the Year, and were the subject of a new documentary. Their powerful worship songs, such as "Oceans," are belted out by hundreds of thousands in churches around the world each week. Their touch is Midas-like.
Given the level of success that Hillsong has enjoyed, I had some preconceptions about what they would be like. After all, I met more than my share of divas in my decade with Catalyst. But when I first encountered the members of Hillsong United at an event outside of Los Angeles, my assumptions could not have been more wrong.
The music at Catalyst events is always interspersed with first-rate speakers sharing groundbreaking and insightful content. Normally, when a band finishes a set, they go back to the green room behind the stage to relax, have a cup of coffee, and goof off a little bit before they have to go back out. They aren't typically engaged in the speakers. And who would blame them? These bands play dozens of conferences each year. They've heard much of this content before.
When I walked into the green room and encountered the Hillsong United band after their first set, I was nearly knocked off my feet. The band members were huddled together around a tiny television with a closed-loop feed of the first speakers. Then they watched the second presentation. Then, the third. Many of them had moleskin pads, and were furiously scribbling notes. No one was talking. No one was checking text messages.
You could have knocked me over with a cough.
Observing Hillsong United band in that moment, I had uncovered one of the secrets to their success. They have never let fame go to their heads and have instead maintained a habit of curiosity. Rather than transition from the role of student to the role of teacher—as most accomplished people do—they remained pliable, always maturing and improving. Catalyst was not just another "gig" for them; it was an opportunity to learn.
As I witnessed this scene, I thought to myself: This is a picture of true leadership.
Most leaders follow a particular trajectory. The early stages of one's life and career are often marked by unbridled curiosity. The leader amasses college diplomas, graduate school degrees, and specialized certifications. She will often attend conferences and read books within her field and accept low-paying or unpaid internships just for the benefit of learning something. After some time, the leader's curiosity begins to pay off. People notice her effort and respect her industry knowledge. Promotions and raises follow, and soon she may be asked to present in meetings or speak at conferences herself. But as a leader's career surges, her curiosity often sinks. She has all the degrees she needs, and who can afford to take an internship at this stage of the game? Her busy schedule doesn't allow time to read much, and she wouldn't be caught dead sitting in a conference crowd after being onstage. If the leader's life were a movie, this is where it moves from feel-good flick to tragedy.
TWEET THIS: As a leader's career surges, his or her curiosity often sinks.
If you're not learning, you're not leading to your full potential. Hall of fame college basketball coach John Wooden said, "A leader who is through learning is through. And so is the team such a leader leads. It's what you learn after you know it all that counts."
TWEET THIS: If you're not learning, you're not leading to your full potential.
Seven Ways To Develop A Habit Of Curiosity
Cultivating a habit of curiosity should be a one-step process: learn. But most of us know this discipline isn't that simple. Deadlines, PTA meetings, church gatherings, neighborhood barbecues, and baseball practices stretch us like a medieval rack. Under the weight of a busy schedule, nurturing curiosity requires creativity and intentionality. Here are some tips for developing this habit in your life:
Think before you ask. Ask great questions. As Claude Levi-Strauss commented, "The wise man doesn't give the right answers, he poses the right questions." Questions are critical to curiosity. Asking great questions keeps you informed, in touch, and aware. But how many of us invest time in developing good questions? Most don't, but all should. Set aside ten minutes before your most important meetings to jot down critical questions you would like answered. Make sure they are open-ended and seek to uncover new information or explore a new angle. Asking great questions is most often way more strategic than providing great answers.
Listen more than you talk. Move your mouth less, and tune your ears more. Constantly getting better and improving means being quick to hear and slow to speak. Leaders don't learn when they are talking; they learn when listening. The more you listen, the smarter you become. Great listeners immediately gain credibility and earn the right to be heard. Get good at creating conversation. Be the person that listens way more than speaks. Your posture should be that of inquire rather than esquire. Calvin Coolidge had it right, "no man ever listened himself out of a job."
Seek out different. Spending time with people who are unlike you is a learning accelerator. Most leaders, however, huddle with those who are similar to them in pedigree, education, and career field. As Bill Taylor, cofounder of Fast Company, wrote: "Ask any educator and they'll agree: We learn the most when we encounter people who are the least like us. Then ask yourself: Don't you spend most of your time with people who are exactly like you? Colleagues from the same company, peers from the same industry, friends from the same profession and neighborhood?" Find people who are so different they make you uncomfortable, and then spend more time with them than you'd prefer to.
Surround yourself with smarts. Many influencers lead from a place of insecurity. As a result, they often hire people who are less talented or intelligent than they are. If you're the smartest person in the room, after all, you don't have to worry about someone stealing your job or making you look bad. But this creates a staff dynamic where leaders stop learning. Make sure to surround yourself with people who are smarter than you are.
Look and listen. Set aside one audio and one video talk to consume each month. This doesn't require a new slot in your schedule. For example, you can listen on the commute to work or while you're exercising. The only requirement is that the information contained in these talks must be fresh and challenging.
Read, already. Whenever people tell me, "I don't read," I want to respond with, "Then you can't lead." Leaders are readers. It is just that simple. Set your Internet browser's home page to a content-based site, like TED or CNN. And keep a running list of magazines you are committed to reading regularly. (I like Inc., Fortune, Wired, and Fast Company.) And read at least one book a month—more if you can. Read liberally—everything you can that is helping you grow and get better.
Take a learning lunch. Every quarter, schedule a lunch with a leader in another industry whom you admire and can learn from. Commit yourself to listening more than talking. And of course, make sure to come with a list of good questions.
Ask the "curiosity question." At the end of every day, ask yourself, "Have I learned something new today?" If not, do not go to sleep without reading an article, learning a fact, or exploring a topic of interest to you. As time goes on, try to plan the next day's point of growth at the same time.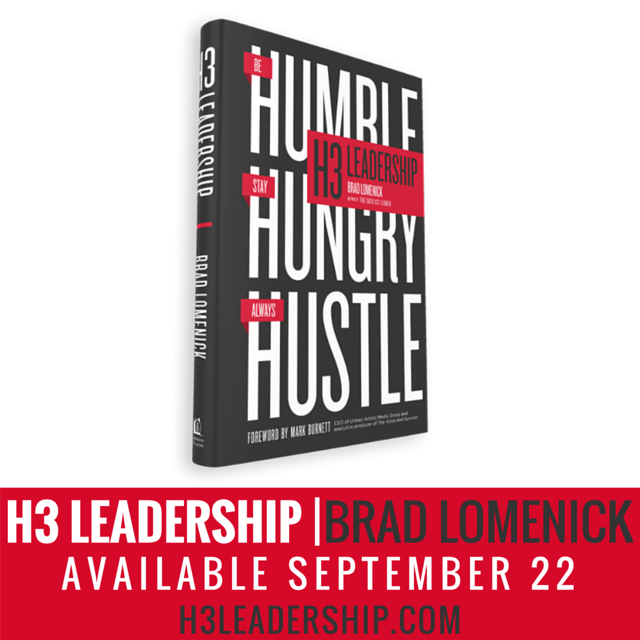 H3 Leadership: Be Humble. Stay Hungry. Always Hustle releases Tuesday, September 22, and is available where all books are sold. Order your copy today! And to read more info about the book, along with special offers, visit H3Leadership.com or Brad's website.
About Brad Lomenick
Brad Lomenick is a renowned speaker, sought-after leadership consultant, author and longtime president of Catalyst, largely credited with growing the organization into one of the largest and most recognized leadership brand and gathering that it is today. For over 10 years, Brad led the Catalyst Conference and garnered the reputation as a convener of America's most respected leaders including John Maxwell, Jim Collins, Malcolm Gladwell, Seth Godin, Mark Burnett, Tony Dungy, Marcus Buckingham and Rick Warren, among many others. In 2013, he published his first book, The Catalyst Leader, and his second book, H3 Leadership: Be Humble. Stay Hungry. Always Hustle., released in September of 2015. A prolific content creator, for eight years Brad hosted the Catalyst Podcast, interviewing change makers from across the globe and attracting hundreds of thousands of listeners per month. Additionally, he frequently blogs about leadership, the next generation, creativity, innovation, social media, teamwork, personal growth, and more on his website. He has been featured in TIME, Washington Post, Fast Company, Business Insider, CNN.com, Religion News Service, and others. For more information, visit BradLomenick.com.
Follow Us
Stay connected to us and be the first to know about exclusive deals and upcoming events.