A Leadership Lesson Learned From Airbnb
Have you ever used Airbnb.com? If not let me tell you about a community of people who will rent out anything from RVs to yachts—even a couch in their living room—to a penthouse suite in a high rise building. Think of it as a modern-day bed and breakfast but a little more adventurous. Why do […]

Have you ever used Airbnb.com? If not let me tell you about a community of people who will rent out anything from RVs to yachts—even a couch in their living room—to a penthouse suite in a high rise building. Think of it as a modern-day bed and breakfast but a little more adventurous. Why do I say adventurous? Well, let me tell you about the first time I booked anything on Airbnb.
I have the privilege to travel and speak all over the United States and sometimes even in other countries. I have stayed in more hotel rooms than I care to admit. One of my recent trips was a back-to-back trip where I would speak in the Dallas area and then fly to Fort Lauderdale and speak there. I was to fly into DFW on a Thursday and meet with the staff of a church and do an event that night for their volunteers. The next day I had all day meetings with several other church leaders and my mentor. I wasn't supposed to fly to Fort Lauderdale until Sunday night but I went ahead and booked the trip to where I would fly from DFW to Fort Lauderdale instead of coming home for 18 hours or so. This meant I could hang out with one of my best friends in Fort Lauderdale, and since we were going to be doing the event in Florida together, we could go over the content together and make sure we were good to go.
Right here is where the opportunity to book my first Airbnb came into play. Sure, I could book the same hotel that the school is providing for me and just stay there a couple of nights extra or sleep on my friend's couch. I wanted something new, though. I wanted to be adventurous.
I jumped over to Airbnb to see what type of places I could book in downtown Fort Lauderdale. I was surprised to find that there were quite a few places and that prices were much cheaper than booking the same hotel that I would stay in later in my trip. Now we are talking!, I thought. I narrowed my search down to two places I really liked and put in my request to stay there. Fort Lauderdale is a gorgeous place, and the pictures on both of these properties were great. The one that caught my eye, though, was this picture: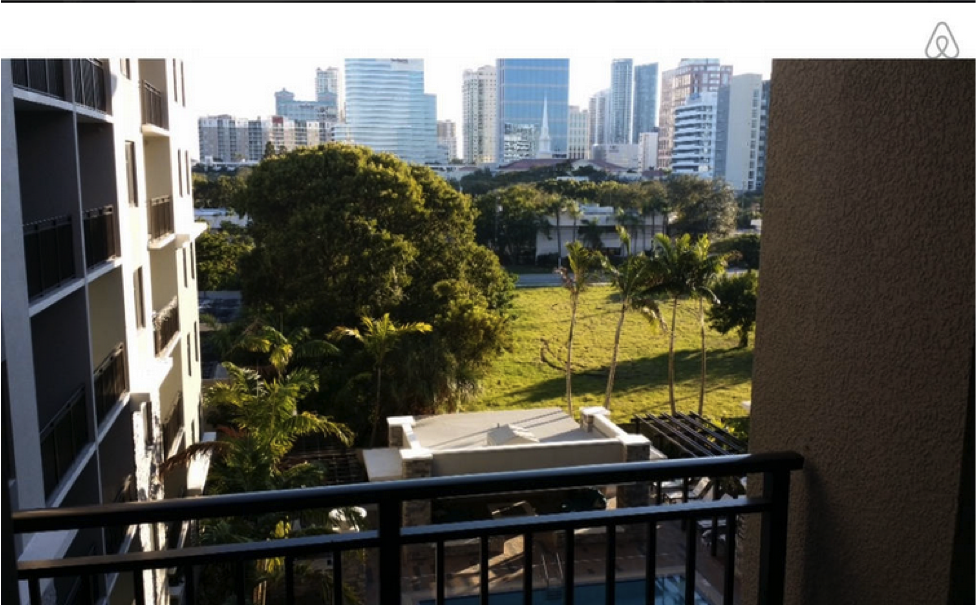 Most would say a very nice view of the city but what caught my eye was the white steeple just beyond the trees. That is the church that my friend works at and this is basically in their back yard. It was a go.
Here is what you need to know about Airbnb. Remember, I said above that people will rent out everything from their couch to an entire penthouse suite. Well I thought I was getting the entire apartment until I showed up and checked in. You see, I unknowingly booked a private room in an apartment—not the whole apartment. I was so caught up in being this close to my friend's church—and the deal that I thought I was getting—that I did not pay attention to the part where it said private room not entire house. It was very much a surprise when I got there and was shown around the apartment by my host when he said, "This is your room and my room is over there." Wait. . . . What?!? Right then I had a choice. I could say "Thanks but no thanks," and just go check into my hotel early, or decide that my friend's couch was good enough. I had a nudge in my spirit, though, that said I needed to stay.
My host's name was Jeff. Jeff was wearing a shirt that said, "Come with me if you want to LIFT" Needless to say, but the guy is a muscle builder. He owns his own fitness and nutrition company. I am no stranger to the gym but by no means am I "cut," "jacked," or "ripped." Jeff on the other hand is all three. We got past the easy questions first about our lives and then I asked Jeff to tell me his story. He is not married but his girlfriend lives with him sometimes. She would not be staying there when I was, though, and for that I was grateful. He then told me that he just moved down to Florida to start over. This is when I knew I was about to understand a lot more about Jeff.
Jeff had recently just gotten out of rehab. He had an addiction problem in his life but had turned his life around. Working out helped, and helping others achieve their fitness goals was a life purpose of his now. He goes on to tell me that not only had he been in rehab but had served time in prison because the addiction got so bad. Now pause. . . .
Now realize that I thought I was going to have a very relaxing time in Florida where I got to walk the beach, explore the city, and hang out with a good friend. Instead, I have a bedroom in the same apartment with a felon and addict. Again, though, there was a nudge in my spirit that told me to stay.
I got to know Jeff really well the two nights I stayed there. He made me meals the whole time I was there. It was his mission to make sure I ate well while I stayed with him. I had a different mission, though. I wanted to see what Jeff knew about God. Come to find out, Jeff didn't know that the white steeple that he looks at every day from his balcony was a church. In fact, the only thing Jeff knew of church is what he saw on TV. So, I invited Jeff to go to church with me on Sunday. He said sure, why not? We showed up early and my friend gave him the grand tour of the building. Jeff was blown away. The service that day was all about how young professionals like himself could connect with the church, God, and each other. It was like it was meant for Jeff. Believe it or not, but Saturday night Jeff told me he didn't have many friends in Florida and needed to find a good group of people who would encourage him. Done. At the end of the service Jeff leaned over and said: "Thanks for bringing me here. It means a lot."
The nudge in my spirit came back and said the same thing to me again. Instead of "stay with Jeff" again, it said "stay connected to Jeff." The funny thing is, while writing this blog post Jeff has texted me two times. Don't worry, Jeff and I are still connected.
After church that day, my friend had some meetings and Jeff wanted to show me some workouts I could do when I am on the road traveling and speaking to pastors and volunteers. I said, "Sure why not?" I thought we would go to the beach, but instead we ended up at a park in the middle of town. We took a basketball, football, and a backpack with some of the healthiest food you can imagine. We started by throwing the football because Jeff wanted to warm me up. All along though, I had my eye set on the basketball courts. It was a beautiful day and I wanted to shoot some hoops. Jeff and I started shooting basketball when a bus pulled up. A bunch of guys got off the bus wearing ankle bracelets and ran toward us. They wanted to play basketball as well. Pause again. . . .
The picture in my head was that I would get in a nice workout with my new friend Jeff. Instead I ended up being the only non-felon on the court, including my new friend, who could hit an outside jumper. The guys who were not playing stood and sat around the court. It was like we had our own fans and cheering squads. After about 30-45 minutes, the bus pulled back up and all of the guys had to go back. It was a reminder to Jeff about how he didn't want to go back to that lifestyle. It was a reminder to me that whatever you do, don't foul the guys who wear ankle bracelets.
I ended up leaving Jeff and the private room that I had booked at his place not long after that. I left with a bag of healthy food and a leadership lesson that I will never forget. What leadership lesson is that?
Life is not about the picture but about the stories that surround the picture.
I didn't know that, when I chose my accommodations because of a picture of a white steeple, God had bigger plans. I will say, if you ever find yourself needing a place to stay in downtown Fort Lauderdale I would recommend staying with Jeff. His past may not be full of the best pictures or moments but I believe his future is full of incredible stories.
Follow Us
Stay connected to us and be the first to know about exclusive deals and upcoming events.