Loving Others Through Giving
Orange teaching revolves around the two greatest commandments: "'You shall love the Lord your God with all your heart, with all your soul, and with all your mind.' This is the first and great commandment. And the second is like it: 'You shall love your neighbor as yourself,'" (Matthew 22:37-39 NKJV). As our children and […]

Orange teaching revolves around the two greatest commandments: "'You shall love the Lord your God with all your heart, with all your soul, and with all your mind.' This is the first and great commandment. And the second is like it: 'You shall love your neighbor as yourself,'" (Matthew 22:37-39 NKJV).
As our children and youth learn to follow both of these commands, they more fully honor Christ. That's why Orange is partnering with Operation Christmas Child to encourage kids to love a child in need overseas by packing a gift-filled shoebox.
Many who receive these shoeboxes have never received a gift before. The treasures inside their boxes are often the first things they can call their own. Even more importantly, the gifts communicate that God loves them and cares about the details of their lives.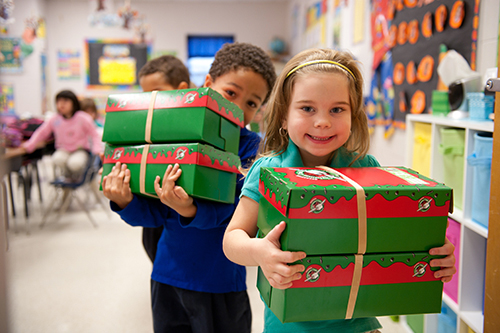 As you give the kids at your church the opportunity to pack a shoebox for a boy or girl their own age, they will learn the joys of giving. As they choose gifts to go inside the box, they will envision what they would like to receive. Toys, school supplies, hygiene items and other gifts given in Jesus' name all have the potential to bring children and entire families to Christ.
What goes into a box is fun, but what comes out is eternal. Through the power of Christ, one shoebox gift can multiply disciples, plant new churches, and inspire children to share the gospel with family and friends. Many children who receive shoebox gifts also participate in our dynamic follow-up program, The Greatest Journey, and learn how to walk with Jesus for a lifetime.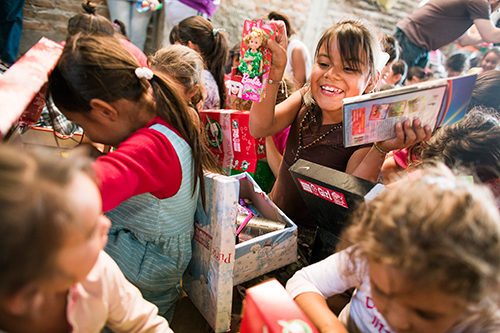 Fill a shoebox with fun items for a child in need today. National Collection Week is November 17-24. Above all, pray that each gift will provide an opportunity to share the gospel, transform lives, and further God's kingdom.
Since 1993, Samaritan's Purse has shared shoebox gifts with more than 113 million children in over 150 countries, giving them the opportunity to know Christ through Operation Christmas Child. We need your help to reach millions more this year. Learn how to pack a shoebox, throw a packing party, or discover the destination of your shoebox by donating the shipping costs online.
Follow Us
Stay connected to us and be the first to know about exclusive deals and upcoming events.