by Robert Mosolgo
Here at Planning Center Online, we've just cooked up our latest creation and it's ready for you to dig in: Planning Center Check-Ins. I'm one of the developers working on PCO Check-Ins, so I thought I'd give you a glance at what went into our new app!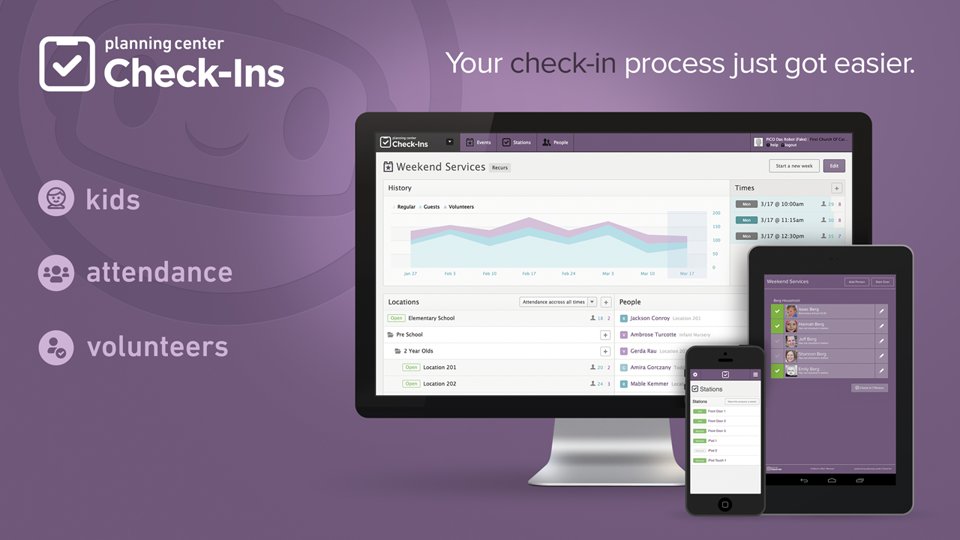 Setting Our Sights on a Better System
In our team, some of us are parents, some of us are programmers, and many of us are both. We knew getting kids checked in on Sunday morning can be tedious, so we wanted to apply some fresh, Web-based technologies to the problem. When we put our heads together, we identified a few pain points:
Assembling the proper hardware and software for a check-in system can be complicated and expensive. Even after you get the system going, it can be clunky or hard-to-use.
Using check-in stations can be a burden.
Administration can be a less-than-wonderful experience. The pain is multiplied for people who have to use the system day after day.
That's a drag! We want to help you serve your church and help you spend time doing what matters. For us, this means making software. So with this in mind, we went to work!
Hardware and Software: Get Online
At Planning Center Online, we make Web apps. We make iOS and Android apps too, but the Web is a great starting place because it's so accessible; if your device can browse the Internet, you can use it with Planning Center Check-Ins! Yes, that means your laptop, desktop, smartphone or tablet can be used to check people in.
After sizing up our options, we decided to support DYMO printers for the following reasons:
They're easy-to-install (just plug in the USB cable and install a driver) and well-documented.
The price is right (they start around $80 on Amazon.com).
They're customizable, thanks to DYMO's label software.
Since mobile devices might not have USB ports, we made it so that they can specify to print their labels at another station (where a printer is installed).
(For iOS stations, we also support a Bluetooth-enabled Citizen printer. That's right, wireless mobile printing!)
Stations: Bring Down the "Zero-to-Checked-in" Time
It was important for us to make the check-in process so fast that you barely notice it. We got the whole team together in our California office to work this one out. Circled around the whiteboard, we identified some priorities:
People should only need one screen to "look themselves up."
People who check-in the same as last week can check in with only one click (or tap).
People who want to change their selections can do it on one screen.
Shane, Dustin, Jeff and I went over it again and again, until we got it right and eventually, we arrived at our current process: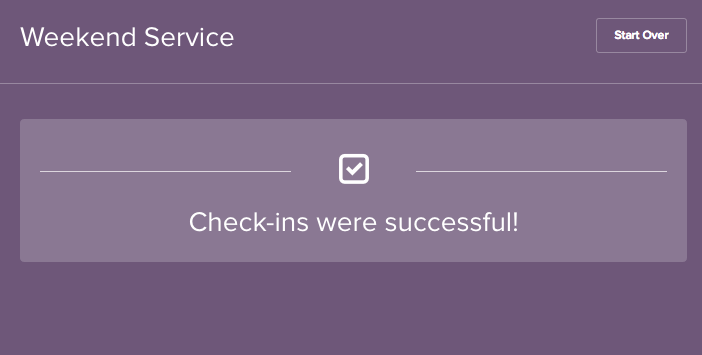 Since the Bergs were here last week, Jeff can enter the last four digits of his phone number and click "Check In" . . . and that's it!
Administration: Make Leaders' Lives Easier
At Planning Center, a lot of us have worked at a church in some capacity, and we know what it's like—you have a lot to get done and not enough time to do it. With this in mind, we prioritized user-friendliness for our admin dashboard. Our targets were:
Intuitive, attractive and familiar user interface, so that you enjoy using PCO Check-Ins
Real-time updates on the dashboard, so you can keep a bird's eye view on your event
Quick, clean, versatile reports (PDF & CSV), so Check-Ins will fit into your normal workflow
Take the plunge
Does this sound too good to be true? Well there's really only one way to know! See for yourself how PCO Check-Ins can make a necessary process a fun experience for both you and your users by signing up for a free trial at PlanningCenterCheckIns.com.