Make an IMPACT by Saying YES to the Next Generation
Here's just one of the amazing stories from The Orange Conference 2014. To create your own memories, join us April 29–May 1, 2015, here in Atlanta for OC15. Register at www.TheOrangeConference.com through July 17 to pay only $229 before we close registration for the summer. From Kathy: IMPACT! That's the word our team chose this […]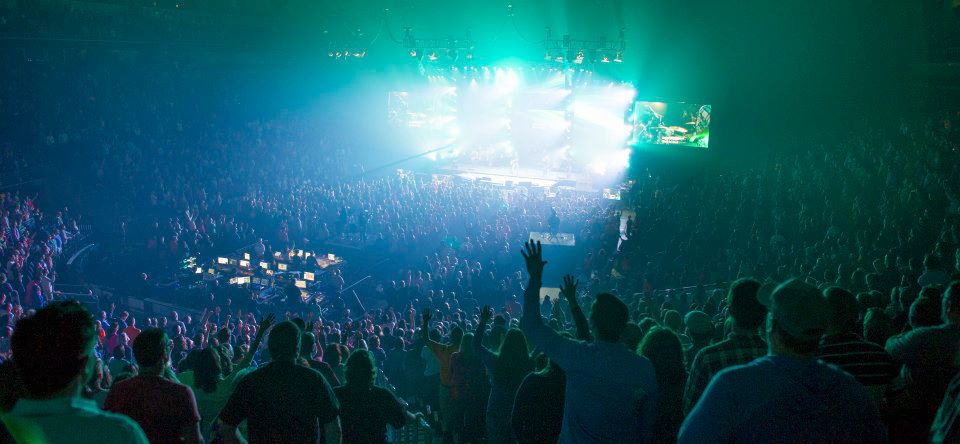 Here's just one of the amazing stories from The Orange Conference 2014. To create your own memories, join us April 29–May 1, 2015, here in Atlanta for OC15. Register at www.TheOrangeConference.com through July 17 to pay only $229 before we close registration for the summer.
From Kathy:
IMPACT! That's the word our team chose this year to define the area in which we want God to grow us the most. IMPACT. We want to IMPACT the kids God entrusts to us each and every week. We want to IMPACT our community. We want to IMPACT families and show them how God plans to write His story of love and redemption through their lives. And we want to help kids and youth discover how God designed each of them to make an incredible IMPACT on the world around them.
When I first began in children's ministry, I had a vague sense that God wanted me to use my time and gifts to impact the next generation. The children's director at that time insisted that I attend what was then known as the "Grow Up Conference" (for those of us old-timers, this was the original Orange Conference!). Trusting her guidance and leadership, I said YES and my view of ministry has never been the same. Yes, I'm one of those who cannot wait 'til the next Orange Conference; yes, I get there super early and RUN to the front row whenever possible; and yes, I have gone to more of them than I can count. Yes, I LOVE the conference, and YES, I learn so much and come back encouraged and inspired. But for me, it's about more than that. It's an opportunity to take a team of volunteers and cast an incredible vision for what it really means to say YES to the next generation!
This year presented an opportunity to take a new team who had just recently been "Orange-ified" and to cast that vision once again. We are in New England, which for those of you who don't know, is essentially a mission field. But God is doing INCREDIBLE things in our midst up here. At Next level Church, we are seeing epic growth and God is trusting us with a crazy number of individuals and families who are searching for God. I knew with everything in me that in order to equip our team to handle the responsibility God has trusted us with, we NEEDED to be at The Orange Conference this year. God knew it too and was already at work, placing it on the hearts of our team members and staff, and helping to make it happen. With this in mind, I sent out my weekly team email and presented the opportunity to the team. We are a young church and cannot fund bringing everyone, but that never stops God! Within hours of sending that email, I received an email back from one of my youth volunteers, Jessica Gosselin, who was then 15 years old. Her response was this, "I'm not sure how, but I know I'm supposed to go. What can I do to raise the money?" I'll let her tell you the rest of the story. . . .
From Jessica:
Over a year ago, I said my first real YES to God when I gave my heart to Him and I got baptized. My next YES came quickly thereafter. I said YES to teaching preschool in our children's ministry. As with every new experience, it was overwhelming at first. But as the weeks went on, I learned about each child and their family, and I began to feel God working through me to reach those children. I tried my hardest not to miss a week of church, because missing church meant missing the opportunity to pour into those beautiful kids.
It was a little under a year later when I received our weekly team email containing information about The Orange Conference. Immediately I sent Kathy, our team leader, an email asking about fundraising opportunities, and letting her know that I was VERY interested. Months later, I was on The Orange Conference website, getting information and making sure that this was exactly what God was calling me to do. Not only was I excited about a trip to Georgia, but I was excited about learning more about leading the next generation. I knew this would be an amazing opportunity for me, and all of that would contribute to the walk in my faith. That was the first step I took to saying YES to answering God's call, and following His will.
I remember arriving in Georgia, expecting nothing less than an amazing three days with inspiring, influential ladies from my church. Orange Conference was unreal. The worship was beyond compare, and the speakers were full of wisdom and knowledge. God brought me there for one reason, and that was to grow.
All of OC14 was amazing and wonderful, but the last day was, by far, the best. Kathy got a call as we were driving to the conference center on Friday morning from an unknown number, which she almost didn't answer. But she said YES to that mystery, and that opened up so many doors! Someone called to tell her that they had heard about me, and about my fundraising to come to the conference, and I was asked to come up on stage and share my story! I got emotional because I knew that I was making a huge IMPACT not only on the next generation, but I was inspiring to the 6,000 people that had come to the event.
After the call came a whirlwind of nervousness, excitement, and disbelief. We prayed for peace and calm nerves, and I felt angry because I didn't notice a difference after praying. But as I walked backstage to meet Reggie Joiner, shaking his hand and welcoming his warm embrace, I felt God pull the weight right off my shoulders. My nerves were calm, my anxiety gone, and I was ready for this amazing opportunity. I was emotional, but I couldn't help it. I felt blessed, and honored. I felt God working through me and I knew that he had given me a great reward for being honest and trusting him. If I hadn't said YES to reading the end of Kathy's email that day, or said YES to working hard and raising money to go, or said YES to going on stage in front of 6,000 when a crowd of 20 freaks me out, I would have never experienced this amazing opportunity. I thank God for all He did in and through me in that short period of time.
I am thrilled to come to Orange Conference again next year. I hope to be an inspiration to others, and I hope that many people realize that saying YES to the smallest things can make a huge impact. I learned so much at OC14, and I now realize how amazing it is to say YES to God, and through Him I have been able to say YES to the next generation.
About the authors:
Jessica Gosselin is 16 years old, a junior in high school, loves sports, kids, and making an impact on the next generation! She is a "rock star" volunteer for the Next Level Church Quest (preschool) children.
Kathy Rocconi is the nlcKids leader for Next level Church's Epping location. She's been involved in children's ministry for over 11 years and has a passion for seeing kids, youth, and other leaders discover who God made them to be.
Both are volunteers are Next Level Church in New England. Check out www.nlc.tv to see the incredible things God is doing up there!
The Orange Conference, a conference for entire family ministry teams, will be held April 29–May 1, 2015, in Atlanta. Over 5,000 key influencers—senior, nextgen, student, children's and preschool leaders—will gather to learn new insights into influencing the faith and character of the next generation. For more information and to register, please visit www.TheOrangeConference.com.
Follow Us
Stay connected to us and be the first to know about exclusive deals and upcoming events.