User Review: Legacy Countdown App
by Shelly Calcagno I came across something really significant this week that has made me stop and think about the influence that we have with our children, and how to make the most of that time. It's a simple app for the iPhone called Legacy Countdown. It comes from the brilliant minds at The reThink […]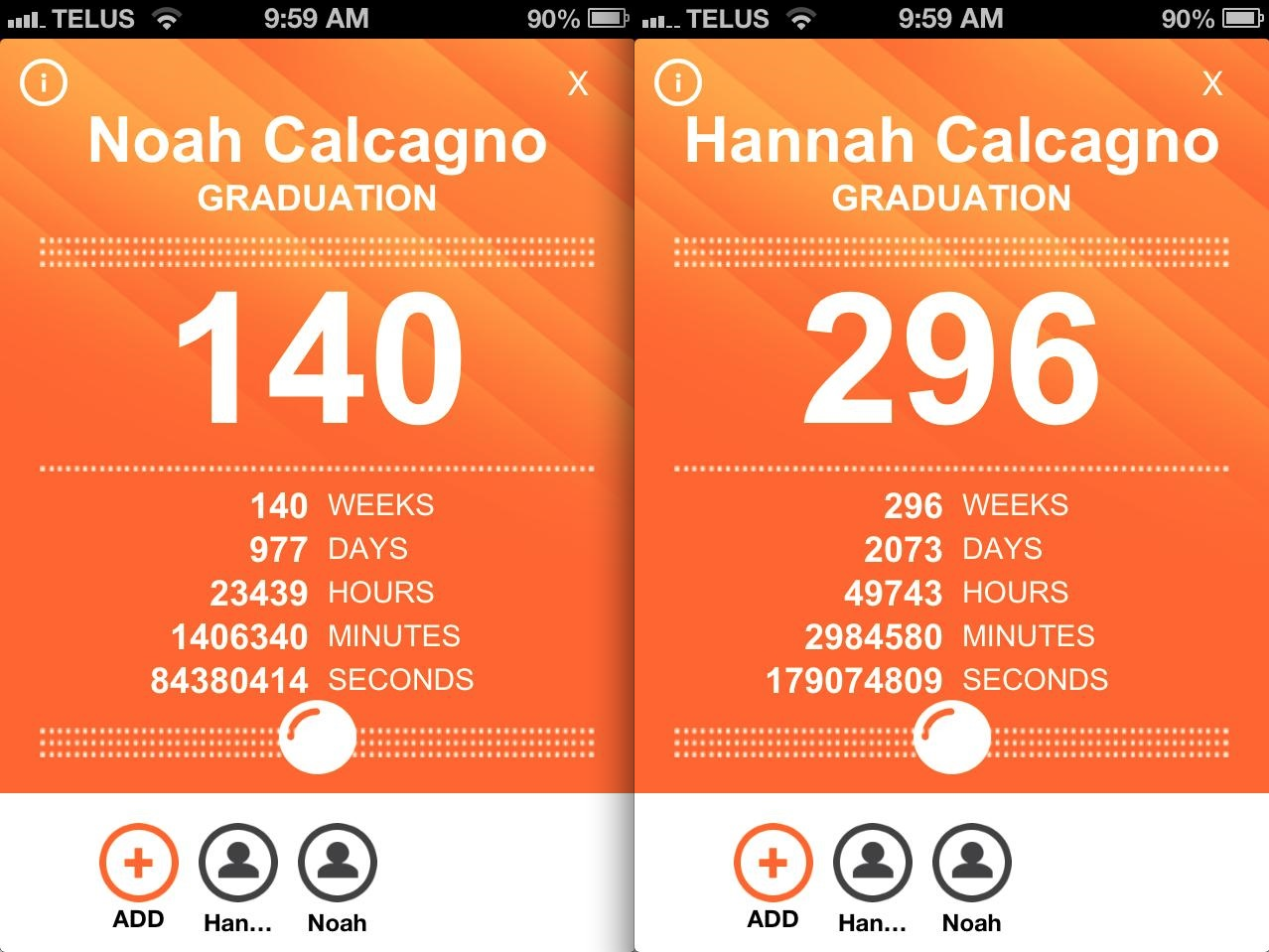 by Shelly Calcagno
I came across something really significant this week that has made me stop and think about the influence that we have with our children, and how to make the most of that time. It's a simple app for the iPhone called Legacy Countdown. It comes from the brilliant minds at The reThink Group. (You can check out all their resources and amazing books for leaders and parents at www.WhatIsOrange.org.) Basically, you download the free app and you put in your child's birthday. Then it gives you a countdown in weeks, days, hours, minutes and seconds until your child graduates high school. (The seconds option stresses me out—it never stops!)
Such a simple idea. Such a powerful concept. I put both my kids' birthdays into the Legacy Countdown and, while it made me a little sad to see the weeks until graduation, it was such a strong symbolic reminder to make the most of the time and the influence that I have. Noah will graduate high school in 140 weeks, Hannah in 296. I know my love for them won't end and our relationship won't stop at that time but they will be venturing out on their own. And they will take the things we have imparted into their lives with them. I want those things to be significant and meaningful, and to be what will carry them into their adulthood with success.
I don't really need a special app to tell me that my kids are growing up. I see that every day. As much as I hate to think about it, I know it will happen. Someday they will leave our home and start living the rest of the story God has for their lives. I can't keep them here forever. The visual reminder of Legacy Countdown is really powerful to me. It affects the choices we make as a family. How we spend our time. What we do with our finances. All these things are building into a legacy.
This is a great reminder to all of us. Maybe you don't have children right now, or they are grown up. You can use this app as a mentor, as a grandparent, as an aunt or uncle or as part of any investing relationship you have. We all can play a significant role in building into the next generation and being part of a legacy that lives on. Let's make the most of the time we have.
This review was originally posted at https://www.Crossroads360.com/blog?id=711 on August 2, 2013, by Shelly Calcagno. Used with permission.
Follow Us
Stay connected to us and be the first to know about exclusive deals and upcoming events.