YouLead Feature: Delivering Happiness Book Preview
Book previews are an important component of YouLead. The following preview is a sample of the type of information and format you'll find when using this resource. YouLead is rolling out tracks leaders can use to focus in on specific ministry needs. Within each YouLead track, we have listed resources for you personally as a […]
Book previews are an important component of YouLead. The following preview is a sample of the type of information and format you'll find when using this resource. YouLead is rolling out tracks leaders can use to focus in on specific ministry needs. Within each YouLead track, we have listed resources for you personally as a leader and resources for your volunteers. A subscription to YouLead is required in order to access resources and tracks. Delivering Happiness is a part of the Orange Leaders Handbook Track.
ABOUT THE AUTHOR
Zappos Development, Inc. CEO, Tony Hsieh, shares his personal and professional story in this book. An entrepreneur from a young age, Tony started businesses that involved worms, buttons, and computers long before he teamed up with a few others to pursue a dream of selling shoes online in ways no one else believed possible. Best-selling author and marketing guru, Seth Godin, says, "This book is funny, true, important, and useful. Just like Tony."
For individuals, CHARACTER is destiny.
For organizations, CULTURE is destiny.
THE SECRET SAUCE (THAT MAKES THIS BOOK GOOD)
Zappos is known for certain characteristics in the business world and are often an example of a company that focuses on:
IMPROVING THEIR CUSTOMER EXPERIENCE – When times got tough, the team at Zappos cut most of their marketing budget. They knew it would be crucial to treat customers well so they would come back again to buy as well as refer friends to their online store.
STRENGTHENING THEIR COMPANY CULTURE – It's important for employees or team members to feel that they're part of a tribe or family at work. Tony's experience with a previous employer taught him about the consequences when leadership forgets about or doesn't prioritize this aspect of an organization.
INVESTING IN EMPLOYEE DEVELOPMENT – Instead of worrying about employees leaving their team, Zappos gives them reasons to stay, such as a library of books and a pipeline of classes to help them continue to learn and feel challenged.
THINKING ORANGE – HOW IT EXPLAINS OUR CORE PHILOSOPHY
Zappos understands that if they want to have the very best customer service, then customer service is what the whole company should be about—not just a single department. As they grow, part of their strategy (like Orange), is to break down silo thinking by connecting people and teams back to the big picture and vision of the company.
PLAYGROUND RULES:
"It's simple…Your company's core values are ones that apply not just to work, but to life….I think when people say they dread going into work on Monday morning, it's because they know they are leaving a piece of themselves at home."
CHECK OUT ZAPPOS 10 CORE VALUES
(These values were identified, combined, tweaked, and eliminated by company employees to demonstrate ultimate ownership):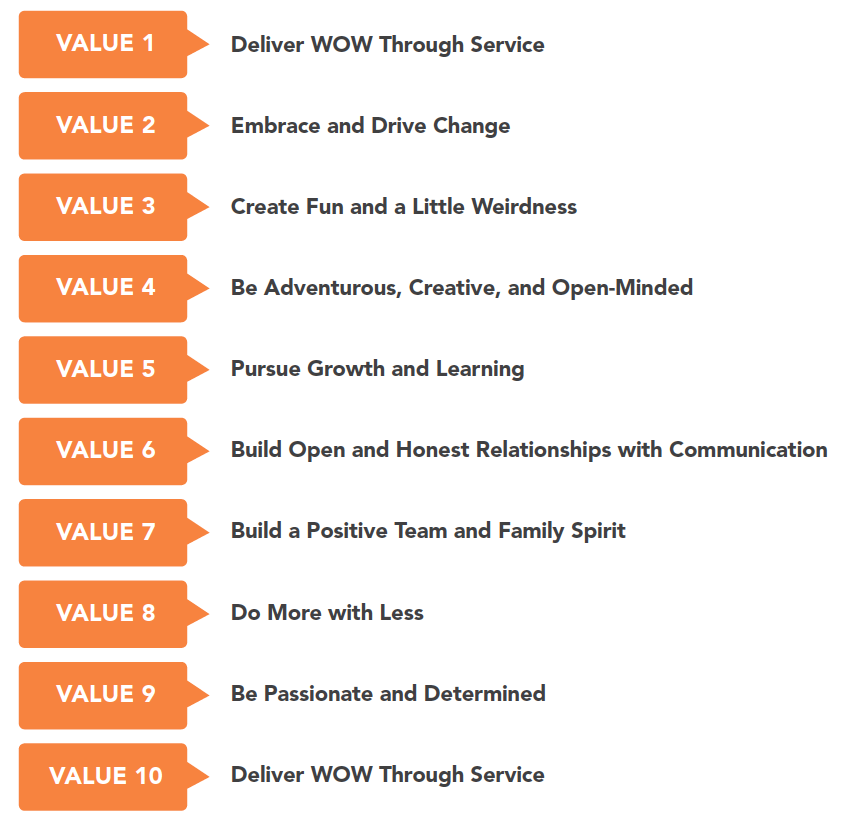 THE 1% CHALLENGE
Once you determine your organization's core values, look at what could be changed or tweaked in your environment to better reflect these values. Make it your goal to improve one thing each week in your ministry or in your home to communicate who you and your family are to the world (Examples: volunteer communication pieces, e-mails, Web site, signage.)
AND . . . BECAUSE WE LIKE TO MAKE EVERYTHING EASY FOR YOU
If you'd like to tweet about this book, here's a recommendation (in 140 characters or less, of course) ready to go: Your brand is a lagging indicator of your company's culture. Work on culture first to deliver happiness to employees and customers. #Zappos
Developed by Orange, YouLead is designed to develop the leadership skills of yourself, your team and your volunteers. It centers on answering three basic questions: What can I do to continue learning as a leader? How can I be intentional about connecting with my volunteers consistently? What can we do to stay on the same page as a team? We do this by creating materials that can be digested in 20 easy minutes. Click here to learn more about a subscription to YouLead.
Follow Us
Stay connected to us and be the first to know about exclusive deals and upcoming events.