On the Road Again: Orange Tour 2013
Whether you're aware of it or not, time is moving. You can't stop it. You can't slow it down. You can't change it. The number of weeks you have to influence a child or teenager is limited. So, what would happen if your ministry team spent one day reprioritizing what you do each week in the […]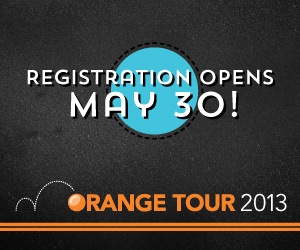 Whether you're aware of it or not, time is moving. You can't stop it. You can't slow it down. You can't change it. The number of weeks you have to influence a child or teenager is limited.
So, what would happen if your ministry team spent one day reprioritizing what you do each week in the life of a kid or teenager?
Orange Tour 2013, taking place this fall in 12 cities across the U.S., will begin a conversation with church leaders about a few core things to focus on every week that will have a significant impact on the lives of kids.
"Playing For Keeps," this year's theme, will help you discover how to make the most of the time you have with the children and teenagers in your ministry. We believe what you do each week matters because there is a short window of opportunity to make a permanent imprint on the heart of a child, and to help start them on a journey of life-long faith. This year's tour will help you discover how to make the most of the time you have.
Orange Tour is regional so it's easier to get everyone there. It's easy to afford. And it's easy to see the impact on your whole team and your whole church. Main sessions and workshops will not only give you fresh ideas, but attending together as a team is also a great opportunity to get every leader on the same page. Besides Orange staff speakers Reggie Joiner and Sue Miller, 2013 guest speakers at select cities will include Mark Batterson, Jeff Henderson and Carey Nieuwhof. And tour workshops will engage your team in their specific ministry area, and delve deeper into the topics that interest everyone most.
New this year, a volunteer training event will be held the night before the all-day event. It will be free to everyone with an Orange Tour ticket, and be centered on being an effective Small Group Leader. Those without Orange Tour tickets may still attend for $19.
Tour stops for fall 2013 include Tampa, Fla., Seattle, Wash., Southern California, Lancaster, Penn., Washington, D.C., Detroit, Mich., Indianapolis, Ind., Kansas City, Kan., Austin, Tex., Dallas, Tex., Nashville, Tenn., and Charlotte, N.C.
Registration opens TODAY, May 30, at $49, including lunch and the volunteer event. This price is good for one day only. The price will increase as the events get closer. For more information, visit www.OrangeTour.org.
What is Orange Tour?
Designed to be an interactive gathering of church leaders from specific geographic regions, The Orange Tour's relaxed environment provides each leader with the chance to network with other leaders in their area. It's perfect for every member of a ministry team—preschool, children's, student ministry and senior pastors. Volunteers and other key leaders are also encouraged to attend because of the low price point, close proximity to home and ability to share in team experiences with their leadership.
Information shared through the tour stems from the Orange Strategy, a pioneering concept that believes parents, as partners with church leadership, create the most impacting center of influence for children and teenagers. "Thinking Orange" blends two vital, yet often unconnected worlds to reshape the current ministry model.
AND DON'T FORGET ABOUT SPECIAL YOULEAD PRICING, ENDING TOMORROW, MAY 31!

Didn't get a chance to take advantage of our special offer at Orange Conference 2013?
Sign up NOW—with code YouLead149—for the special price of $149 (regularly $199). Offer ends May 31, 2013.
YouLead will help you integrate the Orange Strategy with your team in a natural way by tackling the specific issues you and your team face in the reality of everyday ministry.
And now you can get a subscription to the new and improved YouLead for only $149! With a subscription to YouLead, you will have access to our ENTIRE library to utilize at your own pace iand in your own way. It's up to you to determine how and when you want to lead.
At $149, that's about $12 a month for leadership development for your entire church!
YouLead's library gives you one primary thing—choice. You know how you want to lead, so we've given you the option to select the training resources you or your team most need when you need them, based on a variety of themes.
Follow Us
Stay connected to us and be the first to know about exclusive deals and upcoming events.