Enough Access
by Jeff Shinabarger The less I try to do everything, the more I value the abilities and gifts of the people around me. Just after returning from a sabbatical where my wife, Andre, and I spent considerable time choosing priorities and prioritizing family, I promised to speak at two different events on consecutive nights of […]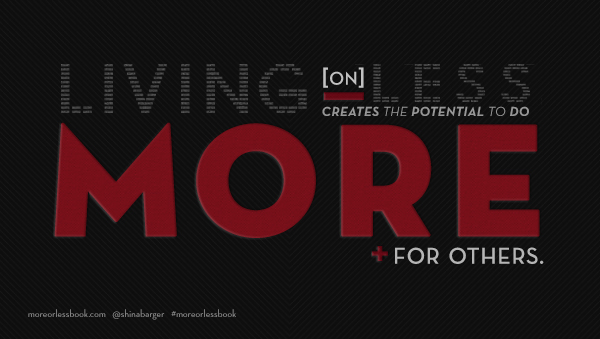 by Jeff Shinabarger
The less I try to do everything, the more I value the abilities and gifts of the people around me. Just after returning from a sabbatical where my wife, Andre, and I spent considerable time choosing priorities and prioritizing family, I promised to speak at two different events on consecutive nights of the week. When I sheepishly reported my plan, she reminded me of our shared commitment.
I hate having to call someone back to change my answer, but knew it was the right thing to do. This is when I stumbled upon a significant truth. Every opportunity not right for me brings an opportunity for someone else. When I claim more than what I can handle, I limit the opportunities for another person in my community. In essence, when we choose to do what we ought to do, forsaking all else, we create opportunities and access for others.
When I declined the speaking opportunity, I asked if I could recommend a friend of mine who would be incredible for their gathering. This created access to a new opportunity for him. My "no" turned into someone else's "yes."
Have you ever stopped to think about how you have arrived where you are today? I guarantee you that someone gave you an opportunity. Someone believed in your abilities and gave you a platform to live out what it is that makes you breathe today. Don't we all want to be part of a community that has the best interest of others at its heart?
The greatest love you can give a friend is to help him or her find and achieve their calling. Let me say it another way. My greatest responsibility as a friend is to help others discover what only they are made to do. I want to be involved in a community that does everything possible to help each other find the unique value that only they can contribute to the world. I want to be a part of a community that works together to create platforms for that talent. I want to do less, so my friends can do what only they can do.
When you think about your aspirations for your closest friends do you really want them to succeed? Are you willing to celebrate their victories the way you'd celebrate your own? Wouldn't you love to join a community of people helping each other pursue their dreams, aspirations, and purposes?
It starts with you and it starts with me. As you walk through your day, think about the people you love. How can you use your influence to help them succeed? What access do you have that can further the calling of a friend? When you give your opportunities and energy to serve the calling of others, everyone wins.
Jeff Shinabarger is the author of More or Less: Choosing a Lifestyle of Excessive Generosity. He is a social entrepreneur, experience designer, cofounder of the Q event, and creative director at Catalyst. He is also the founder of Plywood People, an innovative community addressing social needs through creative services. He's been featured in national media such as CNN, NPR, and Relevant Magazine and has been interviewed by the Atlanta Journal-Constitution and the Chicago Sun-Times, among others. He and his family live in East Atlanta Village.
Follow Us
Stay connected to us and be the first to know about exclusive deals and upcoming events.