3 Training Tips for XP3 College Volunteers
It's rare to meet someone in leadership who wouldn't appreciate a few (or 50) more volunteers. And when it comes to a model like XP3 College, which essentially runs on the willingness of adult volunteers, this topic is crucial. Some of you may've recruited all the volunteers you need, while others may need help with […]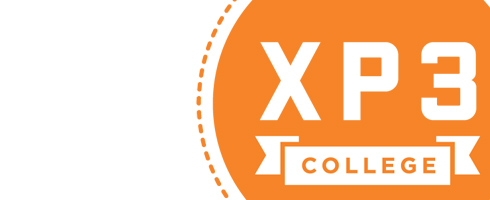 It's rare to meet someone in leadership who wouldn't appreciate a few (or 50) more volunteers. And when it comes to a model like XP3 College, which essentially runs on the willingness of adult volunteers, this topic is crucial. Some of you may've recruited all the volunteers you need, while others may need help with recruitment (we'll write a future Ezine article on this; or email us and we can brainstorm with you), regardless, recruiting is just the start; training is the key.
In The Slow Fade, Reggie, Chuck and I (Abbie) talk about "protecting your investment," which in the book's context, means the Church's investment in our youth from nursery through high school. Today, I'm tweaking this a bit to mean protecting your investment in volunteers, not just for your sake, but for theirs.
Most of us can recall a time we got burnt out (and possibly bitter) by way of a volunteer position. So, as one now stewarding those positions, how do you assure that that will not be the case for your volunteers? Well, you may not be able to assure it, but here are three training tips we've seen be fruitful when it comes to investing well in your XP3 College volunteers:
Emphasize the user-friendliness of XP3 College.

The last thing a volunteer wants is something complicated. You should probably assume that your volunteers are already "running on fumes" and are serving

not

because they have heaps of energy and margin in their lives, but because they have a heart for the college-age crowd. We've intentionally designed the Conversations to be just that, a conversation, and not a complicated program that requires complex amounts of preparation, or knowledge. Reading through of the two-ish page "Mentor's Guide" should equip your volunteers well and with everything they need. With this said, emphasize that the greatest gift they can offer is

themselves

, not a perfected program or script, which leads to the next point.

Reiterate the idea of a conversation "guide," not a "script."

It's tempting as a mentor to feel like you need to control the conversation and lead its every turn. "Control" and "guide" are very different verbs, though. Remind your mentors that the goal of XP3 College is to stimulate

discussion

, not to agree, or land, on an exact belief. Although this goes against the grain of many assumptions about mentoring, we believe guiding, or facilitating, a conversation with this age-stage is the most fruitful and transformative approach (versus indoctrinating, or pushing conclusive endpoints). Easier said than done, however, as this entails that mentors listen more than they talk and offer advice in drops, not bucket-loads. In the end, we believe this not only enables transformation, but frees up mentors to be "present" and not "perfected," cooperative "learners" and not "experts."

Initiate dialog about how God is using their role as a mentor, or how a particular Conversation is effecting their life.

A high value of XP3 College is something we call "mutual transformation." In essence, it means that by God's grace, the one being mentored will be transformed,

as will the one mentoring

. Most models in the area of mentoring reflect a teacher/pupil set-up, which isn't always wrong, but it also isn't always the most effective means of growth. By asking your mentors how God is teaching them through their role, or growing them through a given Conversation, you're investing in them, while you affirm God's promise that

in all things, He's at work for the good

, teaching, counseling and transforming.
Abbie is the author of Can You Keep Your Faith in College, The Slow Fade, with Reggie Joiner and Chuck Bomar and Celibate Sex. She holds degrees from Emory University and Talbot Seminary's Institute of Spiritual Formation and resides in Savannah, Georgia, with her husband Micah. Abbie is also a writer for XP3 College, part of the Orange Strategy to reach 18- to 25-year-olds.
Follow Us
Stay connected to us and be the first to know about exclusive deals and upcoming events.