The Power in a Hand Shake
Who doesn't like an underdog? According to this article, I'm not the only one who was cheering for the Florida Gulf Coast University Eagles during this year's March Madness. Nicknamed "Dunk City," they played with reckless abandon and obvious joy. Their coach said that the key was not taking themselves too seriously while still working […]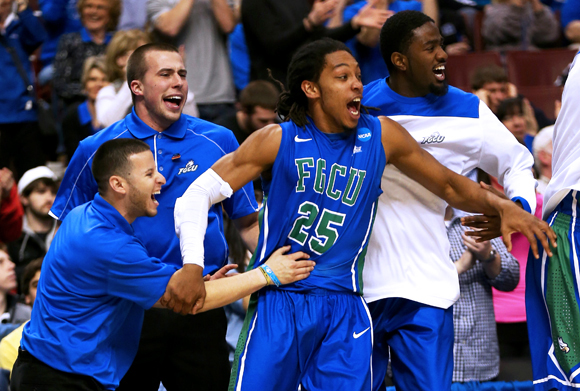 Who doesn't like an underdog?
According to this article, I'm not the only one who was cheering for the Florida Gulf Coast University Eagles during this year's March Madness.
Nicknamed "Dunk City," they played with reckless abandon and obvious joy. Their coach said that the key was not taking themselves too seriously while still working hard.
Why Sherwood Brown stood out
Player Sherwood Brown gave a pre-game locker room speech intended to fire them up, to go out and prove they deserved to be there. Then he backed up those words by scoring 24 points to help his team move on.
After that first tournament game, Sherwood went over to shake the announcers' hands. You can hear the announcers chuckling and see their big smiles as he moves down the line. See a video of it here.
How Kids Succeed
This made me think of an interview highlighting research collected and written in a book by Paul Tough.
The specific story I thought of was how a Chicago teenager named Kewauna did something similar. To listen for yourself, click here.
One of the skills she was taught in her program was to go up to college professors on the first day of class, introduce herself, shake hands and sit down in the front row.
To me, this was like declaring: "I'm here. I'm going to bring everything I've got and you're going to see me again. I'm going to stick it out and win." And it works.
Declaring You're Here to Stay
Isn't that what Sherwood Brown was essentially saying too? Now, he may not be the type of kid that needs to be coached in self-confidence and putting yourself out there. But many do.
For me, with my oldest, I've been reminded to encourage him to order for himself at a restaurant, to call friends on the phone if he wants to get together and thanking umpires or referees at the end of a game, rather than doing any of it for him.
What does this make you think about?
Follow Us
Stay connected to us and be the first to know about exclusive deals and upcoming events.