Camp KidJam: Love and Ministry
by David Loy We asked David to share his experience with Camp KidJam—from ministry leader attendee to joining CKJ as an intern. Here's his story! All my life, I've always enjoyed doing ministry in our church. So naturally, when our children's pastor, Eric, mentioned to me that I could get involved with our Upstreet team, […]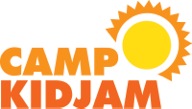 by David Loy
We asked David to share his experience with Camp KidJam—from ministry leader attendee to joining CKJ as an intern. Here's his story!
All my life, I've always enjoyed doing ministry in our church. So naturally, when our children's pastor, Eric, mentioned to me that I could get involved with our Upstreet team, and help him lead a class, I was all for it. Through that single decision, so many ministry opportunities have come into my life.
I remember in the summer of 2011, Eric offered to let me join him as one of the male leaders in our children ministry's trip to Camp Kidjam. I remember during one of the night sessions my mom leaned over to me and said, "David, I would love nothing more for you to be able to intern with them." Even though I thought that a chance like that would never arise, little did I know that God had a bigger plan.
Through a friendship that I made with one of the camera guys on staff during that week, I was able to talk to Colette Taylor, the camp director, about the 2012 camps. Even though I got a late start at emailing her, she worked with me and we were able to get the dates set as to when I would be able to intern. From the first day that I met everyone, all the way up to the last day when I had to leave, I always felt loved and appreciated (even when I accidently deleted some photos we needed for the "I Spy" track on the camp camera). I first met everyone when they arrived at Wake Forest for the two camps that they would be having there. I was immediately overwhelmed with greetings like: "Hi! My name is _______. But you can call me _____;" "Dude, I love your shirt. My name is ________ and I do _________;" and "Hey, I'm your roommate, and bro, we're gonna have a blast working together." No matter what the age, whether it was a sophomore in high school or a senior in college, everyone made sure that I knew who they were and that I quickly got the hang of how things ran.
Originally, I was only doing two camps—the 2nd one at Wake Forest, and the 1st of the Texas camps. However, within literally three days of being on staff and being surrounded with such great people to work with, I was already calling my mom and working things out with Colette to extend my flight ticket so I could do both camps at Texas. I enjoyed every second of working with the Kidjam staff and making new friends in the process. But I can honestly say that my favorite moment of it all was when I realized that, while I had intended to go and minister to the kids I was working with, I was being ministered to also. From the late night chats where we would share our hearts on something that God has challenged us with, to worshiping together as a family in a small Texas chapel on our day off, or even to the Christmas staff party, there was always some form of love and ministry being shown to me. I can't stress enough how much these past camps meant to me as a believer and as a children's leader at my church. But I can stress one thing plainly, I'm doing all nine camps this summer—and if that doesn't say anything about how much a junior in high school likes working with that staff, then I don't know what will.
Camp KidJam™ is a new concept in children's camp designed not only for kids, but for their leaders. As a component of the Orange Strategy, developed by The reThink Group, Camp KidJam is designed around the principles of 252 Basics, which teach children to grow in wisdom, faith and friendship. Camp KidJam is designed to provide a fun experience for kids, unique workshops to develop adult leaders and to elevate the significance of small groups for children. To learn more about attending camp with your children's ministry group, or to learn more about being an intern, visit the Camp KidJam website.
David Loy leads at Green Street Baptist Church in High Point, NC.
Follow Us
Stay connected to us and be the first to know about exclusive deals and upcoming events.