Getting the Most out of Your OC13 Experience
OC13 will be an action-packed three days for both veterans and newbies. If you aren't careful, you could easily get a little overwhelmed. Here are a few items we suggest thinking through before you arrive so that you can have the best experience possible. Put life on pause. As much as you are able, be […]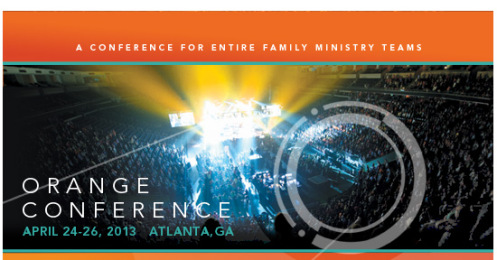 OC13 will be an action-packed three days for both veterans and newbies. If you aren't careful, you could easily get a little overwhelmed. Here are a few items we suggest thinking through before you arrive so that you can have the best experience possible.
Put life on pause. As much as you are able, be mentally present and engaged at OC13. You might even say, FOCUS. (Get what we did there?) You'll get a lot more out of the experience just by tuning in to what you see, hear and do.
Meet someone. Whether you're traveling on your own or with your team, a lot of value can be found in meeting others like you from another place. You can call it networking, making small talk before your session, or just grabbing coffee, but learning and exchanging ideas with other ministry leaders very well could lead to one of your best OC take-aways. (By the way, you can also find others utilizing the Orange Strategy near your home with our Orange Church Finder.)
Gather. A great place to meet someone new will be at one of our gatherings. More info coming soon, but we'll offer opportunities for preschool, children, student, senior, special needs and marriage ministry leaders. Plus, we're not letting the cat out of the bag or anything, but at most of these gatherings, we'll give away prizes!
Talk a walk. One of the main attractions at this year's event will be the Arena gallery area. This interactive museum will be divided into three main areas—preschool, children and students—and reflect the FOCUS theme. Each section will be completely unique in look in and feel, but will use the common thread of wonder, discovery and passion, Orange's three key concepts and teaching tools, to help leaders learn to make every week count in the life of a child.
Meet your OS. If you are a curriculum partner, we highly (hear bold, underline, italic, star emphasis here) recommend you plan to meet your Orange Specialist. Their role at Orange is to help you brainstorm, vision-cast, generate ideas, obtain guidance, etc., all year long. Keeping an open line of communication with your OS year-round is one of the keys to success with the Orange Strategy. They aren't solely hired for their good looks; they're there whenever you need them to help support you as a leader in your important work.
Seek justice. We'll have some amazing social justice organizations with us at OC13 that will definitely be worth a few minutes of your time. You may just find a new passion.
Stock up. We will not only launch a few new resources at OC13, but we'll also have some great sales on current ones. And yes, back by popular demand, the M.C. Haggis T-shirt will be available! If you've got some shopping to do, whether for yourself, your volunteers, your ministry or your staff, it's a great place to start.
Plan ahead. If you had a good time and want to attend OC14, plan to purchase your tickets on-site. You'll find the best prices, and your budget will thank you for it.
Reflect. In many ways, it is our hope that OC13 will not end on April 26. Our wish would be that you'd continue to think about what you've been a part of for days, weeks and maybe years to come. We pray God will do a mighty work in your heart to encourage you as a leader, enhance your ministry team, support your church, revolutionize your community and, most of all, advance His church. None of that comes without strategy and purpose.
We'll see you soon!
Follow Us
Stay connected to us and be the first to know about exclusive deals and upcoming events.