New Orange Conference Track for a Rapidly Growing Role: NextGen/Family Ministry
Spring is here. The trees are starting to bud and the scent of new life is in the air. Spring is one of my favorite times of the year. One thing that comes with every spring for me is the little conference I attend every year in Atlanta called Orange Conference. Ha! There's nothing little […]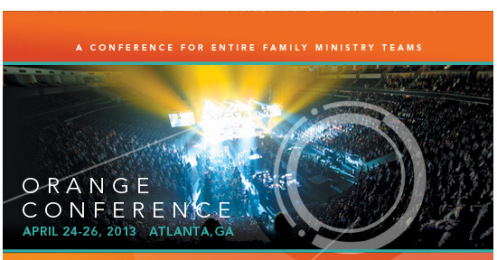 Spring is here. The trees are starting to bud and the scent of new life is in the air. Spring is one of my favorite times of the year. One thing that comes with every spring for me is the little conference I attend every year in Atlanta called Orange Conference. Ha! There's nothing little about Orange Conference!
This year makes my fifth year to attend this great conference. From time to time, people ask me why I keep going back. "Once you get this whole 'Orange' thing, can't you move on to something new?" For me, Orange Conference has become a part of my annual routine because each year, it's a totally different experience. I come home with different ideas, have different conversations and each event inspires me in a fresh new way. It's less about the "event" and more about the people and conversations that accompany the conference (but I must say, the "event" is spectacular). There are very few places where so many people are gathered in the same place for a few days that challenge and inspire me so much within the context of the ministry I'm currently in. Why wouldn't I make my way to participate each year?
Now, I must say that this year is very unique for me. Something is happening at OC13 that is not happening anywhere else, and I think it is incredible. This year, Orange Conference is hosting a specialized breakout track for NextGen/Family Ministry leaders. Not just people who are responsible for family elements of ministry, but those in the unique staff role of both student and children's ministry oversight. It's a very new, but rapidly growing role within the church and there's so much to learn. Orange has put together some amazing communicators to talk about the things NextGen/Family Ministry leaders are dealing with. These breakouts attempt to define the role and the family ministry team. This track aims to process through the biggest hurdles leaders in this role will face. What I'm even more excited about is gathering and rubbing shoulders with others in this role as we all learn together.
Breakouts include:
Leading a NextGen Meeting with Kenny Conley
NextGen/Family Ministry Leadership: Leading 360 Degrees with Michael Bayne
The Art of Delegation with Powell Grisham
Family Ministry 101: Defining the NextGen/Family Ministry Team with Darren Kizer
Leading Through Conflict Resolution with Kenny Conley and Jim Wideman
Clarify the Win: Narrowing Down What is Most Important in Your Ministry with Jonathan Cliff
So, if you are in this role, or you work with someone in this role, OC13 is the place to be this April.
If you'd like more info about the various tracks at OC13, we've added for 2013 are Track Champions and a greater explanation of our tracks. You can read more about the goals of the each track here (https://www.whatisorange.org/orangeconference/2013/new) and watch the videos here (https://vimeo.com/whatisorange) to offer further explanation.
Follow Us
Stay connected to us and be the first to know about exclusive deals and upcoming events.