Is Your Community Thinking Orange? Contest Winners
Wow—did you guys show up big for this final contest! We asked you to tell us how you have your community thinking Orange. We asked you to tell us what you've got going on outside the walls of your church. We asked you what difference you have made in your neighborhood. You answered in AMAZING […]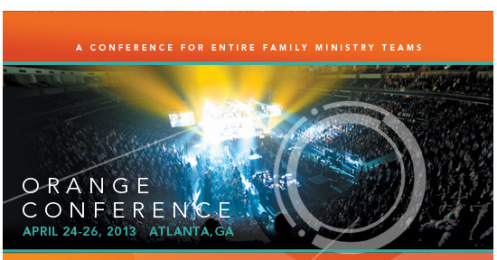 Wow—did you guys show up big for this final contest! We asked you to tell us how you have your community thinking Orange. We asked you to tell us what you've got going on outside the walls of your church. We asked you what difference you have made in your neighborhood. You answered in AMAZING ways.
Your stories were so encouraging and inspiring. They left us even more grateful to partner with you in your church's journey. You were creative and excited, and hopefully those of you who submitted entries are more proud to be at your church than ever before.
The yellow side of Orange is represented by the light of the church. And no doubt there are many lights shining right now in their communities. If you are one of those, whether you submitted an entry or not, we thank you wholeheartedly.
Here are some examples of the incredible stories that were shared with us:
Participating in local Chamber of Commerce events
Community-wide youth events
Thanksgiving food drives with the local fire department
Mission trips and worldwide partnerships with churches
5K run for social injustice
Camp partnerships with local churches
Multi-denominational partnerships for common events like fall festival
ESL and deaf language program
Homeless outreach
VBS
Community/social services and mission facility
Good Friday and Christmas events out in the community rather than inside the church
Upward Sports programs
Summer programs, camps and food for low income families
Family Experience (FX) at church and in schools
Outreach opportunities around the 252 Basics monthly life applications
School tutors and mentors
Teacher appreciation lunch
Thanksgiving meals and Christmas gifts
Community service days
Mini golf course built from old FX sets for a free family fun day
Building wells and providing water abroad
Bible clubs in schools
Community/civic partnerships like Habitat for Humanity
Clothes, coat and umbrella collections
Knitting blankets for low income mothers of newborns
Partnering families one-on-one with at-risk students
Woodworking classes
Random acts of kindness in the community with leave-behind cards
Hurricane Sandy clean up, restoration and rebuild
Family nights at YMCA
Running clubs
Park and neighborhood cleanups
Music parodies everyone enjoys and can pass along
Prison ministries
Here are the three winners of our contest, and a little about how they have their community thinking Orange—in their own words:
Tiffany at New City Church in Kansas: New City Church launched one year ago in an area that desperately needed some light. We moved in when many others were moving out. Our church came with the mission to bring joy to our city. One of our main objectives was to partner with our local elementary school to fill in the gaps. At the time, it was the only failing school in our district. We simply asked, "How can I help?" with no strings attached. In one year, we have provided backpacks, school supplies, launched a grant program for strengthening families as the school's main community partner, packed weekend food backpacks, provided a day camp over spring break, and much more. The kids know when they see New City Church that there are people that love them.
We also use our facility as a safe, fun place for families to go. The area surrounding our church is government-assisted housing and many families have no transportation. Since our facility is a renovated movie theater, we open it every Friday for a free family movie night with snacks. We also use this event to allow community service organizations to come and provide basic needs and information, such as glaucoma screening, literacy information, and ELL classes. One of the moms in our community put it like this, "Before New City came, we didn't do anything together as a family, now we do!"
The use of Orange curriculum as our strategy has been vital to helping the kids we have impacted in the community to take their next steps in following Jesus. Orange allows us as a young church to have an easy way to implement a dynamic and exciting Sunday morning experience that kids want to come to. We average 150 kids each Sunday and we often hear that the kids are begging their families to come to church! We have seen many children come to know and love Jesus and obey Him in baptism.
Diane at Hanover Church of God in Pennsylvania: For the past eight years, we have been doing a weekly FX program, which has met with various levels of opposition and has seen many changes. After OC11, I prayed for God to reveal what MOVE He wanted us to make. I was sure it had something to do with the FX. I was right, but not exactly the way I thought. While I thought God wanted me to end or change the FX, I discovered He wanted to expand it!
It took almost a year of praying and waiting on God to reveal to me what HE was trying to show me in terms of making a move. Doors from my past as a public school teacher began opening after 11 years of being away, while almost simultaneously new relationships, like the one with Core Essentials began forming.
While at the school where I was formerly employed, I realized that they haven't had a new character education program since I was there about 12 years ago! It became clear now what God was doing. My lead pastor gave me permission to use time away from the church to minister to the community through the schools. And the doors of opportunity starting swinging open! In just a few months, my new partner and I, a parent and volunteer in our ministry, were invited to talk to four school districts, the local YMCA and the local YWCA. Almost all the schools took us up on the offer, and we have since produced a School XP in each school! In one year, we have covered more ground than we could have dreamed!
Our FX team of volunteers, who have full-time jobs outside the church, manage to rearrange their schedules to make every School XP. God's arm has reached out to this community with Orange, extending it into each child's household as they bring home papers that cue their parents to the value being taught that month, as parents participate in the school activities, and see this in the community. I have heard from teachers and school administrators about how excited they are to have this kind of atmosphere in their schools. And a new flame has just been lit and is growing by the minute as we come up with more ideas to impact our schools and community at every level.
Andy at Eastern Hills Church in New York: For the last several years, we have done a monthly Family XP called Family Fusion. It is a dynamic environment designed for children and families to attend and experience together on Friday nights. While these have been very successful, we have always wanted to do more.
Late 2012 brought the opportunity to partner with a local school and bring our family experience to their school-wide assemblies using Core Essentials. Our church had been reading through Mark Batterson's book Circle Maker and some of the moms began walking circles around their school and praying for God to open doors for influence. Before we knew it, the principal had given our program the green light. So many parents, kids and volunteers from our church pitched in to pull this off. It was a huge hit with both the students and the administration, and we've been officially invited back. There is also the possibility of adding a second school this year.
In addition, we were given the go-ahead to offer a "Bible Club" through the PTO-sponsored after school program. We had over 20 kids in each group, the most kids in any of the after school programs offered. One of our "Circle" praying moms led the charge with the club.
At Christmastime, we opted to launch a campaign that would move the church into the community. We gave children and families a challenge to go out and show compassion to others who had a need. The children were given a dollar and a "Mission Report" sheet to record their creative ideas of how they could use that dollar to do good. We received dozens of reports back of how families creatively showed God's love and compassion. We saw so many families of all ages work together to do good deeds in their neighborhood. We even organized a couple of "cash mobs" to generate large volumes of revenue for a couple of our local businesses.
Our team has also launched a very successful Upward Ball Hockey League, the only one in the United States. We have seen entire families move from not attending church at all to fully plugging into our church and getting involved.
One of our high school girl's small groups started their very own charity to raise enough funds to feed three hungry families in Haiti for a year. And each year, our student ministry hosts an event called the Hunger Experience. It is a 12-hour all night event in which the students not only fast to experience hunger but also fundraise ahead of time to sponsor children in the Dominican Republic. We take a trip to the DR each June to visit the kids we support at an organization called Emmanuel House.
We also launched a brand new marriage ministry this past year using the MarriedPeople curriculum. It allowed us to not only engage the couples within our church, but also our community.
And in the spirit of community, this Good Friday we are partnering with other area churches to host a service in a neutral locale. We're hoping that people who normally wouldn't come into a church would be interested enough to come to the arena for this service.
A big congrats to Tiffany, Diane and Andy! These winners will receive OC13 tickets and AirTran airfare tickets!
Thank you to everyone who sent us your story. They remind us why we do what we do. And hopefully they've also inspired the rest of you out there as well.
Follow Us
Stay connected to us and be the first to know about exclusive deals and upcoming events.