Is Your Community Thinking Orange? If so, WIN BIG for OC13! (Hint: Airfare included)
Orange is all about inciting wonder, provoking discovery and fueling passion in the heart of every child. The passion piece includes loving the world around them and utilizing influence in their community. We always want church to be defined by Christ and His people, not the walls of any building. So for our last contest […]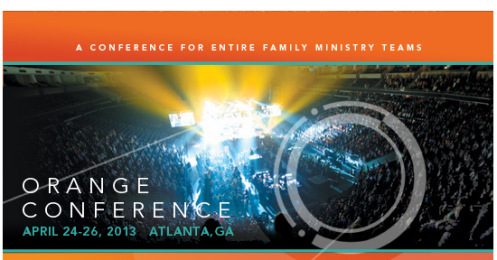 Orange is all about inciting wonder, provoking discovery and fueling passion in the heart of every child. The passion piece includes loving the world around them and utilizing influence in their community. We always want church to be defined by Christ and His people, not the walls of any building. So for our last contest prior to OC13, we want to know how you have your local community thinking Orange.
How is your church utilizing its influence in the community?
How are you connecting to the world around you?
What difference have you made in your neighborhood?
Tell us, and your team could be headed to OC13! We're giving away EIGHT FREE TICKETS AND AIRFARE to the winners! Remember, sell us on your story and include any team members that you want to be considered as ticket winners. A one or two sentence explanation just won't do. This is your opportunity to toot your own horn! We can't wait to hear what you've been up to.
Send your submission to Kristi Porter, kporter@rethinkgroup.org.
Fine Print:
Contest entries must be submitted by Monday, March 18 at 5 p.m. EDT. Orange staff will choose finalists, and winners will be announced on the Orange Leaders blog the week of March 25. We will select up to eight winners for this contest. These may be from the same church or multiple churches.
By submitting your idea, you give permission to the staff of The Orange Conference to share the details with other people. OC13 tickets and airfare that have already been purchased will not be refunded. Hotel, ground transportation and meals will be the responsibility of the winners. Airline tickets are only good for AirTran, so please consider travel before submitting. Travel within domestic US and Puerto Rico only.
If you are the contest winners, AirTran Airways is pleased to provide you with a round-trip ticket to Atlanta, Ga., for The Orange Conference! Your coach class ticket will be booked in coordination with a travel assistant from AirTran Airways. Travel is subject to AirTran Airways contract of carriage, rules and regulations. Travel is non-refundable and non-transferable. If you have to cancel your trip for any reason, AirTran and OC12 tickets will not be extended or renewed. Reservations are subject to availability and capacity control restrictions. Holiday blackout restrictions will apply. Should you need to make any changes to your itinerary, a $75 change fee will apply. Changes and cancellations can be made up to one hour prior to the scheduled departure time.
Please note that workshops and breakouts for The Orange Conference are already filling up. Content winners will be able to sign up only for workshops and breakouts with availability at the time that the free registration is redeemed.
Should The Orange Conference have a waiting list for attendees at the time of your registration, the winning ticket holders will be allowed to redeem complimentary tickets and attend the event. Any additional tickets desired will be subject to our waiting list terms and conditions.
Follow Us
Stay connected to us and be the first to know about exclusive deals and upcoming events.