More or Less: Choosing a Lifestyle of Excessive Generosity
Our friend and Orange Conference exhibitor, Jeff Shinabarger of GiftCardGiver.com and Plywood People has written a new book called More or Less: Choosing a Lifestyle of Excessive Generosity that challenges us to live a life of excessive generosity. "Anything more than enough is excess. It's that thing that we could give away today, and it wouldn't […]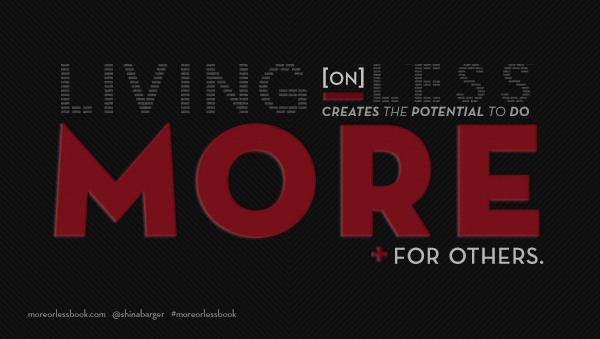 Our friend and Orange Conference exhibitor, Jeff Shinabarger of GiftCardGiver.com and Plywood People has written a new book called More or Less: Choosing a Lifestyle of Excessive Generosity that challenges us to live a life of excessive generosity.
"Anything more than enough is excess. It's that thing that we could give away today, and it wouldn't change a single aspect of our tomorrow," says Shinabarger, who is a social entrepreneur and creator of innovative giving programs such as GiftCardGiver.com. To show how living on less creates the potential to do more for others, he challenges readers to undertake a series of social experiments that illuminate the question of what is enough.
Shinabarger believes that people desire to be more generous. His theory is that when we recognize that we have more than enough, our portfolio of generosity will increase. In More or Less, he shows how to combat a culture that inflates our idea of what we need. The result is a cultural shift from feeding unnecessary desires to addressing issues of suffering in the world.
He illustrates the excess in our lives in eye-opening ways. In one "Enough Experiment" he and his wife vowed to create meals from food on hand at their house. They were able to go for seven weeks, making three meals a day. "Most of the world can't eat one meal today, while I could eat 147 meals just on the food sitting in my kitchen," he says.
Shinabarger introduces readers to remarkable projects that began when someone found a way to use excess or waste to fill an urgent need, such as Beltline Bike, Meals with a Mission, and Global Soap Project. Some of his own creative generosity projects include raising funds to build wells for clean water in Rwanda, using discarded billboards to start a shop that employs refugees to create messenger bags and other products, and GiftCardGiver.com, where people can turn in gift cards with any amount left on them to be distributed to charities. Through his work on GiftCardGiver.com and other projects, Shinabarger has identified six principles that inspired him to write More or Less:
Out of our excess, we can address issues of need and suffering.

We will be known by the problems we solve.

Influence is gained by doing something.

When you have a good idea, people tell you and then tell others.

Every social innovation must learn to scale for maximum results.

Every great idea needs a team of people to help it come to life.
More or Less presents a clear-eyed vision for how things can be made better for people in need, and a blunt challenge to each of us: "I believe there is a problem in this world that you were called to solve. It is your responsibility to find that problem and make it right," Shinabarger says. Each chapter of the book includes a specific, practical project readers can undertake, and tips on how to develop other "Enough Experiments."
"We will either be consumed by culture or we will choose to define enough by our conscience," Shinabarger writes. "The good life is not found in luxury. It is found in a life that enhances the life of another human."
More or Less released just this past week, March 1, 2013, and is available on Amazon.com. If you purchase this week and gift a book to someone, you'll get some great perks! Take a picture of your receipt and upload it here to receive: Problem Solvers, Jeff's new ebook; audiobook of More or Less; video of the Launch Night; and a 25 percent off coupon for PlywoodPeople.com.
Jeff is a social entrepreneur, experience designer, cofounder of the Q event, and creative director at Catalyst. He is also the founder of GiftCardGiver.com and Plywood People, an innovative community addressing social needs through creative services. He and his family live in East Atlanta Village.
Follow Us
Stay connected to us and be the first to know about exclusive deals and upcoming events.