Focusing on Orange 2013: Why Student Ministry Leaders Need to be There
by Jaime Handley At this year's Orange Conference 2013, the theme is simple, one word even—Focus. We are going to focus on the specific needs and issues that we hear come up over and over again in the youth ministry world. We are going to focus on developing a dialogue and making connections within the […]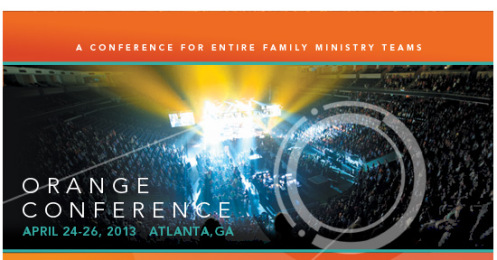 by Jaime Handley
At this year's Orange Conference 2013, the theme is simple, one word even—Focus.
We are going to focus on the specific needs and issues that we hear come up over and over again in the youth ministry world. We are going to focus on developing a dialogue and making connections within the national and global community of youth workers. And we are going to focus on you, your team and your ministry needs.
But we are asking you to do some focusing too. We are asking you to focus on the areas of your ministry that you want to see impacted in the next year, whether that's middle school, your parent community or those outsider students in your community who you just can't seem to reach.
This year's Orange Conference will feature all the usual suspects that you've come to expect: Challenging and inspiring speakers, networking opportunities, a chance to meet with and talk one-on-one with the XP3 team and your Orange Specialists. But we're also hoping that you'll come—and leave—with some specific goals in mind. We hope you will be stretched, inspired and energized to go back to your own student ministry and use some of the specific tools you will gain over the course of this three-day experience to impact them and draw them closer to Jesus Christ.
This year we've also added Track Champions to provide a greater explanation of our tracks. You can learn more about the goals of the Student and Middle School Track here.
Here is a sampling of a few of the new breakouts that we are especially excited about:
Outsiders: Five Questions to Ask Yourself When Reaching Unchurched Students
In student ministry, it's easy to build a program that caters to insiders. Conversely, it's extremely difficult to create an environment that's engaging, clear, and compelling for outsiders. As the Church, how do we target unchurched students? How do we help them connect? And how do we get them to show up again?
[STUDENT MINISTRY]
Off the Couch! Developing a Student Leadership Culture
What if we could effectively minister to more students by asking them to participate (play a role), not just observe (be quiet and listen)? It's time to tell the next generation that we need their help, instead of simply telling them to come back next week. In this breakout, we will discuss the fundamentals of building a strengths-based volunteer/staff team for your student ministry. We will discuss practical steps pertaining to volunteer recruitment, such as how to communicate ministry policies and procedures and examples of what that looks like; developing and communicating roles effectively; best practices on team training; and how to place volunteers in their "sweet spot," therefore increasing staff and volunteer retention from year to year.
[STUDENT MINISTRY]
Moving from Cliques to Small Groups: Building a Relational Lead Small Culture for Students
If you want to build a solid foundation for your student ministry, you need Small Group Leaders who have a heart for pursuing teenagers. Students want to connect and belong. And they need space to discuss and personalize their faith through relationships. This workshop will address how to make a strategic shift to a Small Group model for any student ministry. We'll share the powerful secrets of how to make the Small Group Leader the hero in a student ministry. We'll also address how the environment and program need to cater to the Small Group Leader and Small Group time in order to have a successful Small Group ministry.
[MIDDLE SCHOOL MINISTRY]
The Parents who Need You Most: How to Communicate and Partner with Parents of Middle-Schoolers
All student ministry leaders recognize the importance of successfully partnering with parents. Sometimes it can feel like parents are just not engaged and we, as leaders, aren't sure exactly what to do about it. In this session, we will address that very concern, not only how to begin the conversation with parents, but how to maintain momentum with the ministry/parent relationship.
So, what is the theme of 2013 for your student ministry? We invite you to share in our vision to FOCUS on those things that will be most impactful for your student ministry. Come join us at Orange Conference 2013 and find your focus!
Follow Us
Stay connected to us and be the first to know about exclusive deals and upcoming events.