Focus on Orange 2013
By now, you have probably heard via emails, Twitter and maybe even a few pieces of mail about The Orange Conference 2013. So, you may be wondering, "Why should someone who works in college ministry come to Orange?" After all, most people think of family ministry—preschool, children's and student ministries—when they think Orange. For many […]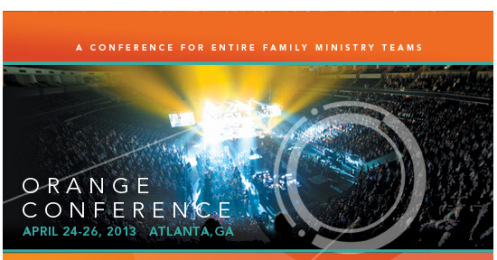 By now, you have probably heard via emails, Twitter and maybe even a few pieces of mail about The Orange Conference 2013. So, you may be wondering, "Why should someone who works in college ministry come to Orange?" After all, most people think of family ministry—preschool, children's and student ministries—when they think Orange.
For many student ministries, the "end in mind" is graduation. However, the reality is that the "end" is not graduation. That's not the finish line. The finish line is having a college-age person (18-25) who feels connected and integrated into a church body. That's the heart behind our XP3 College Conversation Guides, which are intended to connect generations through dialogs that bring generations together to learn from one another and build relationship.
It's also the reason we are offering some key breakouts at The Orange Conference 2013 that are important discussions for anyone involved with ministries for college-age people. We would love for you to be there and be a part of the conversation. Here are the topics we'll discuss:
• Generational Tensions This breakout, led by XP3 College's Chuck Bomar, takes a candid approach to the reality that there is tension between generations. Some of this is unspoken, but much is felt by both ends of the spectrum. It's one thing to talk about differences, it's another to pinpoint them—and it's another to keep these differences in mind as we approach relationship with one another. This breakout will explore the different tensions between generations and how it applies to ministering to each one, especially the group most often skipped—college students.
• Protecting Your Investment: Transitioning Students from High School to College Led by Jared Herd and Chuck Bomar, this breakout explores the developmental needs of high-schoolers and how to teach and transition them into their next phase of life. Most students graduate from high school and lose their sense of belonging in the church. Student pastors have invested in them for years, but haven't established a game plan for extending that investment beyond 12th grade. In this breakout, we'll help you with that game plan.
In addition to these college-specific breakouts, there are also some great opportunities for you to be encouraged personally with breakouts like Chuck Bomar's breakout based on his latest book, "Better Off Without Jesus" and other breakouts to help you navigate leadership and life.
We would love to see you at OC13, April 24-26! The XP3 College team will be there at the conference, working in the curriculum booth and leading breakouts. We would love the opportunity to learn, to connect and to dialog with you.
For more information about The Orange Conference, including a listing of all the incredible breakouts and speakers, visit www.TheOrangeConference.com.