How Cows and Curriculum Can Help You and Your Students Notice God Daily
by Kara Powell "Every day you see a cow." A few years ago I heard this seemingly urban myth from a good friend. Wanting to know whether she was right, I soon after developed "cow vision." I spent the next several weeks looking for cows—on TV, in magazines, on the Internet, and on other people's […]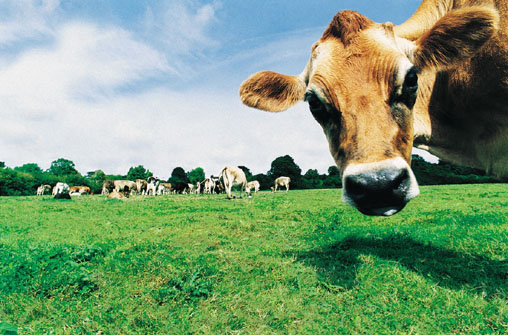 by Kara Powell
"Every day you see a cow."
A few years ago I heard this seemingly urban myth from a good friend. Wanting to know whether she was right, I soon after developed "cow vision." I spent the next several weeks looking for cows—on TV, in magazines, on the Internet, and on other people's clothing (note that I never found any cows on my own clothing).
I was committed to noticing cows.
We at the Fuller Youth Institute are wondering what would happen if we brought that same sense of quest and commitment to noticing God. That's why we've spent the last two years developing the Sticky Faith Every Day Curriculum, a free eight-week curriculum geared to helping leaders, teenagers and families both notice God and develop lasting faith. Our goal is to give you a structure you can utilize to help students reimagine and re-engage spiritual practices as a way to notice God more every day, long beyond the series itself. Like you, we want young people to initiate a lifetime of engaging God.
Sadly, our Sticky Faith research indicates that youth group students are not engaging with God like we might hope. Of the youth group graduates we surveyed, only about half pray once a day or read the Bible once a week. Beyond prayer and Scripture study, teenagers also don't seem to have experience with a host of other timeless faith practices that could make a difference in their day-to-day lives.
This one-minute video that you can use as a discussion starter with students points out how important—but challenging—it is to notice God every day given all that bombards us.
Notice from Fuller Youth Institute on Vimeo.
Based on requests from leaders like you, each week of the curriculum offers you:
A leader guide for a youth group or small group session around the weekly theme

A daily guide students and adults can use on their own

Ideas families can try together
I'm grateful that working on this curriculum has given me new eyes for the work of the Lord around me. After all, I'd rather notice God than cows.
Follow Us
Stay connected to us and be the first to know about exclusive deals and upcoming events.