Family Ministry and Special Needs
by Meaghan Wall and Amy Fenton Lee While there are extra demands and differences for parents of children with disabilities, an Orange approach to parenting still applies. As family ministry leaders, we have a responsibility to work through the logistics of accommodation so that families impacted by special needs can attend church. We also have […]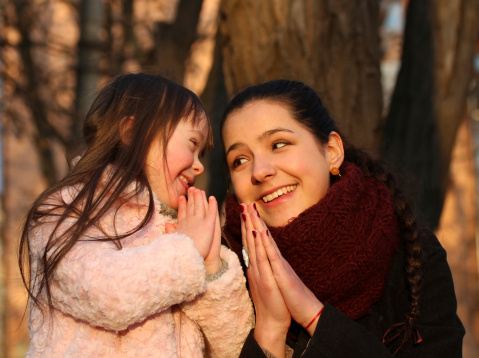 by Meaghan Wall and Amy Fenton Lee
While there are extra demands and differences for parents of children with disabilities, an Orange approach to parenting still applies. As family ministry leaders, we have a responsibility to work through the logistics of accommodation so that families impacted by special needs can attend church. We also have the responsibility to encourage and support these same parents as they facilitate the spiritual development of their child with differences.
"No one has more potential to influence your child than you."1 This statement is true for the typical family. And it is true for the family affected by disability. Parents of children with special needs already function in the role of an advocate for their child's social and academic development. So, it makes sense to apply this same mindset when we think about educating and encouraging parents to take ownership of their child's spiritual development. After all, parents best understand how their child with differences processes new information and their pace for learning. We can remind parents to apply the same successful teaching strategies used in the educational setting to help their child grasp concepts of eternal significance. And we can even model in the church setting how parents can engage their child in praise and prayer on a daily basis. Every parent (special needs or typical) has the opportunity to advocate for their child's heart.
"You are not the only influence your children need."2 As church leaders, we have responsibility associated with this statement. Parents of children with special needs yearn for others to take an interest in their child. A willingness to invest in an individual with special needs has an immeasurable impact on every member of that child's family. Recently a mother of a child with a profound disability shared how a counselor from a Christian respite camp had written her son several letters over the course of a year. With great emotion and appreciation, this mother talked about how her son read the letters repeatedly. The mother shared how the contents of those letters fueled new questions and an interest, at her son's level of understanding, in a relationship with Jesus Christ. As leaders, we can recruit and inspire special needs ministry servants who desire to build relationships, investing in the lives of ministry participants.
"Imagine the End."3 Milestones for typically developing children can present grieving points for parents of children with special needs. And for many families impacted by disability, imagining the end can be especially painful. But as invested ministry leaders, we can provide comfort and encouragement by reminding parents that the Lord is in control from the beginning to the end. None of us is guaranteed an easy or even predictable life journey, yet we are all charged with Deuteronomy 6 instruction. Regardless of whether or not our family is impacted by disability, as parents our daily goal is to create life-meaning for our children and with the end in mind.
(1), (2), (3) All quotes are from Parenting Beyond Your Capacity, Reggie Joiner ©2010 David C. Cook
Meaghan Wall is the Special Needs Ministry Coordinator for Stonebriar Community Church in Frisco, Texas. Stonebriar currently welcomes 80 students with special needs. Amy Fenton Lee is the Special Needs Consultant to Orange. Amy blogs at www.TheInclusiveChurch.com to help churches successfully include children with special needs.
Follow Us
Stay connected to us and be the first to know about exclusive deals and upcoming events.