Tips and Tools for Including the Child with Special Needs
Kids with learning differences often require visual indicators to understand what is expected of them when they are inside of a certain space. (The same can be true for any child who struggles to pay attention and follow directions in the preschool and children's ministry setting.) Creating an environment with defined areas and visual communicators […]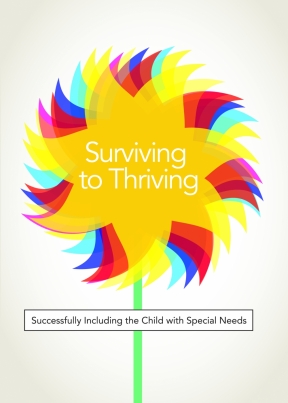 Kids with learning differences often require visual indicators to understand what is expected of them when they are inside of a certain space. (The same can be true for any child who struggles to pay attention and follow directions in the preschool and children's ministry setting.)
Creating an environment with defined areas and visual communicators provides important cues for the child who doesn't process auditory instruction particularly well. With visual reminders and an associated routine, over time you may notice a child's conduct and cooperation improves.
• A circle rug can serve as the visual prompt for small group or story time. When a child observes their peers moving toward the designated area of the room or being seated on the special carpet, they may recognize the visual prompt to prepare for the Bible lesson and join their peers.
• Placemats, mouse pads or carpet squares can provide a tangible reference for a child who needs specific direction for where to be seated. Receiving instruction to select and sit on a "red circle" or "blue square" removes ambiguity while pre-defining personal space.
• Painter's tape may define the table space for a child who is tempted to take from his neighbor's apportioned snacks or who needs help understanding the boundaries of his own workspace.
Simple strategies like these may be the difference between failure and success for the child with special needs and the volunteers who serve them. For greater explanation related to these tips and many more like them, check out Orange's new volunteer training DVD, Surviving to Thriving: Successfully Including the Child with Special Needs.
This 80-minute DVD is divided into seven sections, with a total of 13 short video clips. Each clip addresses a common challenge in the preschool and children's ministry settings, and offers various strategies to help the child with learning differences and their leaders experience success.
At the conclusion of the major seven sections, optional questions are posed to facilitate an elective group discussion time. The video may be shown in completion or as segments, each spotlighting a particular teaching technique or behavior management strategy. The DVD offers reproducible downloadable materials including:
· Visual schedule with graphics
· Behavior management rules with corresponding pictures
· Daily participant interviews/exit tickets
· Participant notes and handouts to help viewers follow the DVD's content
For more information on Surviving to Thriving, visit the Orange Store.
Amy Fenton Lee is the Special Needs Consultant to Orange and the Special Needs Columnist for Children's Ministry Magazine. Amy blogs at www.TheInclusiveChurch.com to help churches successfully include children with special needs.
Follow Us
Stay connected to us and be the first to know about exclusive deals and upcoming events.