XP3 College Partner Spotlight: Jenna Hale
An interview by Abbie Smith Recently, the XP3 College team received an encouraging email from Jenna Hale, college coordinator at World Outreach Church in Murfeesboro, Tennessee. Curious as to what inspired her to write us, we dug a little deeper into her experience with XP3 College and how it's changing the lives of students. In […]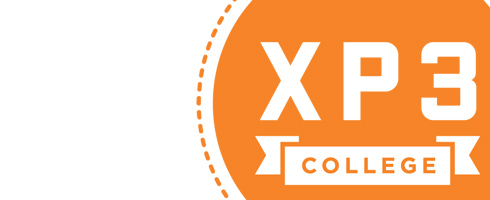 An interview by Abbie Smith
Recently, the XP3 College team received an encouraging email from Jenna Hale, college coordinator at World Outreach Church in Murfeesboro, Tennessee. Curious as to what inspired her to write us, we dug a little deeper into her experience with XP3 College and how it's changing the lives of students.
In your words, Jenna, "XP3 College has been extremely effective and a phenomenal tool for our college age ministry." What makes you say so?
This curriculum has been a great blessing to us. The topics are relevant to the age-group, and the Guides are not so crammed with points of discussion that it becomes a race to complete the study rather than an opportunity to discuss and apply truth to the lives of those involved. (That is probably one of my favorite things about this curriculum—it allows room to breath, time to let the Holy Spirit move in the hearts of those involved and also gives everyone the opportunity to share.) The content is clear and concise. The leaders have found the dialogs [in each Conversation Guide] easy to follow and great direction for their groups.
What is the context for your ministry and how you're implementing this resource?
We use the studies in a small group setting (guys with guys and girls with girls), averaging eight group members and a leader. We meet once a week and spend at least an hour in groups together. All of the groups do the same study at the same time. And I make sure the leaders receive each study a minimum of two weeks in advance so they have plenty of time to prepare and feel comfortable with the material.
I have purchased multiple studies at a time to allow time to plan our calendar in advance. I also like to have more than I need or will currently use so that I have a strong grasp on the topics available to us through these studies. I try to plan the studies based on where I feel the group is at that time, what they may be most receptive to or ready to walk through, and what is happening on the calendar (are we near graduation, are we near Easter, are we near the new school year, etc.) and how the studies may support that season in the lives of the young adults we're ministering to. I also work our studies around other events that we plan for the college group (summer Barn Parties, worship/teaching nights, nights off due to holidays, Christmas Party, service projects, etc.), so we are not always working through a study when we meet.
On a practical note, how do you select your leaders and determine who goes in what group?
Each year, we have a season of intentional recruiting that begins in the month of April and continues through the month of May. We make the opportunity known to the congregation through a variety of ways and ask them to prayerfully consider serving in one of the Next Generation areas (birth through college ages). Many of our leaders come from this season of recruitment. Also, we are intentional throughout the year to prayerfully seek out those within our sphere of influence and invite them to serve with the college-age group. We are constantly on the lookout for people we would like to invite to help minister to the young adults here at WOC.
We strongly desire to make The Gathering a welcoming place and strongly encourage our leaders to seek out new faces and help visitors get connected immediately. Many times that is how visitors are placed in groups—they get connected with a leader or a current Gathering young adult and are invited to participate in that small group. A staff member will help those who do need assistance in finding a group by asking some basic "get to know you" questions and pairing that person with a group whose members may share similar interests.
Do you do any training for your leaders to help them understand this age group? If so, what do you do, or utilize?
At the beginning of each new volunteer year (our volunteers commit from August to August, a one-year commitment), we hold late-night trainings for current and new volunteers. Our college group meets on Monday nights so we schedule the late-night trainings on those evenings so our volunteers don't have to come to campus multiple times in a week. During those two weeks of late-night training, the volunteers have the opportunity to sit in on a group and see how things work first hand. Then, after we dismiss, all the volunteers meet together for late-night training. We review our philosophy on small groups, our mission and goals as a church and how they influence the college group ministry, as well as how to be an effective small group leader to this age group. We also answer any questions the volunteers may have. After the two weeks of late-night training, new volunteers are placed permanently with a current leader.
XP3 College is a very different way to connect with college-age people. Did you have any hesitation about using this resource initially?
I didn't have any initial hesitation in using this curriculum. In reviewing XP3 College, I knew it would be a great fit for how we minister to our young adults.
What did you have to do to make it work in your environment?
The XP3 College curriculum fits really well with how our college group is set up so we don't have to do much to make it work. We basically choose the studies and then implement them as they are suggested. We follow a dialog a week, providing the Conclude to Continue information to each young adult to work on throughout that week. If the Catalyst suggests a video clip we will watch that as a large group before we dismiss to small groups. If it suggests reading through an article we make sure to provide copies of the article for our leaders.
Which Conversation Guides have created the most buzz with your groups?
All of the Conversation Guides we've used have gone over really well, but the three that stand out the most are The One About the Holy Spirit, The One About Rest and The One About Shame. Those three studies were really well received by our group.
One of the things we believe at XP3 College is that mutual fascination leads to mutual transformation. That means that college-age people and older adults are learning from one another, and the Holy Spirit is transforming them both. Have you seen that play out with your groups? How?
Absolutely. I have seen this curriculum not only impact the young adults but the leaders as well. A few weeks ago one of our female leaders came to me after groups and said that she needed that more than her girls! XP3 College definitely offers the opportunity for anyone involved in the study to be transformed.
Why would you recommend XP3 College versus another resource?
XP3 College is both biblically based and relevant to the young adult community. It's also well written (easy to understand and follow) and effective. Because of the amount of content in each dialog, the small group leader/mentor really has the opportunity to encourage his/her group members to reach a place of honesty and depth that I think is vital if freedom and transformation are to take place. XP3 College is a great resource!
XP3 College offers Conversation Guides for mentors and small group leaders to connect older adults with 18-25 year olds. XP3 College also offers a transition piece, called XP3 Next, for High School seniors and an ongoing connection piece for the first semester away. For more information, visit www.xp3college.org.
Follow Us
Stay connected to us and be the first to know about exclusive deals and upcoming events.