5 Questions To Ask Yourself Before you Change Something
1. Am I Willing To Commit To The Long Haul? In my experience change doesn't happen overnight. We call that a miracle. No, Change is forged over time by leaders who stick with it. I like the quote from Winston Churchill as he describes the determination of the bulldog. "The nose of the bulldog has been slanted backwards […]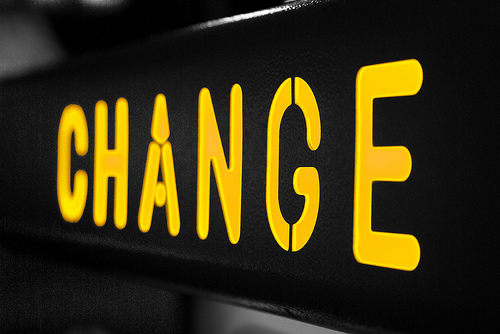 1. Am I Willing To Commit To The Long Haul?
In my experience change doesn't happen overnight. We call that a miracle. No, Change is forged over time by leaders who stick with it. I like the quote from Winston Churchill as he describes the determination of the bulldog. "The nose of the bulldog has been slanted backwards so that he can breathe without letting go."
2. Am I Called To Do This?
There is a certain resiliency that comes with knowing you are called to do something. It helps you crash through quitting points when they arise.
3. Am I Willing To Pay The Price?
Not everyone likes change. To be honest, the kind of change I like best is the kind that doesn't effect me. There is a cost to leading change. Take a minute and review your emotional bank account, there will be a few withdrawal's coming. It just goes with the "leading change" banking philosophy.
4. Am I Willing To Stand Alone?
Usually when you try and change something you meet with at least some resistance and reluctant contributors. My experience has taught me that as soon as you stick your head out someone will take a shot at it. Friends may distance themselves from you and even those early adopters who were cheering you on two weeks ago may begin to doubt. Heck, you may start to doubt yourself. Hang in there, stand alone, have faith!
5. Am I Willing To See It Through?
There will be bumps along the way and no doubt some bruises. See it through. I will risk the cliche here but when the going gets tough…
Craig has been providing leadership and creativity in Children's Ministry for the last 20 years. He has served as a Pastor at two churches, most recently with Saddleback Church where he served for 13 years as both Children's Pastor and Teaching Pastor. He was voted by Group Magazine as one of the Pioneers of the Decade for his work in Children's Ministry and one of the top 20 influencers of the last 20 years. He has authored and co-authored several books and articles and is a sought after communicator on leadership, family, couples and children's ministry. Craig founded Empowering Kids, Inc (www.WhoWillYouEmpower.com) a company that provides training and resources for children, students, families and leaders.
In Craig and Mary's current book "From Hectic to Healthy: The Journey to a Balance Life" (ww.HecticToHealthy.com) they tell their story of a life lived out of balance and how to find the right seasonal pace for your life. Craig and Mary speak around the world at couples conferences, churches and marriage conferences sharing their insights and breathing hope into those who feel burned out. They speak on the topics of Life SPIN, Hardwork vs Overwork and Setting a Healthy Life PACE.
Craig resides with his wife Mary, sons Alec and Cameron and daughter, Karimy, in Southern California.
Twitter: @craigjutila; Facebook: Facebook.com/craigjutila; Email: craig@whowillyouempower.com; Blog: www.WhoWillYouEmpower.com/craigsblog; Websites: www.HecticToHealthy.com & www.WhoWillYouEmpower.com
Follow Us
Stay connected to us and be the first to know about exclusive deals and upcoming events.