by Neil Hancock and Ben Fowlkes
Who are we? Our names are Neil and Ben. Why are we hijacking this blog? Well, sit back and read further, it will impact your life just like it has ours.
We met two years ago as volunteers at The Orange Conference. We were assigned to the breakout room, right next to the bathrooms—a popular thoroughfare at the time. We made our introductions and realized we were from neighboring towns.
A friendship was formed and two years later we had the opportunity to be directors at the same church. This opportunity led Neil back to a campus of a church where he had served as a lead volunteer in their children's ministry. In fact, they had sent him to the very first Orange Conference. Neil is now the children's pastor, and is teaching his team of volunteers to "Think Orange!"
Ben is the pastor of children's ministries at a church now that is SOLD on Orange. He even attributes his job to a recommendation from a fellow Orange volunteer who he served with in both 2010 and 2011.
Being a volunteer at Orange Conference not only has been life changing for us, but we have met others from far away places such as, New Zealand, Australia and Japan, all of us passionate to help others in discovering and implementing the Orange concept in our churches.
We volunteer for the access to amazing leaders, conversations, wisdom gained from others in our field and the perks of being a volunteer—like T-shirts and delicious food!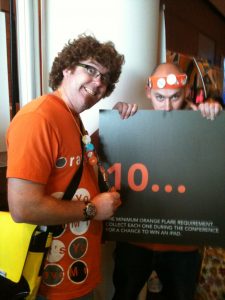 As a volunteer, you walk away with more than a person could ever pay to learn. You walk away with friends, mentors, T-shirts and a passion to connect families, excited about volunteering again next year. We volunteer because it has changed our lives.
Are you ready to have fun and meet others who are having the time of their lives? Look for us, we love to dress in Orange, we love to have fun, we LOVE to volunteer.
So, sign up to volunteer today, you won't regret it—it WILL change your life! In fact, you may just fall in love with volunteering like we did.