Death by Meeting Book Study, Week 4
"It's go time." We've all had those moments, ready or not, when we need to move forward and take action on something that we've been preparing for. When it comes to making changes in our organizational behaviors, we can talk about it until we're blue in the face but then, sooner or later, we need […]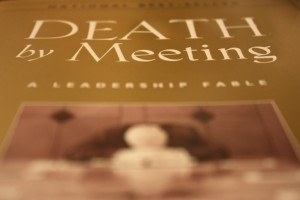 "It's go time."
We've all had those moments, ready or not, when we need to move forward and take action on something that we've been preparing for. When it comes to making changes in our organizational behaviors, we can talk about it until we're blue in the face but then, sooner or later, we need to put some action behind our words.
This week, we're taking a look at Part Five of the book, Death by Meeting. This section is entitled, "Resolution," and gives readers a glimpse of what happens when a company finally commits to making change. Here are a few takeaways from the scenario laid out in this section:
Take the Lead
Casey owns up to the looming doom and gloom that may result after a meeting that has corporate executives in attendance. But instead of focusing on the negative, Casey sticks to their new meeting structure and leads the team with confidence and humility. He facilitates his team to engage in rigorous debate, welcoming difficult topics, and appreciating what everyone brings to the table. Then at the end of the day, he considers all sides, makes a decision, and stands strong behind it.
Trust
The team at Yip was a bit skeptical about making such a grand debut of their new meeting structure when so much was riding on how it went. As a leader, Casey establishes a level of trust with his team that helps them to feel comfortable in the situation and, in turn, gives them confidence in the system and their leadership. This initial trust grew as they learned how to groove with their new meeting structure and this established a renewed trust in Casey as the captain of their ship.
Commit
It would have been easy for Casey to tell his team to pull off this one, important meeting and then go back to the old status quo for meetings. But perseverance in sticking with the changes, even when it was difficult, produced not only more productive and meaningful meetings for the company, it also improved employee morale and renewed an excitement within the company.
Grow
Better meetings helped the employees at Yip grow in their own leadership roles. Team members who were once timid or hesitant to voice their opinions now felt at ease when speaking up, knowing that their opinions, comments, and concerns were valued and considered. As a leader, Casey also grew into more of the leader that Will knew he could be. And as a company, everyone profited from a new sense of energy, excitement, and ultimately, profits.
Talk About This
What are the things holding you back from making productive changes to your meeting structure? Why is trust so important within organizations, both among team members as well as with leadership? What is one thing you can commit to diligently change about your meeting structure so it is valued and anticipated by your team?
Follow Us
Stay connected to us and be the first to know about exclusive deals and upcoming events.