Death by Meeting Book Study, Week 3
Who doesn't love a good movie? One that's filled with drama, conflict, and has you clinging to the edge of your seat for a couple of hours. A good movie rarely has us keeping tabs on the clock—instead, we find ourselves engaged, fulfilled, and wanting more. Can we say the same about our meetings? This […]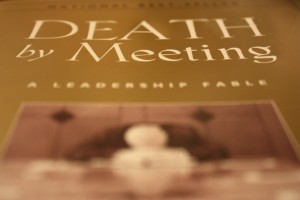 Who doesn't love a good movie? One that's filled with drama, conflict, and has you clinging to the edge of your seat for a couple of hours. A good movie rarely has us keeping tabs on the clock—instead, we find ourselves engaged, fulfilled, and wanting more. Can we say the same about our meetings?
This week, we look at part four of the book, Death by Meeting, entitled, "Action." In this section, we're introduced to the wisdom of Will, Casey's temporary assistant. Will is a young adult with a lot of drive, passion, and frankly, nothing to lose as he confronts the executive team at Yip about their disastrous weekly meetings. Let's take a look at his plan for revival:
Conflict
Most great movies have conflict associated with them; using this analogy, Will challenged the team at Yip to engage in more deliberate conflict during their meetings. He wasn't advocating knock-down, drag-out fights; but he was encouraging team members to voice their opinions and engage in conversations that resulted in better decisions for the company.
Drama
When you consider the media you watch, there's quite a bit of variety. You'll grab a quick fill of daily news on shows such as Headline News, then laugh or get your crime fix during a weekly evening sitcom or drama series. Once a month you may partake in a good movie at the theatre or compliments of Netflix, and occasionally you'll find an uninterrupted day to just soak up a great mini-series. Here's a glimpse of what Will presented as Yip's new meeting structure:
Daily Check-In: Following along the lines of Headline News, this meeting is a quick, 5-minute check-in time for executives to let everyone know what they're up to for the day or if they need anything from another team member.
Weekly Tactical: A 60-minute weekly meeting that's consistent, predictable, and ultimately satisfying. This meeting focuses on everyone reporting on their biggest three items they're working on for the week (in 60 seconds or less). The goal is tactical, with no meeting agenda, and then talk together about how the team can make as much progress as possible over the next week.
Monthly Strategic: Once a month, the executive team hammers out strategy for a couple of hours (maybe more, maybe less). This meeting has an agenda, with one or two pressing items that need to be talked over for the overall strategy and good of the company. Topics for this meeting may originate from deeper issues in the weekly tactical meetings.
Quarterly Off-Site Review: This meeting is held away from the office for a couple of days. It's a time for the executives to really focus on the future of the company by considering topics such as strategy, morale, the competitive landscape, customer satisfaction, or employee performance. It's a time to re-energize and re-focus.
Think On This
What kind of conflict could be beneficial in your team meetings? How can a daily check-in time boost team morale? What are two or three things that would be beneficial for your team to meet about and strategize in the upcoming month? Where could you go to get away to cast vision and dream with your team?
Follow Us
Stay connected to us and be the first to know about exclusive deals and upcoming events.