Death by Meeting Book Study, Week 2
Steamroller. Have you ever felt like you've been hit by one? That week when one thing after another happens—and they aren't necessarily good things. As we take a look at part two and three of the book, Death by Meeting, our fictional CEO, Casey, begins to feel like he's been hit by a steamroller that […]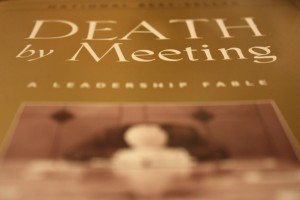 Steamroller. Have you ever felt like you've been hit by one? That week when one thing after another happens—and they aren't necessarily good things.
As we take a look at part two and three of the book, Death by Meeting, our fictional CEO, Casey, begins to feel like he's been hit by a steamroller that just continues to spread difficulties for him and his company. As our company fable unfolds, we begin to see glimpses of the difficulties this company is facing not only with meetings, but with morale as well. Here's a quick briefing of what has transpired at Yip Software:
Company Climate
A new employee opens up a can of worms at Yip Software when she conducts an employee survey that indicates low morale among employees. This opens the door for employees to begin to voice their opinions on what may be the reason behind the low morale. As employees speak out, panic sets in and Casey misdiagnoses the reasons for low morale and makes a hasty decision that has consequences for himself and the entire company.
Think On This: What is the morale of the team you work with? How often do you survey your team to get their feel on how things are going? Do you rush to decisions that can affect your team without gathering all of the facts? What are the implications of those types of decisions?
Company Meeting
After selling the company, Casey has a surprise visitor at Yip's weekly staff meeting, J.T. Harrison, the head of business development at Playsoft—the company Casey just sold Yip Software to. While Casey had a detailed meeting agenda in place, too much time was spent on the first couple of items, leaving no time to adequately discuss other agenda items. Those who participated in the meeting were unenthusiastic and ill-prepared, leaving Harrison with a poor taste of Casey's leadership, Yip employees, and the future potential of Yip Software.
Think On This: What is the best or most effective part of your current meetings? What is something you could do away with during your meetings? How would you feel if an observer came to critique your meetings? Why is it important to have meetings that people actually want to (or can't wait to) attend?
Company Guest
With the temporary departure of Casey's assistant, Gia, Casey hires a friend's son as a temporary employee. As an overly-qualified yet eager new assistant, Will has some wisdom (and possibly some quirks) to bring to the table. But as a "safe" employee (one that is only temporary), Casey freely opens up to Will about new problems on the horizon. Casey's job is now on the line and he confides in Will about the situation and invites him to chime in with opinions and help in the matter.
Think On This: How can new team members be a positive addition to your team? When you're in a bind, who can you confide in? How do you welcome the opinions and help of people on your team?
Follow Us
Stay connected to us and be the first to know about exclusive deals and upcoming events.