Back Row to Steeple Top
by Billy Phenix I grew up in a traditional church, and rode standard conveyor belt into the youth group. Like many of us, my early years in the group included a revolving door of youth pastors, a lot of dodge ball, and semi-controlled chaos. Amid that chaos, my buddies and I slowly slid into the […]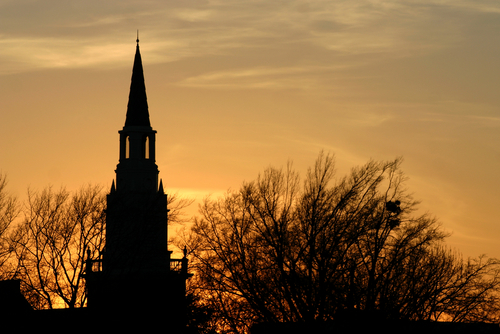 by Billy Phenix
I grew up in a traditional church, and rode standard conveyor belt into the youth group. Like many of us, my early years in the group included a revolving door of youth pastors, a lot of dodge ball, and semi-controlled chaos. Amid that chaos, my buddies and I slowly slid into the role of the arm-crossed, hard-to-engage, "this is dumb," cut-ups that sat on the back row of any youth ministry event. In short, we were "too cool for (Sunday) school." Disengaged and calloused, we slowly started resenting anything church-related (which is ironic, since I now pastor a church).
Enter Jim.
Jim was hired as the new youth pastor. He was young, idealistic, and, above all, passionate about connecting kids to Jesus. He was in seminary—a fact I held against him. He had an electric smile and explosive laugh. He drove a clunky red truck that didn't start consistently and wore camouflage pants a lot. I didn't expect much from Jim. That was until one Sunday evening when Jim slid into the back row, smiled, and whispered, "Follow me, and don't let people see you sneak out." Sneaking out is something we knew.
Suddenly, Jim had our attention.
Quickly, Jim led us, SWAT-team style, to the darkened upper halls of the church, through a small access door in the music pastor's office, and into the church attic. We were confused, but totally into it. Next, he led us onto a long, dark plankway that ran the length of the sanctuary. At one point Jim looked back, smirked, and said, "don't step off the side or you'll fall through the ceiling and onto the pews." (In retrospect, I think there was adequate lighting available in the attic, but Jim left them turned off to boost the thrill factor for us.)
We were wide-eyed.
A few minutes later, Jim led us up a metal ladder inside the base of the steeple. At the top, there was a small platform at the narrow peak that was barely big enough for us all to sit. Still, we gathered there, shook off the cobwebs, and took turns peering out the open steeple-top window that looked out over our community. It was awesome. Over the next half hour, we contemplated the deeper things that 15-year-olds sitting at the top of a steeple would discuss: If falling off would kill you; who could spit off the steeple the farthest; and what would happen if lightening struck us at that moment. Did I mention that it was awesome?
Finally, after a pause, Jim said, "So—how's life for you guys?"
And, from there, it began.
That singular experience began a multi-year relationship with Jim and an eventual acceptance of Jesus as my Savior (along with many other trips to the steeple top, that is, until the church administration got wise and changed the lock).
In the couple of years I sat under Jim's leadership, he taught hundreds of lessons about Jesus and the Bible. They shaped me, but not as much as the lesson that God taught me about Jesus THROUGH Jim.
Today, you'll hear me say that Jim was the one that led me to Christ. His example was a primary reason that I entered the ministry. To this day, there are ministry practices that I still attach to the memory of Jim's influence on me.
Jim's journey to the steeple top with us is hardly formulaic for life change (and, actually, it's not even recommended if you care about liability or job security), but that's not my point. The point is that Jim knew that he had a message that would change lives. It was the gospel message of Jesus Christ. He also knew that the snotty kids in the back weren't going to be moved by his seminary education, a cheeky puppet show, or a hotdog and some dodge ball. We weren't going to come to Jim, so he came to us on the back row. HE worked to find us. That, in itself, told us that Jim cared. Jim gave us an experience and, in doing so, we gave him a platform to speak into our lives.
It was risky, edgy, and a just little dangerous—just like Jesus.
To this day, when I see a church with a big white steeple I think, "I wonder how far I could spit from there." Then I think of Jim and how grateful I am that someone took the time to connect with a punk kid in the back row and, in doing so, changed my eternity.
Who impacted you the most when you were a kid? What did they do that was so impactful? How are you doing the same today?
Billy Phenix is the campus pastor of Buckhead Church. He was on the initial team that launched this first, off-site campus of North Point Ministries in 2001. In this role, Billy leads the staff of Buckhead Church and oversees all aspects of its operations. Previous to his role as campus pastor, he served in a variety of areas in NPM, including singles, students, and children's ministries as well as Starting Point.
Prior to joining NPM in 2000, Billy worked in full-time student ministry and as a corporate architect for Chick-fil-A, Inc. Billy is an Atlanta native, Georgia Tech grad, and currently lives in East Cobb with his wife, Joy, and their children, Ellie and Josh.
Follow Billy on Twitter: @billyphenix
Follow Us
Stay connected to us and be the first to know about exclusive deals and upcoming events.