Death by Meeting Book Study, Week 1
There was a time in my life when I woke up on Tuesdays with a less-than-enthusiastic attitude. I loved my job and the team I worked with, but every Tuesday morning seemed like the longest morning of my week—this was the time blocked on my calendar for the all-staff weekly meeting. Two hours of drudging […]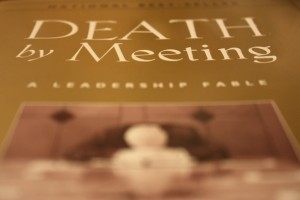 There was a time in my life when I woke up on Tuesdays with a less-than-enthusiastic attitude. I loved my job and the team I worked with, but every Tuesday morning seemed like the longest morning of my week—this was the time blocked on my calendar for the all-staff weekly meeting. Two hours of drudging over the calendar, discussions that dragged on and didn't pertain to half the people in attendance, and the public scolding if you were caught during the meeting looking at your smartphone. When the clock hit 11, it was like a jail break, everyone scrambling to leave before they got pulled in for more irrelevant and unnecessary discussion. The unspoken eye rolls and nods among staff indicated what no one dared to speak aloud: "Whew! We made it through another one!"
We've all been to meetings that we would rather forget. Sadly, many of you may be caught in a cycle similar to the example above; a commitment to attend regular meetings that leave you feeling disengaged and disappointed. This month we'll be digging into a book that gives solutions to one of the most painful problems in business. In the book, Death by Meeting, author Patrick Lencioni presents a fictional fable to introduce insightful and ready-to-implement strategies for leading effective and productive meetings.
A Necessary Evil?
When it comes to attending meetings, many folks see these gatherings as a necessary evil—the price you pay for being part of an organization. The truth of the matter is, meetings are critical and an important piece of an organization's growth, communication and culture. A good meeting leads to engagement, enthusiasm, and collective wisdom; while a bad meeting can lead to discouragement, poor morale, and bad decisions. Since meetings are necessary, it's up to leaders to make sure they're facilitating meetings that people are excited to attend and leave feeling they've been part of something equipping and productive.
Meet Casey
As we dive into our book, we're introduced to a fable about Casey McDaniel, founder and CEO of Yip Software. While Casey has found a way to combine his skills and passion into a successful company, his contentment in squeaking by and casual outlook for company growth was evident to his employees—especially during company meetings. But employees begin to get restless when returning from trade shows and conferences after observing how passionate customers were about Yip's products. That passion was greatly lacking among the people who worked for Casey and before we dig into Part Two of the fable, we're teased by the line revealing, "things have a way of changing."
Think On This
How do you feel about the meetings you attend each week? What about the meetings you lead—are people excited to attend or do they dread it? Why do you think good meetings are crucial to the success of an organization?
Follow Us
Stay connected to us and be the first to know about exclusive deals and upcoming events.