One Thousand Gifts Book Study, Part 4
My son, who is now 23 years old, has an expression called the "Batman face." Only those in our immediate family recognize it. The "face" most recently made an appearance this fall when he told us he landed his first "real" job. The face originated on Christmas morning when he was 5 years old—he ran […]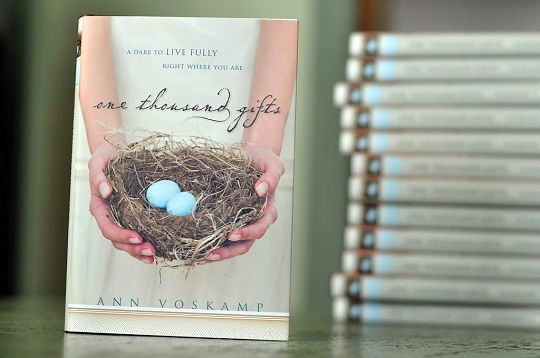 My son, who is now 23 years old, has an expression called the "Batman face." Only those in our immediate family recognize it. The "face" most recently made an appearance this fall when he told us he landed his first "real" job. The face originated on Christmas morning when he was 5 years old—he ran out to look at what Santa left him by the Christmas tree and discovered there was a brand-new Batman bike waiting for him. The excitement and unbridled joy painted on his face, the smile that could light up Central Park—this is the Batman face. As a parent, it's the face you want to see on your child every day because it brings you joy, too. It's a face of pure delight that I think we see often in kids, but then we grow up, and the face is often buried underneath stress, worry, heartache and exhaustion. Yet, we long to experience that type of joy in our lives, sometimes we just forget how to get there.
In the last three chapters of the book One Thousand Gifts, author Ann Voskamp once again reveals the source of joy—this time she reminds readers that it's often found in the little things that we easily overlook and miss. Or it's found when we become a blessing to others. And when we experience communion with our God and fully embrace His love for us so that we want nothing more than to know and love Him completely—it is then we see that beauty and joy are everywhere and in every situation.
The Little Things
In chapter 9, Voskamp says, "In the upside-down kingdom of heaven, down is up and up is down, and those who want to ascend higher must descend lower." It's no wonder that Jesus used children as an example of what we should be like. Kids find delight in cardboard boxes and blades of grass—the little things. When we humble ourselves, get rid of those selfish expectations, and come to our knees with a heart of thanksgiving, we're ready to receive the gifts that God can't wait to give to us. We experience that childlike wonder, unbridled joy, because we experience the presence of God.
Ya Gotta Give It Away
I love to give gifts—it's my love language. I'm not so good at receiving them, but I find great delight in finding the perfect item to surprise someone with. It's not always material, one of my favorite things to do is show up at our local high school and ask the gals in the office if they need some help for the day. They've never turned down the offer, not once. And the smile it puts on their face—it's close to the "Batman face."
We are wired to give, it's why giving to others fills our heart tank. Ann says it well in chapter 10, "Give is a verb, something that we do. God calls me to do thanks. To give the thanks away. That thanks-giving might literally become thanks-living. That our lives become the very blessings we have received." When we serve others, our joy overflows.
Open Hands
God pursues us relentlessly—everywhere and in everything. Our pastor used a great illustration at church this weekend: he told us to hold our hands out, palms down, and imagine all of the stress, burden, heartache, and disappointment that we hold on to. He told us to release it and give it to God, freeing our hands to turn with palms facing upward. Now our hands were ready to receive everything that God wants to give us.
Sometimes we hold on too tight to the things of this world, when we were designed for something that is out of this world. When we can completely embrace the love and passion that God pursues us with, we can fully experience the gifts He can't wait to shower upon us.
Think On This
Describe what you would consider "childlike wonder? How are you filling your tank by giving away thanks? What obstacles are holding you back from experiencing intimacy with God?
Follow Us
Stay connected to us and be the first to know about exclusive deals and upcoming events.