One Thousand Gifts Book Study, Part 2
The holiday lull has come and gone and most of us are back in hyper-drive; a schedule filled with running kids around, meetings at work, workouts at the gym, only to come home to a house that could use a Merry Maid and a pile of laundry staring you down as you try to unwind […]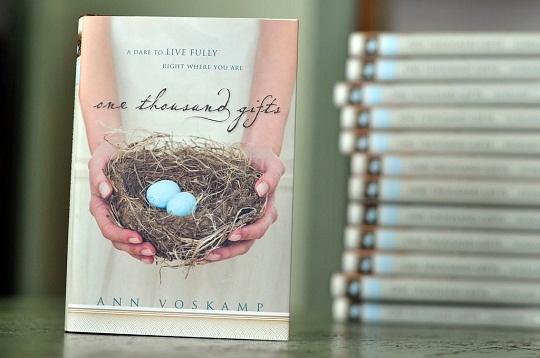 The holiday lull has come and gone and most of us are back in hyper-drive; a schedule filled with running kids around, meetings at work, workouts at the gym, only to come home to a house that could use a Merry Maid and a pile of laundry staring you down as you try to unwind for the night. Our lives tend to be busy—often too busy—and our crazy schedules end up controlling our time so much so that we don't believe we have a choice in the matter.
In chapters 4-6 of One Thousand Gifts, author Ann Voskamp reminds us of the precious gift we often take for granted or forget—time. Chapter 4 begins with a quote from J.R.R Tolkien that speaks to this with simplicity, "All we have to decide is what to do with the time that is given to us." So, how are you embracing the gift of time?
Time Well Wasted
I had deadlines to meet yesterday and I was already feeling behind. So, when a quick glimpse out my back window yielded a majestic eagle sitting in the tree, I should have turned the other way to get back to my home office. But I didn't. I stepped out onto the deck with my cup of coffee and binoculars to get a better look. He sat for just a moment before silently soaring out above the open lake water. He circled—and circled. And I watched. Without a single flap of his wings, he jetted down to grab something he eyed in the water. I realized it was a small duck and my heart began to race at the thought of him grabbing it. But just as he went in for the grab, the duck went under water.
And then the game began.
The eagle circled, targeted the duck, dove for the catch, and the duck submersed itself—over and over again. And I was captivated by the game. About an hour later, the eagle finally gave up and soared north. Then I scolded myself for wasting time. Until I sat in front of my computer and realized the last hour was a gift—a time of solitude on a beautiful morning to watch God's creation at play.
Ann said it well in chapter 4, "Hurry always empties the soul." When I can take time to be present, to slow down and give thanks, I allow myself to be in the presence of God.
Eyes to See
Sometimes in the dark, our eyes become open to seeing the most.
Life can be hard sometimes, downright unfair. Yet during those moments of darkness, God is there. He is always good; bringing light into darkness. It's often our perspective that blinds us from what God wants us to see in times of darkness. If we push aside the world's lens and look through God's lens, we realize that He is in every situation—the ones that bring joy as well as the ones that bring grief.
Other times, the darkness can hide the beauty that surrounds us. We focus so much on the dark that we miss things around us that are meant for our pleasure and enjoyment. When we seek beauty, we seek God. This is what we're made for; it's why we search when feel empty and unfulfilled because we are designed and wired to be in relationship with our God. Our faith is how we can see God in everything.
Think On This
What are the things that are keeping you "too busy" right now? How can you more fully experience the gift of time? What areas of darkness are blinding you to beauty? How will you see God's light more this week?
Follow Us
Stay connected to us and be the first to know about exclusive deals and upcoming events.