One Thousand Gifts Book Study, Part One
Christmas has come and gone and most of us have likely returned or enjoyed the gifts we found under the tree. While we thoroughly enjoy the unwrapping of gifts we receive on holidays such as birthdays and Christmas, we often forget to unwrap the gifts around us each and every day. This month, we'll be […]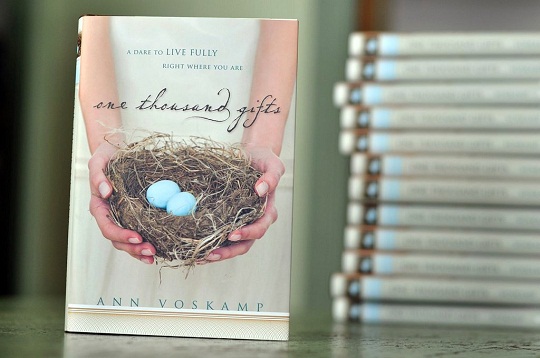 Christmas has come and gone and most of us have likely returned or enjoyed the gifts we found under the tree. While we thoroughly enjoy the unwrapping of gifts we receive on holidays such as birthdays and Christmas, we often forget to unwrap the gifts around us each and every day.
This month, we'll be unwrapping the wisdom found in the book One Thousand Gifts by Ann Voskamp. Through her personal story, Ann invites readers to embrace the daily celebrations and pains of life in order to develop a sense of daily gratitude and joy.
Feeding the Hunger
We know when our bodies are hungry—our stomachs begin to growl, we become light-headed or cranky, and we begin to lose concentration on everything but our growing appetite. Then we eat. The feeling of a full stomach moves us to slow down, savor the feeling of culinary satisfaction, and provides us the ability to once again focus on our goals for the day.
Our spiritual appetite also hungers for a life that's full, a life that's satisfying and lived to its greatest capacity. In the first two chapters, Ann reveals the pain she experienced growing up and how her experiences led to a revelation of waking up every day to live life fully rather than surviving each day on empty. These chapters unwrap the beauty found in eucharisteo—living a life of gratitude—grace, thanksgiving and joy.
The List
When you think of a gift list, your mind typically goes to those items you've jotted down as things you want. It's that registry you pick up for weddings and baby showers to assure you purchase the items the recipient desires. But in chapter three, we discover a new kind of gift list. One that reveals the daily gifts we're grateful for. Things such as the laughter of kids playing in the yard, the colors reflected in soap bubbles, or the fresh smells that linger in a floral shop. When we name something we're grateful for, it provides meaning and value.
It's amazing to learn from the things you jot down as you cruise through the grocery store, experience bodily pain at the gym, or rush kids to soccer practice. Fresh peaches on sale. A smile that says, "Keep up the good work!" from your trainer. Green lights when you're running behind. It's the little things we list that add up to a life of gratitude, a life that's full.
Think On This
Are you living a life that's full or empty? What are the spiritual hunger pains in your life right now? How can living a life of gratitude help you lead a life that's fulfilling? What are the small gifts that you miss or ignore each day?

Follow Us
Stay connected to us and be the first to know about exclusive deals and upcoming events.