The Volunteer Revolution Book Study, Part 5
I'm one of the crazy ones—I ventured out to nab a couple of door buster deals on Black Friday. Up at 3:30 a.m. to get one of those coveted tote bags filled with goodies. As my daughter and I waited for the store to open, there were ladies in line eating pizza—I guess they'd been […]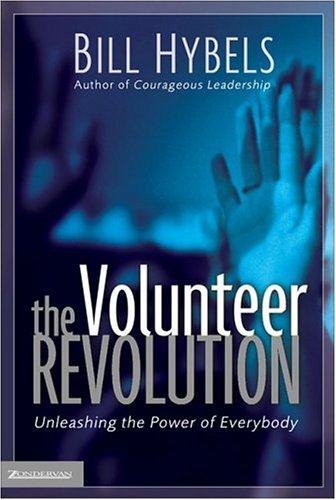 I'm one of the crazy ones—I ventured out to nab a couple of door buster deals on Black Friday. Up at 3:30 a.m. to get one of those coveted tote bags filled with goodies. As my daughter and I waited for the store to open, there were ladies in line eating pizza—I guess they'd been out long enough that their bodies were telling them it was lunchtime. I hit two stores and was home by 6:30 a.m., back in bed. Later that day we decided to go to a bigger mall for a late lunch and do some people watching. Around 4:00 p.m., I waited in a short line to purchase a sweater and chatted with the gal in front of me. She was enthusiastic, happy, and full of energy—then she told me that she had been going strong on the shopping circuit since 10:00 p.m. Thanksgiving night. No breaks. No running home for a nap. The thought of her marathon shopping adventure made ME tired! Yet she was content and still going strong.
Now, that's dedication.
Are your volunteers dedicated and in the game for the long haul? When they could be weary and tired, are they instead filled with energy and enthusiasm? In the last two chapters of The Volunteer Revolution, Bill Hybels provides wisdom and encouragement for leaders to help keep their volunteers serving in ministry for the long haul.
Strong Alignment
Volunteers will likely stick with serving in ministry if they're serving in an area where they're gifted or an area that they're passionate about. When people feel fulfilled because they enjoy what they do or they feel their talents are being fully utilized, they're more likely to hang in there—even when the tasks might be hard at times.
Better Together
During His public ministry, Jesus rarely was alone. He served alongside His disciples, often with a more intimate group of His three closest friends. Encourage volunteers to serve alongside one another. Even if the task could be done in solitude, such as cleaning bathrooms or preparing craft items for Sunday school, find a way for people to work together. One of my favorite days in the office is when a group of about ten retired folks come to count the offering money. They bring treats, greet each other with hugs, and laughter fills that room as they tediously count those bills. They love serving together because they truly love each other.
Then the Caterpillar Became a Butterfly
Watching that caterpillar spin a cocoon can be tiresome—will that small creature ever finish? And then it seems stagnant, chillin' in that cocoon with no movement or change. Obviously, we can't see what's going on inside that snug little hideout because major transformation is taking place. Then one day, out of the blue, the caterpillar bursts out of the cocoon to actively flutter around in celebration of the beauty found in its life change. Our volunteers need to see and experience the life transformations that occur because of their service. No matter what their role in ministry, report to them often about changed lives, celebrate as a community the transformations that take place because they serve.
Train for Longevity
A runner won't last long in a race if he isn't caring for his body. Likewise, volunteers need to care for themselves in order to last for the long haul. Model and encourage your volunteers to care for themselves physically, emotionally and spiritually. Help your volunteers train to reach the finish line and not give up at that first mile marker.
Think On This
How are we helping our volunteers feel part of a servant community? What can we do to assure that our volunteers know about and have the opportunity to celebrate life transformations? How can I model a healthy lifestyle for my volunteers?
Follow Us
Stay connected to us and be the first to know about exclusive deals and upcoming events.